Watch Kristen Stewart's Hilariously Weird Gisele Bundchen Imitation on 'SNL'
The new episode's best material took on the Super Bowl.
If political satire isn't your thing, then you probably skip Saturday Night Live and head for bed. Lampooning politics and politicians is hard-coded into the show's DNA and episode 13 of this season was no exception. However the Kristen Stewart-hosted show may have saved its best for skits taking on Super Bowl 51.
Stewart's opening monologue was political in tone but the most newsworthy moment was when she ended it by saying "We've got a good show and I totally care that I'm here because it's the coolest fucking thing ever." The actress clearly knew she'd messed up by dropping an f-bomb, too—but who could've predicted you'd need a seven-second delay for Kristen Stewart?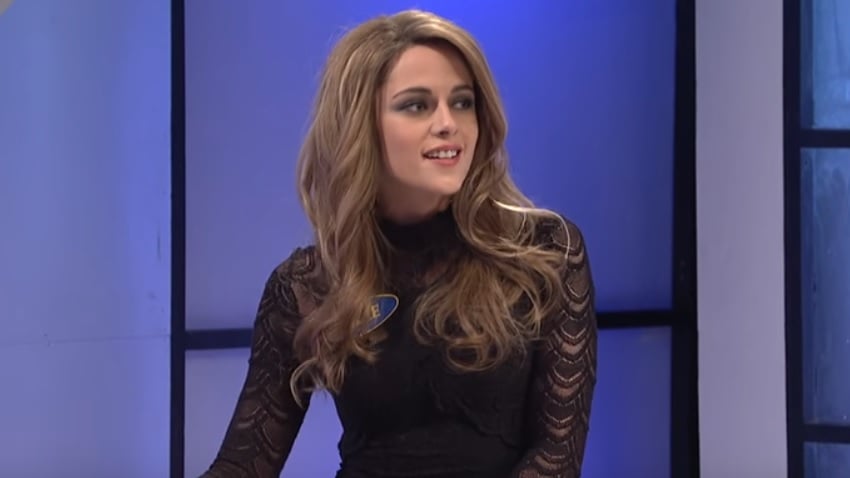 The above sketch in which fans of the Atlanta Falcons and New England Patriots squared off on a Steve Harvey-hosted Family Feud was a highlight due to Kate McKinnon's dead-on Justin Bieber impression and Kenan Thompson's dry, sarcastic Harvey. The surprise was Stewart's impression of supermodel and Tom Brady spouse Gisele Bundchen. Her Brazilian accent might have been spotty but her delivery of Gisele's bizarre answers was great. 
Fake Totino's Pizza Rolls spots aimed at Super Bowl fans are becoming an SNL tradition. They feature an unnamed and unnaturally chipper housewife played by Vanessa Bayer for whom warming up the snacks often becomes a crisis. In an original twist Kristen Stewart showed up as an alluring guest who sensually seduced Bayer while the guys were focused on the game. It was a Totino's ad as erotic lesbian art film and should win some kind of award for even going there. 
Another digital short, "Meet Cute" played on the New York romance fiction of running into an attractive stranger and making impromptu plans. Pete Davidson's desperate and dense "Steve" attempted to fill in all the information he needed to know to meet Stewart's "Claire" for dinner before finally running into her again—and that doesn't go well, either. 
SNL is new again on Feb. 11—Alec Baldwin will host.