Nirvana Confirms That Kurt Cobain is Definitely Still Dead
Don't let the latest rumors regarding the dead grunge icon fool you.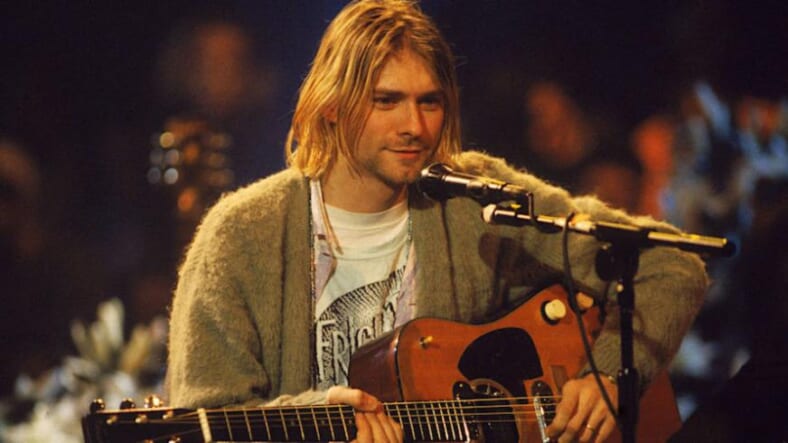 Getty Images
One major downfall of the digital era is this: it's often really hard to communicate simple rhetorical devices like sarcasm. 
Case in point: After a couple videos showing a Kurt Cobain lookalike performing Nirvana numbers began circulating around the web, rumors that the late rock star—who committed suicide in 1994—is alive and performing in Peru began to surface. Then, the verified Nirvana Facebook page posted this message alongside a Daily Mail article questioning Cobain's dead or alive status. 
It is true, Kurt is alive. He needed time to learn to play the guitar with his right hand. Finding left-handed guitars is not easy. We are so happy to have him back and forgive him for all of the sadness that we have held so deeply in our hearts.
" tml-embed-width="500″ tml-embed-height="565″ tml-render-layout="inline
You don't need to be a hardcore skeptic to understand that the post is not meant to be taken seriously. The notion that Cobain has been in hiding learning to play righty for the last 22 years is preposterous. But the inability of the internet's most gullible users to understand the obviously sarcastic tone of the post lead to an angered frenzy of comments. 
He's dead!" read one comment. "Courtney killed him, focus your time and effort in putting her in front of a judge or in the chair."  
Others shared similar sentiment. What was probably intended to be a smart-assed response to a ridiculous proposal was taken way too seriously. So it goes on the world wide web.
All the humbug aside, this guy's not half bad though. 
On second thought, who knows? Maybe Kim Jong-Un is on to something (that's sarcasm).
H/T Spin