Lemmy From Motorhead Will Live Forever Now That Scientists Named a Vicious Dinosaur Croc After Him
Can't you see the resemblance?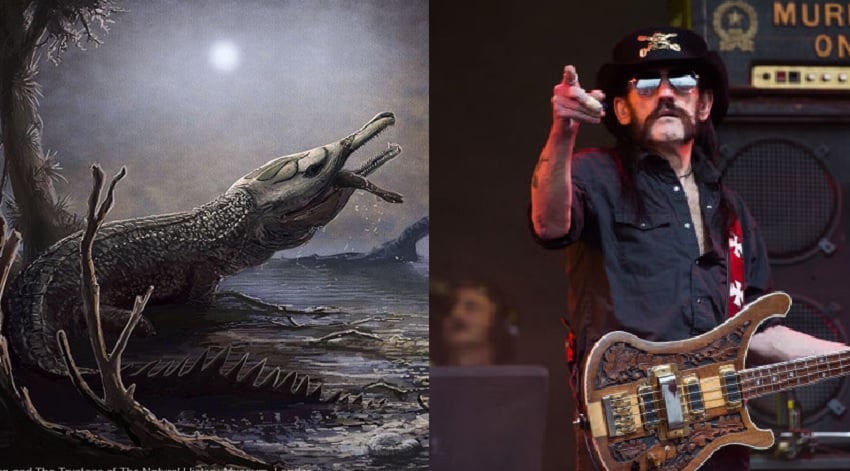 Mark Witton/Trustees of the Natural History Museum
" tml-embed-width="500″ tml-embed-height="435″ tml-render-layout="inline
The dinosaurs are gone. Lemmy Kilmister is dead. But dinosaur bones are preserved forever in stone and rock will never die, so British scientists just put them together and named the recently re-discovered fossil of a prehistoric monster after Lemmy, because sometimes science is awesome.
The AP reports that the ancient croc once roamed the Earth in what is now England. Its fossil was found nearly 100 years ago, but some bonehead mixed it up with a different species. 
Some researchers realized this fossil was unique and in reclassifying the bones gave it an epic new name: Lemmysuchus obtusidens.     
Lemmysuchus is at London's Natural History Museum. That's appropriate because Museum curator Lorna Steel was the one who suggested naming the monster after the Motorhead singer, who was one of her favorite rockers. 
In a release, Steel said that even though "Lemmy passed away at the end of 2015," the researchers working with the fossil would "like to think that he would have raised a glass to Lemmysuchus, one of the nastiest sea creatures to have ever inhabited the Earth."
Sounds like the perfect honor for a rocker who once sang, "Love me like a reptile."