Motörhead Frontman Lemmy Kilmister Has Died at Age 70
R.I.P. Lemmy.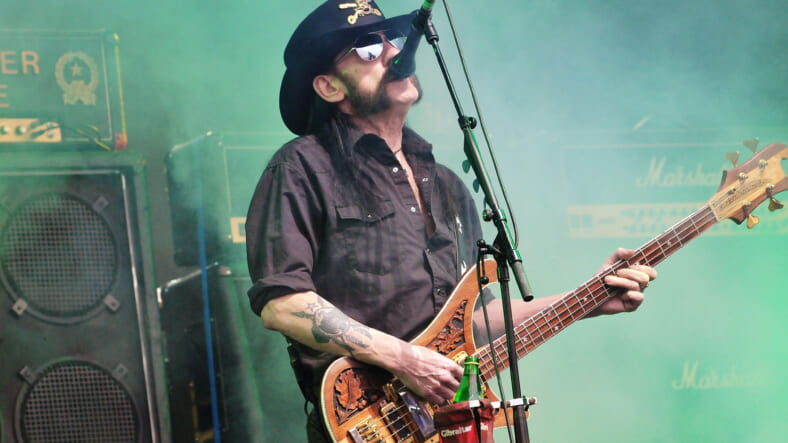 Ian Fraser Kilmister, 70, the legendary lead vocalist and bassist of Motörhead known to friends and fans as Lemmy, died Monday after a brief battle with cancer.
The news of Lemmy's death was first reported by radio and TV personality Eddie Trunk and confirmed by Ozzy Osbourne, who wrote on Twitter, "Lost one of my best friends, Lemmy, today. He will be sadly missed. He was a warrior and a legend. I will see you on the other side."
Sorry to report that I have confirmed Lemmy @myMotorhead has passed away just now at the age of 70. RIP to a true original icon of rock.

— Eddie Trunk (@EddieTrunk) December 29, 2015
In a statement posted to Facebook, Motörhead wrote, "There is no easy way to say this…our mighty, noble friend Lemmy passed away today after a short battle with an extremely aggressive cancer. 
"He had learnt of the disease on December 26th, and was at home, sitting in front of his favorite video game from the Rainbow which had recently made it's way down the street, with his family. We cannot begin to express our shock and sadness, there aren't words. We will say more in the coming days, but for now, please… play Motörhead loud."
Lemmy had suffered from numerous health issues stemming from his famously excessive lifestyle as frontman, chief songwriter, bassist and founding member of Motörhead. The seminal hard rock group sold 30 million albums since its formation in 1975, but is perhaps best known for its 1980 anthem "Ace of Spades."
 In 2013, Lemmy had a defibrillator implanted in his chest to keep his heart from stopping. He's also dealt with a tour-canceling hematoma and a bout of gastric illness in recent years. However, much like his fellow rock icon Keith Richards, many considered Lemmy to be indestructible despite his hard-living ways.
He famously claimed he drank a bottle of Jack Daniel's every day since turning 30, and was an enthusiastic proponent of amphetamines for decades. Recently, Lemmy joked that he had switched from drinking whiskey to vodka for "health reasons," reports Consequence of Sound.
For now, let's take a moment to remember him with his most famous song. 
RIP, Lemmy.