Lindsey Vonn Jokes That J.J. Watt Was Massaged In His 'Groin Area' To Recover From Injuries
Watch Vonn give the greatest ESPY red carpet interview of all time.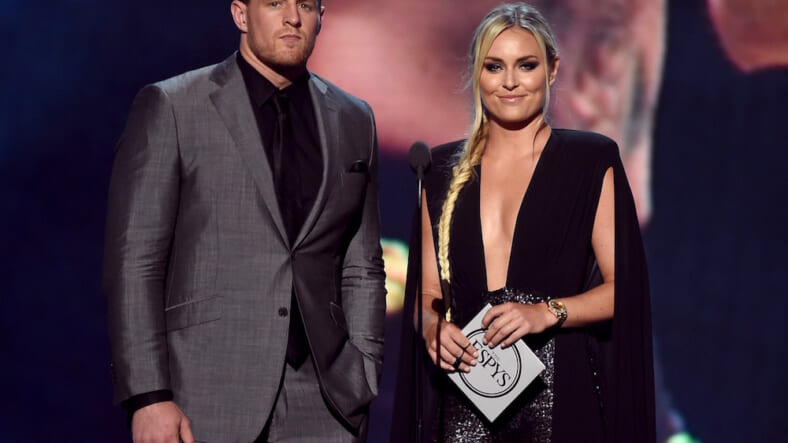 J.J. Watt had a killer season with the Houston Texas despite sustaining several injuries. Is it testament to his superior conditioning or did J.J. keep his strength through less orthodox means?
During a joint interview between J.J. and smoldering skier Lindsey Vonn on the ESPYs red carpet on Wednesday night, J.J took a moment to thank his trainers for getting him back on the field so quickly, before Vonn butted in.
"He had a lot of massages," Vonn said jokingly. "In the groin area."
Vonn also zinged JJ for being a no-show at her pool party, squeezing his bicep and saying he had to "pump some iron and do some other very cool things." 
For his part, a mortified Watt showed very little chill, getting red in the face and stammering, "It's hot in here" as interviewer Hannah Storm hastily tried to switch topics.
Who knew Tiger Wood's ex had such an enjoyably raunchy sense of humor? Perhaps she got swept up by the heat of the red carpet, which was chock-full of Hollywood stars and athletes dialing up the sex appeal.
Here's Vonn and some of the other sexiest women at the ESPYs red carpet. Now if you excuse us, we're going to get our groins massaged…