Listen to Machine Gun Kelly Blast Eminem With a Brutal 5-Minute Diss Track
"F*ck 'Rap God,' I'm the rap devil."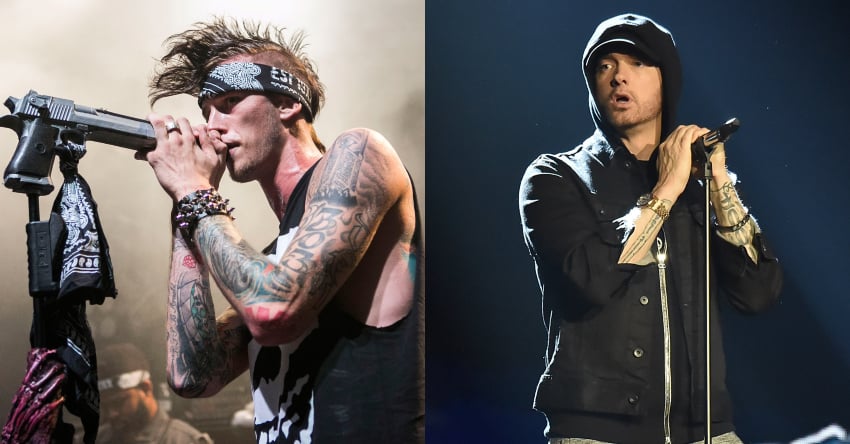 Getty Images
Machine Gun Kelly has fired back at Eminem after being targeted on Em's newly released album Kamikaze by dropping the diss track "Rap Devil." Listen to the nearly five-minute burn below:  
MGK initially celebrated the mention of his name in Em's "Not Alike" by popping a bottle of champagne.  
https://www.instagram.com/p/BnJ7Ip4nkVM
But in "Rap Devil"—the very title of which is a dig at Eminem's blistering 2013 single "Rap God"—he unloads on the Detroit-based artist.
One of the lines references a beef that began six years ago when MGK tweeted that Eminem's daughter, Hailie, is "hot as fuck." 
"They told me you mad about a tweet/You wanted me to say sorry/I swear to God I ain't believed him/Please say it ain't so/The big bad bully of the rap game can't take a fucking joke/Oh you want some fucking smoke/But not literally, you'll choke," MGK raps. 
MGK previously stated that the comment lead to him being blackballed by powerful figures in the music industry. He revives those allegations in "Rap Devil." 
"Let's call Sway ask why he can't go up to Shade 45 because of you/Let's ask Interscope how you had Paul Rosenberg trying to shelf me/
Still can't cover up the fact the last four albums as bad as your selfie/
Now tell me what do you stand for/I know you can't stand yourself," he raps. 
MGK also changed bios on Twitter and Facebook to "F*CK RAP GOD IM THE RAP DEVIL" in reference to one of the most boastful lines from the track. 
MGK evidently didn't blink when Eminem dared him to "keep commenting on [Hailie]" in "Not Alike."  
"But next time you don't gotta use Tech N9ne/If you wanna come at me with a sub, Machine Gun/And I'm talkin' to you, but you already know who the fuck you are, Kelly/I don't use sublims and sure as fuck don't sneak-diss/But keep commenting on my daughter Hailie," Eminem rapped. 
" tml-embed-width="300″ tml-embed-height="380″ tml-render-layout="inline
Slim Shady isn't the only rapper currently embroiled with MGK. A messy love triangle situation between him, rapper G-Eazy and singer-songwriter Halsey has reignited following the reunion between the latter and G-Eazy's release of "Bad Boy."
NME has further details:  
Recently on 'Bad Boy', G-Eazy rapped "MGK please stop trolling me, get over me / You wanna be me…Call a Uber, turn on the radio, imagine hearing me / 'Him & I's' on, mad you're listening to Halsey sing to me…"


After the release, Machine Gun Kelly then shared photos of him and G-Eazy sporting similar hairstyles. The photo was captioned "I f***** his girl now he looks like me this shit overbearing". The caption was later deleted and updated to "#miniME#stoplyingaboutFINLAND#alllyourfriendsknow."
https://www.instagram.com/p/BnJmHX4n_tY
Despite MGK's original caption, a source told Us Weekly the two are "just friends," adding, "She definitely isn't rebounding with him." 
As for his feud with Eminem, MGK says he's "standing up for [his] generation."
im standing up for not just myself, but my generation. im doing the same shit you did back in ur day. life is still real on my side, and i had to take time from the grind to defend myself from someone i called an idol. love, Rap Devil.

— blonde don (@machinegunkelly) September 3, 2018
Your move, Slim.