This Bacon-Wrapped Turkey Loaf is the Thanksgiving Gut Bomb You Deserve
Watch the mouthwatering video to learn how to make this beautiful, bacon-y beast.
https://www.youtube.com/watch?v=eYNwBDH5Kpc
We love Thanksgiving as much as anybody, but sometimes that dried-out bird needs to be kicked up a notch or two. Thankfully, this Bacon-Wrapped Turkey Loaf is here to save the day. Watch the video above to see how this pork-blessed beauty is made, and feel free to refer to the ingredients and directions below if you decide to whip one up.
"Nobody enjoys eating dry turkey for Thanksgiving," declares Robert "BBQ Bob" Trudnak, professional pitmaster and co-owner of BBQ Guru. "But in my opinion, bacon makes everything taste better and I love getting creative with BBQ. The bacon will add a deep, rich flavor and keep the turkey incredibly moist." Sounds about right to us.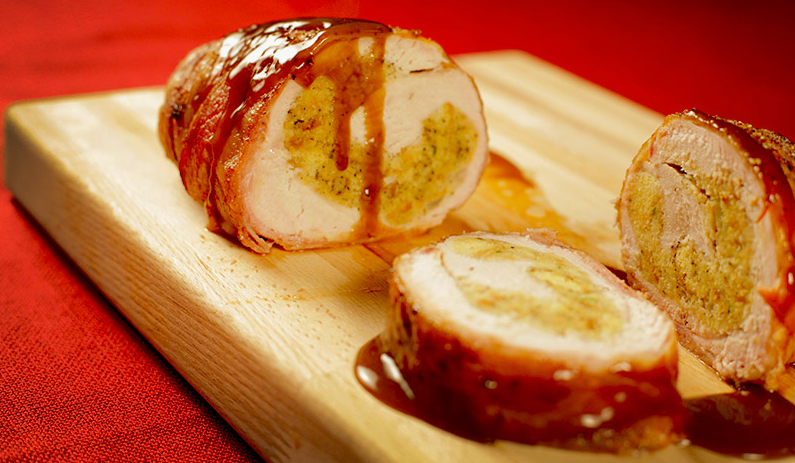 Ingredients:
Turkey Breast
• 2 turkey breast portions
• 12 slices of raw bacon
• 2 cups of cornbread dressing
• BBQ Bob's Alpha Rub
Cornbread Dressing
• 1 16 oz. box of cornbread mix
• 1.2 C. chopped celery
• 1 small yellow onion chopped
• 2 tbs. butter
• 2 eggs beaten
• 2 cups of chicken stock
• 2 tbs. dried sage
• 2 jalapenos chopped fine
• Salt and pepper
Directions:
Turkey Breast
Set smoker up indirect at 275°F. Use Applewood smoke (approx. 2 medium chunks)
Butterfly the turkey breasts carefully. Make sure to keep the same thickness on both sides of the slice.
Place about 1 to 1 ½ cups of cornbread dressing into each breast and fold the breast over.
Wrap each turkey breast with approximately 6 pieces of bacon to cover it completely and then toothpick it to keep it secure. This will keep the cornbread dressing in as well.
Cook for approximately 1 hour and 20 minutes or until the internal breast temperature reaches 165°F.
Cornbread
Cook cornbread to directions on box.
Sautee onions, jalapenos and celery in the butter and set aside.
Once cornbread is finished and cooled, crumble the cornbread and mix it in with all other ingredients into a casserole dish.
Bake at 350°F for 30-35 minutes