Matthew McConaughey Wants to Return for a Third Season of 'True Detective'
Alright, alright, alright.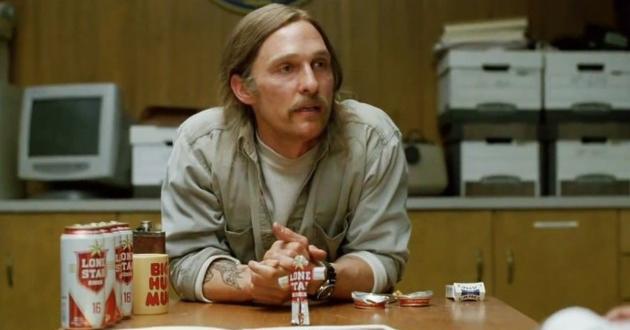 HBO
It appears that time might be a flat circle after all—that is, if Matthew McConaughey does indeed reprise his role as Rust Cohle in a third season of HBO's mind-bendy crime drama True Detective. America's favorite bongos-loving stoner recently went on the Rich Eisen Show to talk football, and the conversation eventually turned to his Lone Star-chugging, tatted-up detective.
Here's how it went down:
"You essentially said you wanted to play Rust Cohle when you saw the script," said Eisen. "You were originally going to go for the part of Marty [Woody Harrelson's character] and then you were like, 'This guy Rustin Cohle really speaks to me'." "Can't wait to hear what comes out of his mouth," responded McConaughey. "I hear that all the time now," "You said you were going to do season 3. When is it coming?" asked Eisen. McConaughey explained that the "ball's not advanced at all. I've talked to the creator Nic Pizzolatto who's taking a little break from it."
If it did happen, it would be great news for fans of the first season, almost all of whom were let down by an underwhelming second season, which starred Vince Vaughn and Colin Farrell.
h/t: Bro Bible