8 Reasons Why Brazil Is South America's Hottest Destination
Between crazy parties, sexy models and natural wonders, there's simply nowhere better.
1. The City
Rio de Janeiro is a world-renowned party town. It's a reputation well earned. But Rio is also a diverse metropolis with a spirited culture, a rich history, and vibrant neighborhoods. You can relax on Copacabana Beach, get wild at Carnavale, and dive into the city's unique character and energy. The recent Summer Olympics host is also capable of matching any global city in terms of luxury and opulence, with world-class hotels, Michelin-starred restaurants, and unrivaled nightlife venues. Here's where to begin.
Where to Stay
The jewel of the Rio hotel scene since it opened in 1923, the Belmond Copacabana Palace is where the city's elite sip caipirinhas on a stretch of Copacabana Beach. The recently remodeled hotel offers stylish accommodations with incredible views of the entire beachfront. The hotel also features a botanical spa, an iconic bar, and a Michelin-starred restaurant, Mee.
Fresh off a comprehensive remodeling, the antiquated Caesar Park Hotel is now the Sofitel Rio de Janeiro Ipanema. The designers combined a laid-back beach vibe with elegance and refinement, perfect for the diverse crowd of celebrities, athletes, and beautiful people who lounge by the hotel's rooftop pool.
The founders of hotel Emiliano São Paulo opened Emiliano Rio, catering to young professionals and stylish couples. The hotel is situated on the southern tip of Copacabana Beach, and guests can see all the way to Sugarloaf Mountain from the L-shaped rooftop pool.
Fasano hotel competes with the Copacabana Palace as the destination of choice for Brazil's A-listers when they visit Rio. A young, hip crowd frequents the pool throughout the day, while Fasano al Mare restaurant and Baretto-Londra bar are a draw in the evening. Beyoncé has been a guest.
The Gran Meliá Nacional hotel is impossible to miss along São Conrado beach. A cylindrical tower that looms over the surrounding area, the hotel has been reborn after decades of disrepair and disuse. Set in stunning gardens filled with sculptural art, the hotel offers a world-class spa, multiple bars, and an acclaimed restaurant. But for all its amenities, and one of the best pools in Rio, it's the hotel's vista that steals the show. Get a room on the upper floors for views of the mountains, the beach, and the Christ the Redeemer statue.
https://www.instagram.com/p/BTAUnO6FEcx
Where to Eat
While São Paulo is the bigger draw for top chefs, Rio holds its own. The current star of the city's culinary scene is chef Rafa Costa e Silva's farm-to-table Brazilian restaurant Lasai. Located in the Botafogo neighborhood, Lasai serves produce from the chef's own local gardens and highlights specific ingredients each day across its menu. Diners can also take advantage of the wine service and cocktail bar, both among the best in the country.
Situated near the Rodrigo de Freitas lagoon and serving a French menu with a strong Brazilian influence, Olympe features a warm and cozy atmosphere in which guests can enjoy some of the most unique dishes in Rio. Most combine classic French elements with the carioca flavors native to Brazil, like the slipper lobster confit in melted butter with vanilla from Bahia, potato crisps, and dedo de moça pepper.
Laguiole, located within the modernist structure of the Modern Art Museum, is both a world-class restaurant and a culinary classroom for up-and-coming chefs. To match its bold and modern surroundings, Laguiole takes traditional dishes like picadinho or rabada rice and reimagines them as contemporary offerings. The wine list offers thousands of bottles from more than 500 different labels.
For a true European culinary experience, look to Michelin-starred Eleven Rio. Those in the know go for the 11-course Chef's Menu, which sometimes includes suckling pig cooked at low temperature with passion fruit and tomato chutney. The restaurant boasts a robust wine list; be sure to try one of the wines created by Eleven Rio's chef, Joachim Koerper.
https://www.instagram.com/p/BYOhLa4FMBG
Meanwhile, one of the top Brazilian chefs, Felipe Bronze, helms the celebrated Oro, where his focus on a Brazilian tradition of cooking with fire and coal has helped earn the restaurant a Michelin star. Try the Creativity Menu, which changes daily and features an array of snacks, four surprise dishes, and a dessert. Ask for wine pairing advice from Bronze's wife, Cecilia Aldaz, considered a top sommelier in Brazil.
Where to Party
When it comes to nightlife, there's something for everyone in Rio, from raging EDM clubs to laid-back live music venues, dive bars, and samba-specialist dance halls. Check out longtime Rio favorite Clube dos Democráticos, where you can find some of the best samba music in the world, a lively dance floor, and plenty of locals willing to teach you some moves.
At Fosfobox in Copacabana, the top DJs keep the club alive till morning. Take a break from the dance floor at the cool upstairs bar. For a more rock & roll evening, Bar Bukowski (yes, named for the author) is a Rio legend. Located in a historic mansion, the spacious bar features a garden, hookahs, and a decidedly non-EDM soundtrack.
If you want a drink with a beachside view, check out the Deck Lounge Bar. Sugarloaf Mountain provides the perfect backdrop.
—Keith Gordon
2. The Models
The names read like a who's who of global fashion modeling.
https://www.instagram.com/p/BURaF5rFL96
They are world-class models who have turned their beauty into businesses, but are just a few of the famous modeling names to have come from Brazil.
It's nearly impossible to follow the high-end modeling world without being struck by the disproportionate number of Brazilians at the top of the industry. So many of the world's top models hail from Brazil that the Victoria's Secret Fashion Show might as well be set to samba.
3. The Icon
In global sport, it's not always the winningest athlete who serves as a sport's spiritual and cultural ambassador. For all of Bill Russell's titles, or Kareem Abdul-Jabbar's scoring records, it is Michael Jordan who is basketball's most revered icon. Similarly, it's not Michael Schumacher and his seven world championships, or Lewis Hamilton and his global social media celebrity, who serve as Formula 1's biggest hero. It is the late Brazilian driver Ayrton Senna, still the sport's guiding light 23 years after the accident at the 1994 San Marino Grand Prix that took his life.
In his native Brazil, Senna was a driving god on the track and a national sensation off of it. He was beloved by his countrymen, even though soccer here is not just the most popular sport but a quasi-religion. He was revered across socioeconomic groups, despite his affluent upbringing. He was a national role model.
His on-track reputation was well-earned, but his impact was most strongly felt away from the track. His charitable foundation, originally inspired by Senna's stated desire to give back to his nation, was created by his sister Viviane six weeks after his untimely death, and has spent hundreds of millions of dollars to help educate some two million children and train 60,000 teachers each year. This is made possible by the continuing success of the Senna brand, which has earned close to $320 million in the past half-decade alone.
His influence can also still be felt in the sport that made him famous. Following his death, FIA (Fédération Internationale de l'Automobile), the organization that oversees Formula 1, began a long and comprehensive shift away from prioritizing performance toward an emphasis on safety. New car designs included crash-protection monocoques, and existing circuits added safety barriers. The effort continues to this day, and the result has been a dramatic drop in the number of fatal Formula 1 accidents.
When Senna died, the government declared three days of national mourning, and an estimated three million people attended his funeral in São Paulo. They wanted to pay their final respects to their idol, but in truth, there was nothing final about Senna's passing. His impact on his nation and his sport continues well beyond his lifetime. As his sister told CNN last year: "All the Brazilians would sit in his car, would push his car; we would raise the flag with him on the podium. It was like we were as one. Ayrton and Brazil were as one." They still are.
—Keith Gordon
4. The Game
Canada loves its hockey and produces some of the world's best players. The same goes for New Zealand and rugby, or the Dominican Republic and baseball. But there is perhaps no stronger connection between a nation and a sport than that between Brazil and soccer. Ever since the country won its first World Cup in 1958, the Seleção (Brazilian national team) has won the tournament a record five times. Teams from Europe and beyond bolster their squads with Brazilian players. The country even has a national philosophy to describe its style of play: Joga Bonito, which means "play beautiful."
Names like Zico, Socrates, Roberto Carlos, Ronaldo, Ronaldinho, and Romário are recognized around the world, while Pelé remains the greatest player of all time. Today's best Brazilian is Neymar, the world's most expensive player after his $263 million transfer from Barcelona to Paris Saint-Germain (that doesn't include a salary of more than $50 million per year, before accounting for sponsors).
Brazil is still trying to wash away the memory of World Cup 2014, where the Seleção was a heavy favorite on its home soil. But a shocking 7-1 loss to Germany in the tournament's semifinal turned what was supposed to be a national celebration into a nationwide period of mourning.
It took a full two years for the nation to recover, thanks to the efforts of the youthful Olympic team that won the gold medal (also on home soil in Brazil) by defeating Germany on penalties. Neymar, who missed the 7-1 beatdown in 2014 with a back injury, scored the winning penalty to secure Olympic gold and restore his nation's sporting honor. Now back in its rightful place atop the soccer landscape, the national squad is looking to secure its sixth World Cup title in Russia in 2018. History is in their favor.
—Keith Gordon
5. The Tycoon
An unending sprawl of concrete and traffic, São Paulo is the the most populous city in the world, and its economy is projected to be the 15th biggest in the world by 2025, the largest in both Latin America and the Southern Hemisphere. Yet despite its prominence as a financial hub, the metropolis has failed to capture the world's attention the way its seaside rival Rio de Janeiro has.
French real estate tycoon Alexandre Allard, known for his restoration of the Royal Monceau hotel in Paris and the revitalization of couture house Balmain, plans to change that. In 2019, his Groupe Allard will complete its estimated $388 million urban renovation project, Cidade Matarazzo (Matarazzo City). The project is a restoration of the derelict Matarazzo hospital complex, more than seven acres of historic Italianate buildings and unutilized land just off Paulista Avenue, the city's main thoroughfare.
"If I say New York, you think of the Empire State Building, the Statue of Liberty, and Central Park. For every city in the world, there are images that come to your head, and in São Paulo there is no symbol. This is quite a paradox," Allard tells Maxim. "The first mission of Matarazzo is to create that symbol and to own that symbol. It's a huge opportunity for us, and it will naturally become the destination of the city."
Apart from the renovation of existing buildings, one of which will be made into a luxury hotel with interiors designed by Philippe Starck, there will be a refurbished chapel, a retail village, 65,000 square feet of gardens and pavilions, and 34 restaurants. Its pièce de résistance is a "green tower" designed by the Pritzker Prize–winning architect Jean Nouvel. The tower does not have ambitions to reshape São Paulo's skyline but rather to restore the city's connection to its lush setting. There will be flowers and foliage jutting from its facade, while rooftop gardens will offer respite from the city's choking smog and noise pollution. Allard proudly called it "the greenest tower in the world."
"The roots, the connection to the ground, the connection to nature," Allard says of why Brazil first captivated him in the 1980s. "There is a very strong presence of nature to be found in Brazil. The sensation is all around. It's what makes the craziness of the city of São Paulo, the joy of Bahia, and the coolness of Rio de Janeiro. Brazil is the power of green."
Allard, who was raised in the Ivory Coast, does not view economic might or even abundant natural resources as Brazil's backbone but rather the dynamism and diversity of its people. Matarazzo City will include the House of Creativity, a hub of art, music, theater, and education designed to showcase the best of São Paulo's artists and artisans. Nearby, on Paulista Avenue, Allard will unveil a massive piece of contemporary art, the Statue of Diversity by Arne Quinze and Oskar Metzavath. The conception and construction of the outdoor statue has involved more than 100 São Paulo communities.
"I want to show the wealth of Brazil, which is the diversity. The pride of this city is that its people are different," Allard says. "Although it is not the best example, because there is crime and corruption, Brazil has the seeds to the solution of all the big problems we face in this world today." Throughout the 19th and 20th centuries, an influx of immigrants from Lebanon, Syria, Italy, and Japan landed in Brazil, many of them settling in São Paulo. Today, there is a larger Japanese immigrant population living in São Paulo than in any other city in the world—more than 1.5 million. Its large Japanese neighborhood is called Liberdade, or "freedom" in Portuguese.
Alexandre Allard has a distinct vision for São Paulo, but stamping his name on the city is not his objective. "It's about using a physical space to convey an experience that will change everybody's minds about Brazil, which will allow everybody to understand the power of Brazilian culture and Brazilian roots. This is the project."
—Thomas Freeman
6. The Drink
It's almost a guarantee that any trip to Brazil will be laden with the intrinsic pleasures of beachside caipirinhas. The cocktail is made with cachaça, showcasing Brazil's 500-year-old spirit of choice. Cachaça is distilled from fermented sugarcane juice, making it a cousin of rum and, more specially, of rhum agricole, or cane juice rum, though with an even longer history.
It's almost a guarantee that any trip to Brazil will be laden with the intrinsic pleasures of beachside caipirinhas. The cocktail is made with cachaça, showcasing Brazil's 500-year-old spirit of choice. Cachaça is distilled from fermented sugarcane juice, making it a cousin of rum and, more specially, of rhum agricole, or cane juice rum, though with an even longer history.
Avuá has employed amburana, also known as Brazilian teak, a wood prized for its floral and fragrant profile, alongside enticing baking spices such as cinnamon and cloves. Avuá has also used exotic woods like jequitibá rosa, with delicate fruity flavors, and tapinhoã, offering hints of honeycomb, caramel, and toasted coconut. Nevenglosky broke the scoop to Maxim that a forthcoming release, due out this summer, will be aged in bálsamo, which offers herbaceous notes, minerality, and citrus flavors.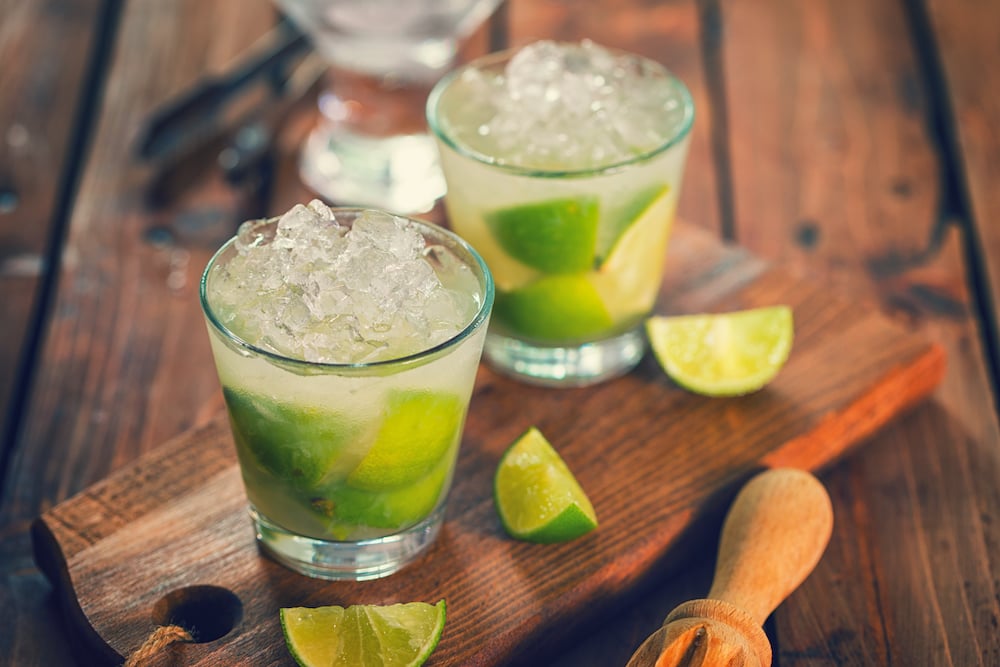 We couldn't be celebrating the use of oft illegally forested Brazilian woods unless brands were following proper sourcing protocols, however. "Sustainability is the major question when using Brazilian woods to age cachaça," says Agenor Maccari Jr., Ph.D., master distiller of Novo Fogo Cachaça. "How can we guarantee the future supply of native woods when many of the trees are endangered?"
Novo Fogo has been proactive in this regard, carefully vetting the companies they source wood and barrels from, while also taking the extra step of creating a reforestation project, partnering with a protected 42-acre private reserve with the aim of planting 10,000 endangered trees.
"Producers of aged cachaça represent an industry that can either choose to indirectly fuel illegal deforestation by buying Brazilian wood barrels from questionable sources, or to support a more sustainable path by sourcing Brazilian woods thoughtfully and legally, and by being transparent about the potential risks posed by products that utilize vulnerable Brazilian trees," says Luke McKinley, Novo Fogo's marketing director.
For its Two-Woods series, Novo Fogo uses Brazilian woods to finish cachaças primarily matured in American oak, thereby using less Brazilian wood while also balancing the bold flavors the woods offer. "Ninety-seven percent of our barrels are American oak, and the remaining three percent are Brazilian wood barrels," Maccari says. "For us, Brazilian woods are the exception, not the rule. Each of our barrels has an origin, a history." That's resulted in occasionally unusual, though effective, tactics. "The wood for our araribá barrels came from the demolition of a partner's house!"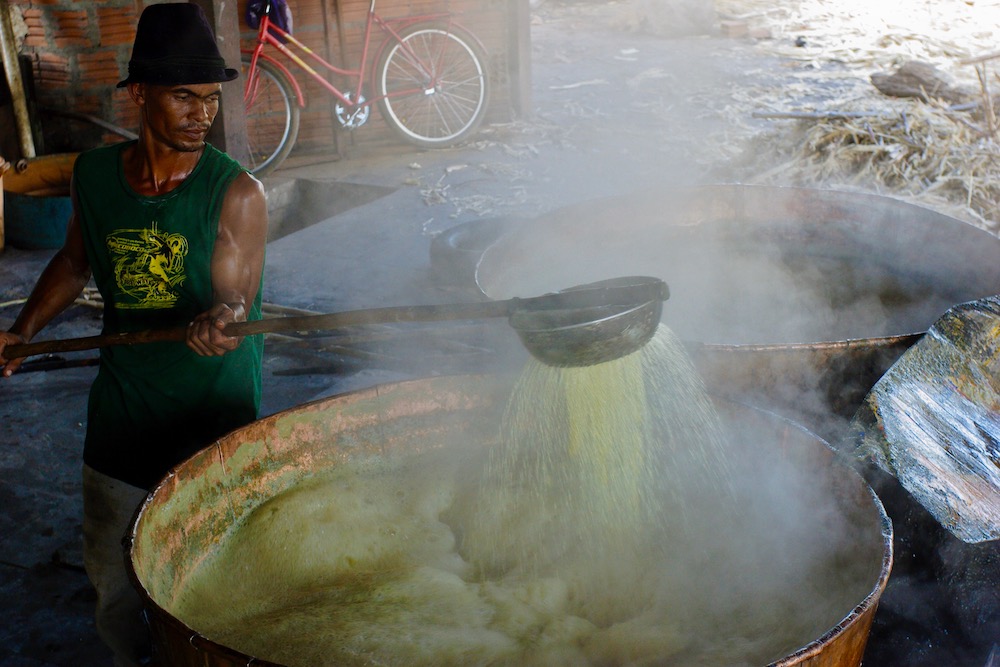 Releases include Colibri, refined with the aforementioned amburana, along with Tanager, inflected with that araribá (zebrawood), and Graciosa, finished with castanheira (Brazil nut). The former is resinous, earthy, and tannic, with the "personality of a forest," according to Maccari, while the latter is distinctively nutty, redolent of almonds and pecans, along with cherries and spice.
With the sustainability issue accounted for, you can enjoy guilt-free caipirinhas, though you should also, ahem, branch out. Cachaças with these types of unique flavors are great for sipping neat or pairing with beer, a tradition sometimes known as tabelinha, referring to the quick back-and-forth passing of the "beautiful game." The cocktail possibilities are endless, too, with cachaça seamlessly subbing for anything from rum to whiskey or even gin depending on its profile.
You can even put your money where your mouth is, if you want to ensure you continue seeing more such delicious offerings. Avuá, for example, is running a Wefunder online crowdfunding campaign that has already raised over $100,000 from thirsty imbibers just like you.
—Jake Emen
7. The Ride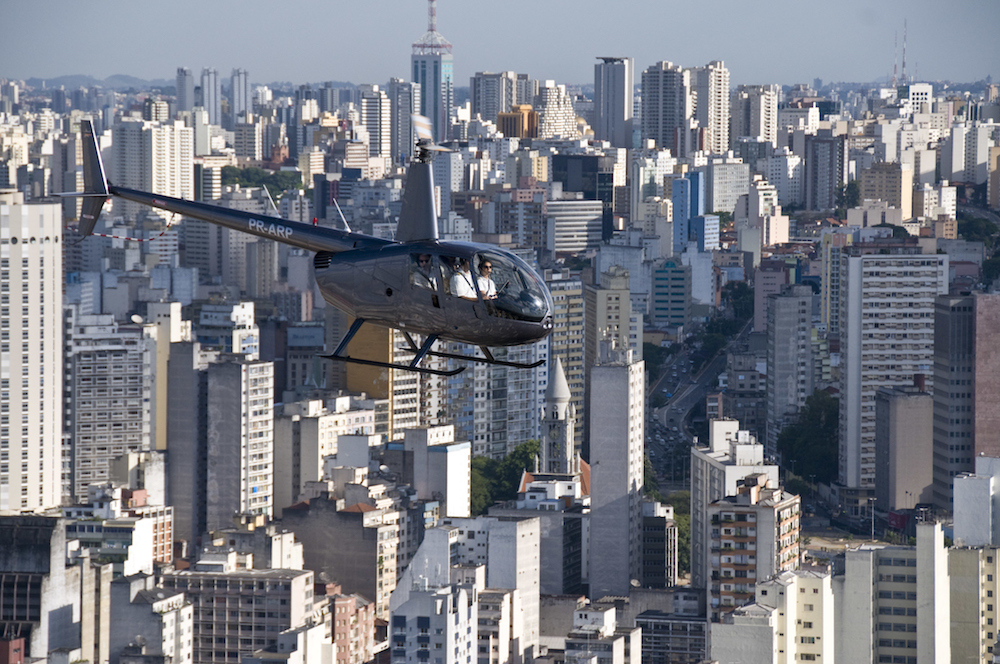 São Paulo is not only Brazil's largest city, it's also the country's financial center, not to mention the economic heart of South America. As a result, people have owed into the city, pushing its population beyond 12 million (including suburbs, the area is home to around 20 million). There are some six million vehicles on the road, one for every two people, which turn the city into a veritable parking lot. On Friday evenings, rush-hour traffic jams can reach 110-plus miles in length and, on the worst days, even extend to 180 miles.
While sitting in traffic for hours a day may be unavoidable for the masses, São Paulo's elite are barely affected. Instead of driving, the city's wealthiest ascend to rooftops, where they are plucked up by a growing fleet of private helicopters and whisked above the chaos below. São Paulo has the largest copter fleet in the world at over 400, more than in New York, London, or Beijing, completing around 1,300 landings and departures daily.
Flying choppers isn't cheap, but in a city with so much demand, the economy of scale has enabled the development of a potential solution. Voom, an Uber-esque mobile app, allows for easy, and far more affordable, on-demand choppers to take you around the city. Simply order a flight on your mobile device, and head to one of the city's more than 500 helipads to get picked up.
A project created by A3, the Silicon Valley–based incubator of European aerospace giant Airbus, Voom offers helicopter travel in São Paulo for up to 80 percent less than what traditional air-charter companies charge. Instead of taking a $50 car from your hotel to the airport and sitting in traffic for 90 minutes, for example, a flight on Voom can cost $150. In recent years, Uber has launched trial runs of its UberCopter service in global cities.
—Keith Gordon
8. The Experience
Brazil is home to one of the planet's greatest natural wonders, the Amazon. Flowing across most of South America, it houses some of the rarest and most exotic wildlife and flora on earth. Countless outfits run adventures and educational outings throughout the region, but for those who want to experience the beauty of raw nature from the comfort of a refined hotel, the only choice is the city of Manaus.
Carved out of the jungle and home to more than two million people, Manaus is by far the largest metropolis in the Amazon river basin. While there are sights and activities there to occupy your time, many use the newly formed city as a kicking-off point for trips ranging from jungle survival courses and tracking alligators at night to searching for giant water lilies and dolphin watching during the day. Be sure to check out the confluence of the Rio Negro and Rio Solimões rivers, where the warm, clear waters of the Negro run alongside (but don't mix with) the silt-filled, murky waters of the Solimões, creating a remarkable spectacle that stretches for miles before combining to form the lower Amazon River.
https://www.instagram.com/p/BeVets_FMyK
But experiencing this unique natural bounty doesn't mean you have to sleep in a mosquito-filled tent or on a beat-up riverboat. Tropical Hotel Manaus, for example, located near the beachfront, offers a large and beautiful pool area, plentiful dining options, and accessibility to both Manaus' cultural activities and all the adventure that lies just upriver.
For those wanting a less-traditional stay, there's the Amazon Jungle Palace, a floating boutique hotel just across the river from the city. There, you're surrounded by the jungles and riverfronts that brought you to the Amazon in the first place. We recommend reserving one of the more expensive rooms for its outdoor seating area, the perfect spot in which to relax and enjoy the beauty of the Amazon with a cold glass of Champagne in hand.
Those wanting the full river experience can climb aboard the Iberostar Grand Amazon, a river cruise ship with five-star amenities, which allows you to explore the Amazon without giving up any comfort. On-board facilities include world-class dining, spa treatments, on-ship entertainment, and activities. All around you is the best of the Amazon.
—Keith Gordon
Pick up the March/April issue, on sale now, and be sure to subscribe so you never miss an issue.