Watch Chris Hemsworth and Tessa Thompson Battle Aliens in 'Men In Black International' Trailer
It's the latest reboot of a beloved film franchise.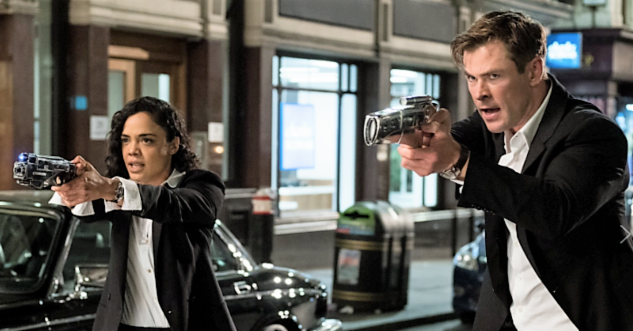 YouTube/Sony Pictures Entertainment
Six years after Will Smith and Tommy Lee Jones' Men in Black trilogy wrapped up for good (we think), Chris Hemsworth and Tessa Thompson are filling their black suits in the new trailer for Men in Black International.
As the first female lead in the long-running action franchise, Creed 2 star Thompson plays as an eager operative who discovers the covert MIB organization after scouring the globe for 20 years.
Equipped with an arsenal of glistening ray guns and memory-erasing "neuralyzers," she and Hemsworth's Agent H are tasked with uncovering a mole that represents MIB's "most global threat to date." 
As Huffington Post writes, the same chemistry the duo displayed in Thor Ragnarok serves them well in their latest roles, whether they're cracking jokes or kicking alien ass. 
Also starring Liam Neeson, Emma Thompson and Kumail Nanjiani, MIBI is helmed by Straight Outta Compton director F. Gary Gray and executive produced by Steven Spielberg. 
Men in Black International hits theaters on June 14, 2019.