Listen to Killer Remastered Versions of Metallica Hits Like 'Ride the Lightning'
They'll get you thrashing all around.
https://soundcloud.com/officialmetallica/the-four-horsemen-remastered" tml-render-layout="inline" tml-embed-width="500″ tml-embed-height="500″ tml-embed-thumbnail="http://i1.sndcdn.com/artworks-000152704665-nhltd1-t500x500.jpghttps://soundcloud.com/officialmetallica/creeping-death-remastered" tml-render-layout="inline" tml-embed-width="500″ tml-embed-height="500″ tml-embed-thumbnail="http://i1.sndcdn.com/artworks-000152705085-h1rzxa-t500x500.jpg
Metallica has always worked at feeding their fans' insatiable appetites for new content. In 35 years of rocking faces off, the metal pioneers have regularly released platinum-selling studio albums, live concert footage, music videos, limited-edition merchandise, and pretty much anything else a die-hard fan could want — aside from James Hetfield's guitar (that request didn't fly).
While deluxe box sets with fully-remastered albums and exclusive personal content from a band's formative years might feel like Christmas for fans of bands that don't seem as invested in their followers (looking at you, Guns N' Roses) this is the kind of generosity Metallica's fan base expects. 
Each album's box set will run you $150, but you're getting your money's worth, especially if you don't own hard copies of the albums and only have lame pirated digital files Lars Ulrich is still mad at you for stealing. 
Both albums hold 4 vinyl records — one being the remastered album, two being live concert recordings, and the fourth being a picture disc — a hardcover book with never-before-seen photos, and a previously unreleased live concert DVD (the Ride the Lightning DVD also includes some of the band's earliest interviews)
That's not all! The Kill 'Em All set includes a CD of the remastered album, 4 more CDs packed with previously unreleased concert footage and interviews, and a big old Metallica patch for that grungy denim vest your girlfriend won't let you wear in public.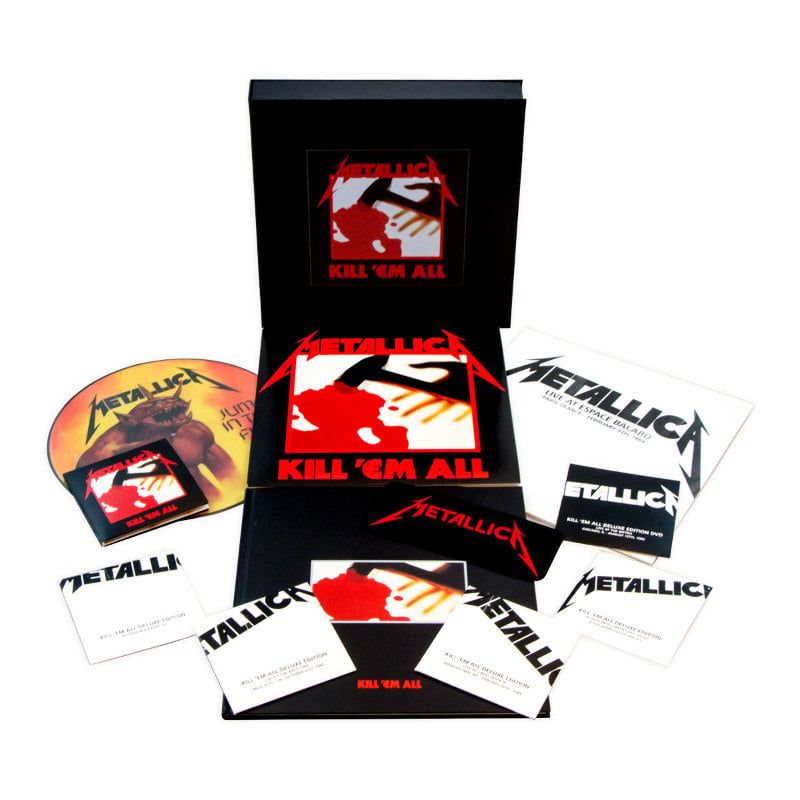 The Ride the Lightning box bears even more shiny, shouty metal fruit, including the remastered CD plus five more packed with tons of previously unreleased content, a mini-book of handwritten lyrics and three badass concert posters. 
You can even see exactly how the boxes are put together, as unboxed by James Hetfield… 
And Lars Ulrich…
If you don't want to fork over big bucks, you can order a single copy of either album — though if you're on the fence you might want to just step up and buy the deluxe editions. We're guessing they'll sell out in no time. 
You can find tastes of these thrash metal works of art on Soundcloud, but we seriously recommend making Lars happy for once and going out and purchasing them for yourself.