Is This The Most Offensive Superhero Movie Ad Ever?
Rose McGowan says this 'X-Men: Apocalypse' billboard promotes violence against women.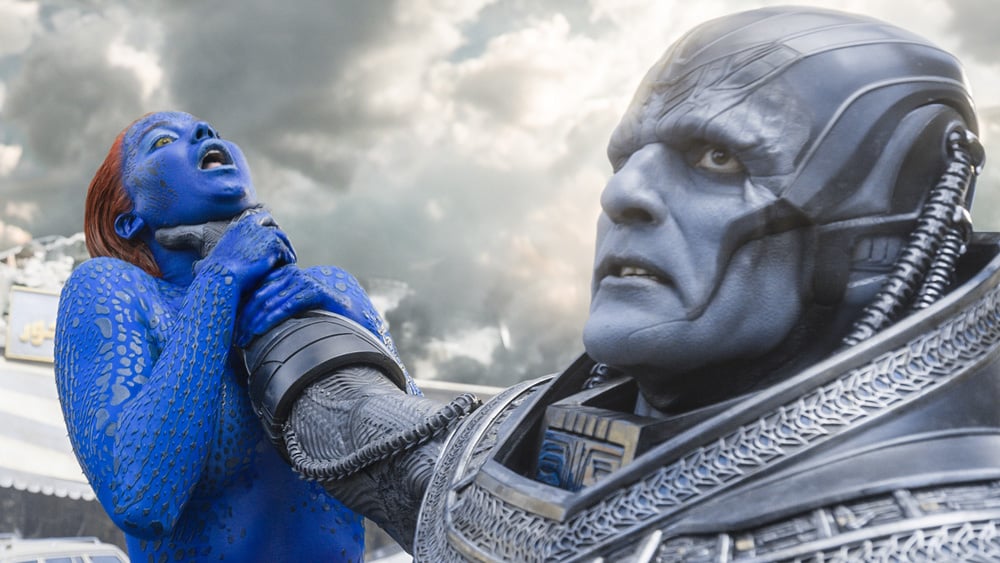 Actress Rose McGowan has blasted an X-Men: Apocalypse poster featuring Oscar Isaac's Apocalypse holding Jennifer Lawrence's Mystique in a chokehold—charging that it promotes violence against women.
"There is a major problem when the men and women at 20th Century Fox think casual violence against women is the way to market a film," McGowan wrote in a scathing Facebook post.

"There is no context in the ad, just a woman getting strangled. The fact that no one flagged this is offensive and frankly, stupid. The geniuses behind this, and I use that term lightly, need to to take a long hard look at the mirror and see how they are contributing to society.

"Imagine if it were a black man being strangled by a white man, or a gay male being strangled by a hetero? The outcry would be enormous. So let's right this wrong. 20th Century Fox, since you can't manage to put any women directors on your slate for the next two years, how about you at least replace your ad?"
While some Marvel fans have accused McGowan of overreacting, she's got plenty of people on her side, including supporters of a Change.org petition urging 20th Century Fox to stop using the image to promote the movie. 
As The Hollywood Reporter noted, popular NYC blogger EV Grieve posted a subway-entrance photo of the poster defaced by an angry parent with the message: "This violence in my kid's face is not OK." (Notably, the parent taped pieces of paper on the poster rather than scrawling over it. Considerate protester!)
Jennifer McCleary-Sills, director of gender violence and rights for the International Center for Research on Women, told THR she agreed the poster is "problematic."
"I understand that some might not see it as an issue because it is a film about violence … with male and female characters who are warriors and fighting each other as equals," she said, adding,"I'm glad that a bit of a stink has been raised about this and that people are being provoked to think about why this image isn't OK and why [the studio] could've done better."
So far, the controversy hasn't affect it's box office success. X-Men:Apocalypse brought in $80 million on its opening Memorial Day weekend.