Here's Everything Coming To Netflix in April, Including 'Tropic Thunder' and Louis C.K.'s New Comedy Special
And find out what you'll need to bid farewell to next month.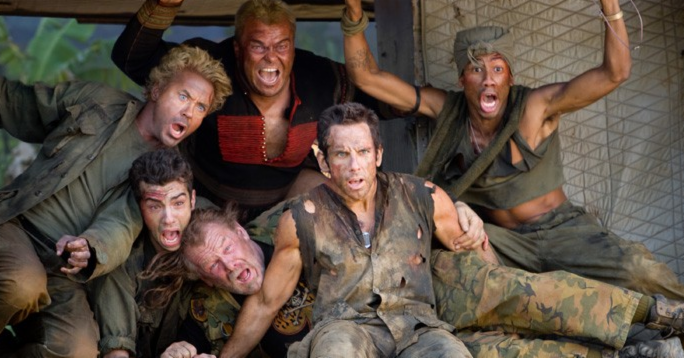 Image: Paramount Pictures via Rotten Tomatoes
Get ready to laugh come April, because Netflix is rolling out plenty of side-splitting comedy titles. 
Ben Stiller's star-studded satirical action-comedy flick Tropic Thunder will be readily available at the click of a button on the first of the month. 
And if you grow tired of re-watching Dave Chappelle's critically-acclaimed Netflix comedy specials, you can check out the first of two shows produced by the streaming company from stand-up giant Louis C.K.
Additionally, two vastly different Stephen Spielberg films, Gremlins and Schindler's List, are set to make their Netflix debut next month. Check out the full list of arrivals courtesy of Uproxx below:
Available April 1
A Weekend with the Family (2016)
A Nightmare on Elm Street (1984)
Across the Universe (2007)
An American Tail (1986)
An American Tail: Fievel Goes West (1991)
An American Tail: The Mystery of the Night Monster (1999)
Boy Bye (2016)
Born To Be Free (2016)
Cool Runnings (1993)
Good Witch: Season 2 (2016)
Gremlins (1984)
Only for One Night (2016)
Richard Pryor: Live & Smokin' (1971)
Scooby-Doo (2002)
Schindler's List (1993)
Something's Gotta Give (2003)
Thunderstruck (2012)
Wynonna Earp: Season 1 (2016)
Trouble with the Curve (2012)
Tropic Thunder (2008)
The Tenth Man (2016)
Available April 2 
The D Train (2015)
Available April 4
Chewing Gum: Season 2 — NETFLIX ORIGINAL
Louis C.K. 2017 — NETFLIX ORIGINAL
Available April 6 
Disney's The BFG (2016)
Available April 7 
El Faro De Las Orcas — NETFLIX ORIGINAL FILM
Dawn of the Croods: Season 3 — NETFLIX ORIGINAL
The Get Down: Part 2 — NETFLIX ORIGINAL
Win It All — NETFLIX ORIGINAL FILM
Available April 8
Kubo and the Two Strings (2016)
Available April 10 Documentary Now!: Season 2 (2016)
Available April 11 
Kevin Hart: What Now (2016)
Available April 12
DC's Legends of Tomorrow: Season 2 (2016)
Available April 14
Chelsea: Season 2 — NETFLIX ORIGINAL
El Elegido (2017)
Mystery Science Theater 3000: The Return — NETFLIX ORIGINAL
Sandy Wexler — NETFLIX ORIGINAL FILM
Available April 15
Disney's Homeward Bound: The Incredible Journey (1993)
Slam — NETFLIX ORIGINAL FILM
Available April 18
Lucas Brothers: On Drugs — NETFLIX ORIGINAL
Available April 19
A Plastic Ocean
Available April 20 
Bill Nye Saves the World: Season 1 — NETFLIX ORIGINAL
Girlboss: Season 1 — NETFLIX ORIGINAL
Hot Girls Wanted: Turned On: Season 1 — NETFLIX ORIGINAL
Sand Castle — NETFLIX ORIGINAL FILM
Tales by Light: Season 2 — NETFLIX ORIGINAL
The Mr. Peabody & Sherman Show: Season 4 — NETFLIX ORIGINAL
The Prestige (2006)
Tramps — NETFLIX ORIGINAL FILM
Available April 22
The Great British Baking Show: Masterclass: Season 1-3 (2016)
The Secret Life of Pets (2016)
Available April 23
Liv and Maddie: Season 4 (2016)
Phantom (2013)
Available April 24 
Long Nights Short Mornings (2016)
Available April 25 
Disney's Queen of Katwe (2016)
The 101-Year-Old Man Who Skipped Out on the Bill and Disappeared — NETFLIX ORIGINAL FILM
Vir Das: Abroad Understanding — NETFLIX ORIGINAL
Available April 26 
Real Rescues: Season 6-7 (2012)
Trust (2010)
Available April 27 
Las Chicas del Cable: Season 1 — NETFLIX ORIGINAL
Available April 28 
A Murder in the Park (2014)
Casting JonBenet — NETFLIX ORIGINAL
Dear White People: Season 1 — NETFLIX ORIGINAL
Rodney King — NETFLIX ORIGINAL FILM
Small Crimes — NETFLIX ORIGINAL FILM
Available April 30 Sofia the First: Season 3 (2015)
And courtesy of Gamespot, here's every title leaving Netflix this April:  
Leaving April 1 
Ally McBeal: Seasons 1 – 5

Angel: Seasons 1 – 5

Better Off Ted: Season 1

Barbershop 2: Back in Business

Bones: Seasons 1 – 4

Buffy the Vampire Slayer: Seasons 1 – 7

Chaplin

Dollhouse: Season 1

Ferris Bueller's Day Off

Firefly

House, M.D.: Seasons 1 – 8

Lie to Me: Season 1

Menace II Society

Resident Evil: Extinction

Rosewell: Seasons 1 – 3

Snow Day

Stomp the Yard

Superman II

Superman III

Superman IV: The Quest for Peace

Superman Returns

Superman: The Movie

The Agony and the Ecstasy

The Boys from Brazil

The Escapist

The Princess Bride

The Riches: Seasons 1 – 2

The Usual Suspects

The X-Files: Seasons 1 – 9

Vanilla Sky

Leaving April 3 

Collateral Damage

The Circle

Leaving April 7 
Legit: Season 2

Wilfred: Season 4 
Leaving April 9

Hero

Leaving April 10
Legit: Season 1

Flower Girl

Leaving April 14

The Lazarus Effect

Leaving April 15
A Fantastic Fear of Everything

Leaving April 17

American Dad! Season 6

Leaving April 26
The Nutty Professor 2: Facing the Fear

Leaving April 30 
Under the Tuscan Sun

The Mirror

Born to Defense

The Defender