New 'Star Wars: The Rise of Skywalker' Clips Reveal Evil Knights of Ren and Flying Stormtroopers
Plus: 'Star Wars' celebrates 40 years of the franchise with a separate video about how the movies have influenced pop culture.
If you have watched the movies in the final Star Wars trilogy so far you know that the former Ben Solo is Kylo Ren (Adam Driver), and he's the leader of the Knights of Ren, a formidable, Force-sensitive group of warriors powered by the Dark Side.
The Knights sound like they might present one hell of an adversary to still-new Jedi Rey (Daisy Ridley), but the thing is, we haven't actually seen them.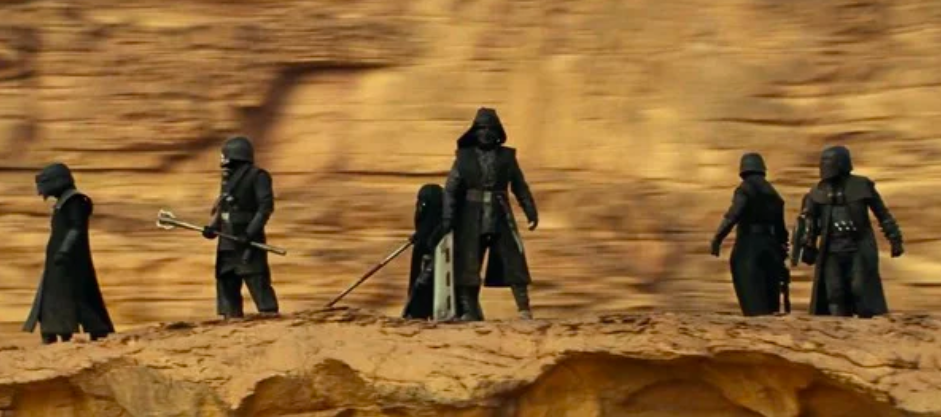 There are six seen atop a mesa on a desert planet in the middle of the 30-second spot and there are other images from battles that appear to be in the same place—so, while the plot of The Rise of Skywalker has been well kept under wraps, it would seem like we're going to get a good look at the Knights and see what kind of havoc they can wreak when battling the Rebels. 
Another new clip released after the promo above was a straight-up cut from a scene in the movie in which Rey, Finn, Poe and the gang are fleeing from stormtroopers. We—and they—discover that stormtrooper armor now comes equipped with jet packs.
Will the return of the Knights of Ren have something to do with the Emperor's return? Do flying stormtroopers have any better aim than grounded ones? We'll just have to wait and see.
Something that may have been overlooked until now is the fact that Star Wars has been a pop culture phenomenon for over 40 years. Given none of the movies in the three trilogies have been box office failures, the franchise's overall reach cannot be underestimated.
Star Wars just released the video below to mark those four decades. 
The homage is about the length of a trailer and does an efficient job of digging into that impact. We get shots of just about every major cast member along the way as well as some looks behind the scenes for Star Wars: The Rise of Skywalker. 
Star Wars has always been ready-made for parody so the video gets into that as well, highlighting takes from Family Guy, The Simpsons, and of course Mel Brooks's Spaceballs, which was a straight-up parody—and a damn good one. 
Star Wars: The Rise of Skywalker blasts into theaters on December 20.