New 'The Mandalorian' Trailer Features Bounty Hunters, 'Star Wars' Creatures and Battling Spaceships
"Mandalorian, look outside. They're waiting for you."
Disney+
When the trailer begins with the utterly distinctive voice of German film director and actor Werner Herzog, you realize you are no longer in the Star Wars universe you thought you knew.
The Mandalorian is the first-ever live-action TV series set in the same imaginary galaxy far, far away and from the clip that just dropped above, we know it's got some of what everyone loves about Star Wars (Storm troopers, droids, grim alien desert views) but is a very different drama overall—this is more like watching a sci-fi western.
The Mandalorian stars Pedro Pascal, but you reportedly never see his face. Here's a fuller synopsis:
After the stories of Jango and Boba Fett, another warrior emerges in the Star Wars universe. "The Mandalorian" is set after the fall of the Empire and before the emergence of the First Order. We follow the travails of a lone gunfighter in the outer reaches of the galaxy far from the authority of the New Republic…
He is not, as far as anyone knows, Boba Fett, but like that iconic bounty hunter, he wears Mandalorian armor.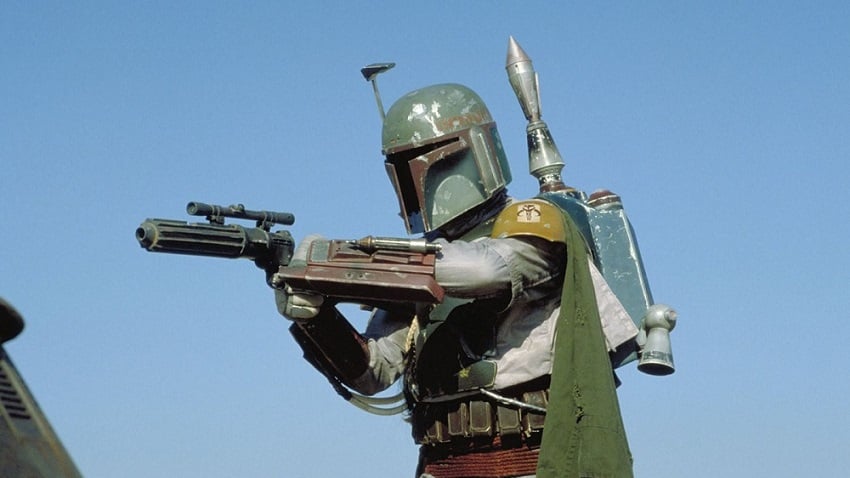 The Star Wars fandom wiki says the "Mandalorians' bloody history made their armor an iconic symbol of fear. The bounty hunter Jango and his cloned son Boba Fett wore customized Mandalorian armor, although neither of the Fetts were Mandalorian warriors."
We really want to know what Werner Herzog is doing here and who he is talking about in the trailer when he tells the bounty hunter "Mandalorian, look outside. They're waiting for you."
The eager Star Wars fandom will find out when The Mandalorian first streams on Disney+ on November 12.