Nicki's Picks: Your Weekly Chance At Winning $1 Million With MaximBet
A cool $1 million is up for grabs every week with MaximBet's free-to-play Nicki's Picks contest.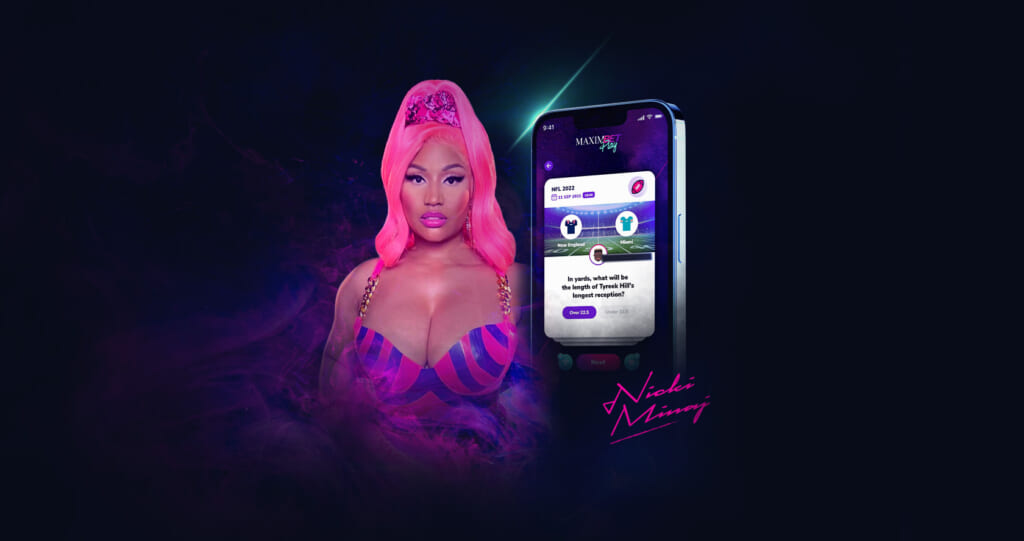 Nicki Minaj's glittery pink star just keeps burning brighter. In fact, the hip-hop icon has gone absolutely supernova. Her Instagram account recently surpassed the 200 million follower mark, making her the first rapper to hit this milestone. Then Nicki's latest single "Super Freaky Girl" broke Spotify's record for biggest debut for a solo female rap song AND debuted at No.1 on the Billboard Hot 100–marking only the second time a solo female hip-hop artist debuted at the top spot. And just when we thought that was enough, she dropped her latest smash single, "Love In The Way."
Another exciting addition to the chart-topping "Super Freaky Girl" was the introduction of a new alter ego–Nick James. The Queen of Rap is known for the many personas she uses to embody different aspects of her artistic expression. Those different layers are what's kept her ahead of the game and on top.
And you could be on top too, if you win $1,000,000 with MaximBet's free-to-play Nicki's Picks game. Just download the MaximBet Play app*, and every week you can see how you stack up against The Queen herself on the leaderboard.
Answer 24 questions about each week's upcoming NFL games, and if you predict correctly, you could win big!
Nicki Minaj's Best Alter Egos
If you're one of the legions of Barbz out there, then you know Nicki's been creating alter egos throughout her life and career. She may have started out as Onika Tanya Maraj, but it wasn't long before she began creating and assuming a plethora of different identities to suit her artistic needs. Here are MaximBet's picks for the best Nicki Minaj alter egos.
The Harajuku Barbie
Arguably Nicki's most famous and enduring alter ego is the Harajuku Barbie. She's the pink-wearing, coquettish girly-girl who's into fashion and having fun. Inspired by Nicki's fascination with Asian culture, Harajuku Barbie is where her fans – the Barbz – derive their name. Nicki has said in interviews she began using the moniker because at the time girls were referring to themselves as "something Barbie" online and she wanted to be unique. Little did she know then her alter ego would spawn a movement of millions – and a real Barbie doll made by Mattel and auctioned for charity! Harajuku Barbie is featured on tracks such as "BedRock" and "Roger That".
Roman Zolanski
Roman Zolanski is the opposite of Nicki's Barbie persona. She's described this alter ego as a gay man from London, England. He's much more outspoken than the softer-toned Harajuku Barbie and decidedly darker. The character was first revealed on Twitter, where Nicki said she would only respond to that name. Later Roman was described as Nicki's "twin sister," before she finally evolved the character to a bad boy who lived inside her, uninhibited, arrogant and who says and does the things she wouldn't. He made his explicit debut on her tracks "Bottoms Up" and "Monster".
Queen Sleeze
Before releasing her 2020 NM5 album, Nicki teased a new alter ego she would introduce to fans named Queen Sleeze. Nicki's described her as calm and deadly serious. Queen Sleeze is known to be featured on tracks like "SUGE (Remix)," "Fendi" and "Yikes".
Nicki Lewinsky
Like her Roman Zolanski character, the Nicki Lewinsky persona is characterized by overt sexuality and provocative lyrics. The alter ego also goes by "the Mistress," or sometimes "Mixtapenika," and was actively used during her years as an underground artist. Lewinsky is less aggressive and violent than Roman, but certainly raunchier. Nicki retired the persona as she gained mainstream popularity, and in the lyrics to "Dear Old Nicki," she raps about changing from the Nicki Lewinski alter ego to the superstar Nicki we know.
Nick James
"I'm NICK James Bitch!"
The latest alter ego might have been 12 years in the making if Nicki's 2010 tweet is anything to go by! Nick James was debuted in the "Super Freaky Girl" clip but we still have a lot more to learn about this new alter.
The history-making single samples heavily from the 1981 hit "Super Freak," by Rick James. Obviously, she took inspiration from the flamboyant, strong-willed and out-there Rick James and maybe just a bit extra from comedian Dave Chappelle's satirical take on him. Hopefully we'll see more of Nick James… bitch.
Which of her alter egos will be playing MaximBet's free-to-play Nicki's Picks game every week this NFL season? It's your chance to compete against Nicki's score on the leaderboards and maybe win $1,000,000. Just download the MaximBet Play app, answer 24 questions about each week's upcoming NFL games, and take your shot*. You can't win if you don't play.
*Terms & Conditions apply, see site for details. 21+ Only. Gamble responsibly. If you or someone you know has a gambling problem? CALL 1-800-522-4700