9 Wonderfully Weird Liquors You Should Learn to Love
Which weird booze is the best?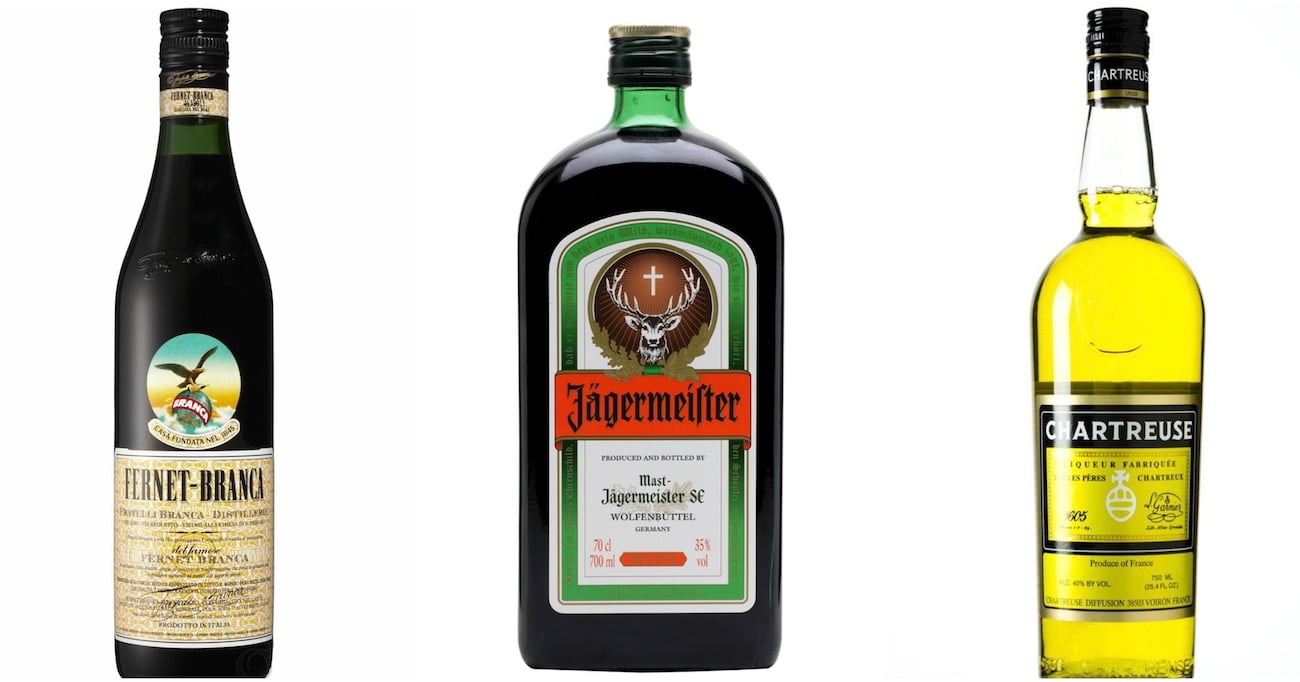 Timid drinkers prepare: it's time to take a bit of mystery out of some strange bottles on your liquor store shelf.
We know you're nervous. Usually you leave the adventure-seeking to your bartender. Part of the fun of drinking in bars is trying new things. The cocktail movement is about strange ingredients, new recipes, and pushing your comfort zones in the name of really rewarding taste experiences.
We just think it's time you tried it at home too.We hit up a few of our favorite bartenders with a list of stuff that people seem hesitant to try, and asked them to demystify the spirits within.
Here are three expert opinions on nine bottles you should buy, and how to use them to boost your own adventurous spirits.
"King's Ginger is a nice, strong ginger liqueur that's nowhere near as sweet as it sounds," says Chris Morris of Ready Room in Houston, TX. "The solid [high] alcohol content and dry ginger flavor make for something you could even drink straight if you wanted." Morris says that though it was originally designed to be consumed on its own, if you're feeling adventurous, King's makes a really awesome flip. "Shake it up with a little simple syrup and a whole egg, and you've got a nice, complex nighttime sipper."
https://www.instagram.com/p/BY5Y43HgT2m
"Chartreuse is probably one of the coolest things on the entire planet," says Bob Peters of The Punch Room in Charlotte, NC. "The history of this spirit reads something like a boozy Hollywood movie. Did you know that the color Green Chartreuse was named after the spirit? It's made by Carthusian Monks from a secret recipe that has 130 different types of Alpine herbs, and is hundreds of years old! Epic is too small of a word to decibel this spirit. Oh yeah, and it's 110 proof." Chartreuse has hundreds of practical cocktail applications but honestly, we suggest you try sipping it first.
Chile liqueur sounds like it belongs in the same fiery category as cinnamon whiskey, but it's actually an amazing component in the brave mixologist's arsenal. "Yes, Ancho is spicy," says Brittney Olsen, of Break Room 86 in Los Angeles, CA, "but used in smaller amounts the spice isn't overpowering and it plays well with baking spices, chocolate, orange and rich winter flavors. Stir half an ounce into an old fashioned or shake it into a Sidecar." That should keep you busy experimenting for weeks.
Absinthe has an auspicious history, but the modern day liquor isn't going to drive you to hallucinations—it's just going to pep up your drink. Beyond cocktails like the Death in the Afternoon, it's a great partner for fresh fruit. "Any cocktail with muddled fruit can be improved with a bar spoon of absinthe," says, Olsen, "especially those with fresh berries. I like to double up on the bright anise flavor and garnish with fresh tarragon or fennel fronds."
We know that the chances are high you might have had a bad night with Jäger, perhaps it was at a college frat party or that night you dropped your iPhone in a dive bar toilet. But that was then, this is now. Then you were taking shots of Jäger from a bottle that had been in the back of someone's freezer. But Jäger is a versatile and tasty alternative for a lot of ingredients in a lot of cocktails. We like it instead of Campari in a Negroni. We like it as a replacement for the simple syrup and bitters in an old fashioned. It adds depth and sweetness, without diluting your drink. Try it and thank us later.
https://www.instagram.com/p/BX3D5Vpg5Rz
For anyone who's been nervous to get into Negronis, Campari, and the like, Morris says Averna is "the perfect intro to the amaro (bitter) world. It's got lots of dry cocoa, malt, and coffee flavors that really help round out the bitter edges." But your best bet might be trying it as a substitute for fortified wine. "Averna is fun as a vermouth substitute when you want to ramp up the intensity a bit, such as in a Black Manhattan."
https://www.instagram.com/p/BbO73rrndMq
"Drambuie is so much more than the little brother in a rusty nail," says Morris. "It's malt whiskey with honey, herbs, and spices, so you can kind of think of it like a Scottish old fashioned in a bottle." While the obvious pairing is whiskey, Morris says Drambuie is actually incredibly versatile. "Try subbing it in for the triple sec in a margarita, or simply stir with some vodka and orange bitters for a an elegant update to the Vodka Martini."
Disaronno is an almond liqueur that is known for being super sweet. Peters likes it because it's low in alcohol content. "I used to use a ton of Disaronno when creating 'shooters' back in the high volume years. Base spirit plus Dissaronno plus juices equals delicious, easy to drink shot. Disaronno is an amazing tool when creating a cocktail for someone who doesn't like a particularly strong tasting drink."
Fernet is one of the most universally beloved liquids among bartenders (you'll frequently see them taking it as a shot). "Typically Fernets are very bitter Italian liqueurs that are considered digestifs—spirits that aid in digestion," says Peters. "Fernet are very complex and will settle your stomach after a large meal when sipped alone or will add incredible depth to a cocktail." Peters says that depth comes at a price: it's strong in flavor, so in order to achieve balance when using Fernet in a cocktail, "sometimes, not always, a liberal amount of sweetness is required."
Fernet Branca and Fernet Menta are slightly different products, and can be enjoyed different ways."I've had my fair share of fernet shots," says Olsen, "and I can't drink it that way anymore. During winter months I like to make my own whipped cream and add Fernet Menta to top boozy hot chocolate." Sounds like a great idea to us—make that two.