Nintendo Could Launch Switch 2.0 in Summer 2019
A sequel to the popular handheld console could be in stores before you know it.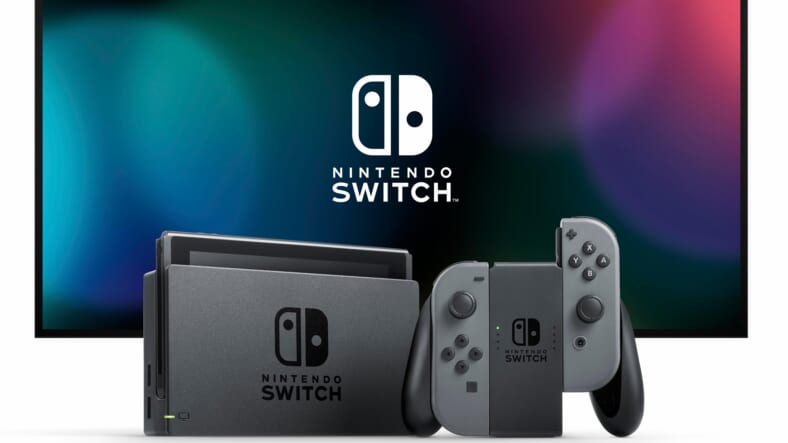 Credit: Nintendo
The Wall Street Journal is reporting that Nintendo is planning to release an updated version of the super popular Nintendo Switch at some point in 2019. The rumor is based on speculation about Nintendo's market strategy and the presumption that an updated version of the Switch hardware—to give it a larger screen, better battery, more connectivity or some other unforeseen boost—will sustain its popularity and momentum.
WSJ's prediction appears to be based on Nintendo's previous approach to their popular line of Nintendo DS products and their offshoots. Having gotten away with roughly the same hardware in the DS product line for over a decade, the Japanese gaming giant has made incremental upgrades and backward compatibility its bread and butter in the handheld world.
The Nintendo Switch is a different animal, fulfilling the portable needs of many gamers but also docking to your living room TV for a pure console experience. The possibility of a thinner, brighter, more power-efficient screen in the Switch may entice people to upgrade but for many—as long as the best Nintendo exclusive games aren't tied to the new hardware—their old Switch will still get the job done.
It's not out of line to suggest Nintendo's potential upgrade to a so-called Switch 2.0 will be to counteract a security flaw that has allowed hackers to play pirated games on their own Switch. Nintendo is in a constant cat and mouse battle with hackers, going back years and several consoles, and the company has made major efforts to squash piracy of their games. It's not a stretch to think that an upgrade will address that irksome security flaw and disguise it as an updated product.
Is a Switch 2.0 really what gamers want? There are already roughly 20 million units out in the world and that's a nice-sized fan base always ready to play the latest and greatest games. With two undeniable blockbusters already under their belt—Zelda; Breath of the Wild and Super Mario Odyssey—and another coming in December in the form of Super Smash Bros. Ultimate, many would prefer Nintendo focus more on delivering more of their excellent first-party games and new innovations rather than updated hardware. It's not a secret that people are much hungrier for a Super Mario Odyssey 2 than they are for a new Switch 1.5.