Inside The 2016 NYC Porn Film Festival
A NSFW look inside New York's raunchiest film fest.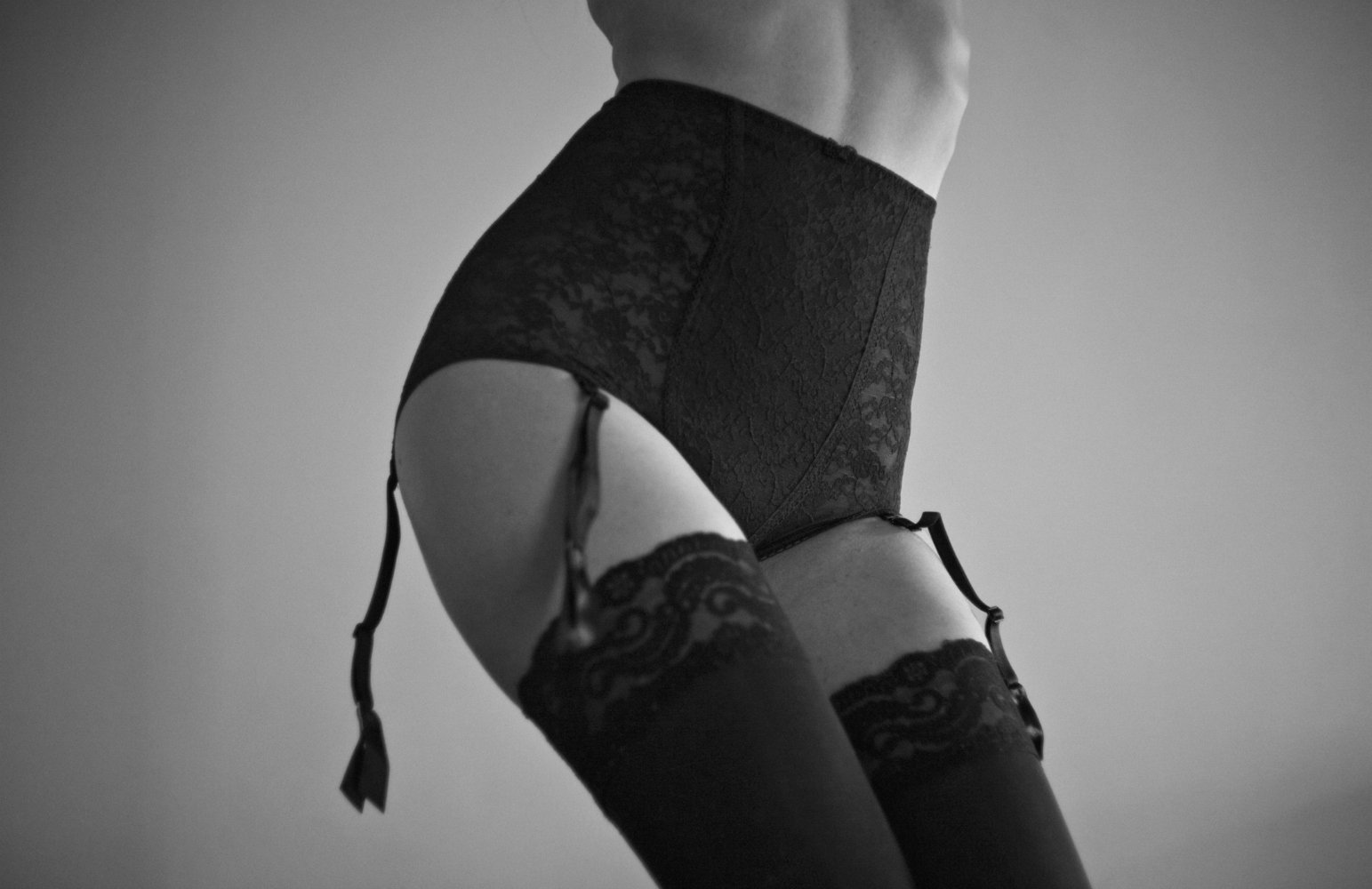 The second annual NYC Porn Film Festival, sponsored by Pornhub, was held earlier this month, and naturally, we had to go. Because porn.
The two-day bacchanal was held at the Chemistry Creative – an avant-garde studio in East Williamsburg, Brooklyn – where people gathered and watched porn together all day. And when I say all day, I mean all day. About 12 hours, not including the insane afterparty, which was hosted by porn superstar Ron Jeremy. It was a good time.
Last year, the mission of the pornfest was to "diversify" the programming by offering a healthy mix of raunchy and classy. As festival founder Simon Leahy told Bedford and Bowery, "We have high-end art stuff alongside, like, Tila Tequila getting fucked in the ass." Which isn't exactly high-end art stuff.
This year, the focus was to explore "human sexuality through art, audience participation, parties, live performance, film, virtual reality, and sex technology," which all definitely happened.
In the first hour alone, I watched a man stick his dick in a frosted cake and then fuck a jello mold, I saw a woman use a chili pepper as a dildo, and I watched a bunch of men masturbate hands-free and shoot cum everywhere using electro-stimulation. 
Please keep in mind, this was all happening at 9:30 in the morning.
At about 11 a.m., I realized I needed some wine to really get in the mood, so I went over to the bar, where there was an intricate pyramid of pastel colored dildos and butt plugs. 
"Take one, they're complimentary," said the bartender, gesturing to the sex toys. I complied, and my wine, my dildo, my butt plug and I went back to watch some more porn.
The next few hours were filled with more dicks, vaginas, cumshots, and close-ups of buttholes than I ever could have found and seen on my own.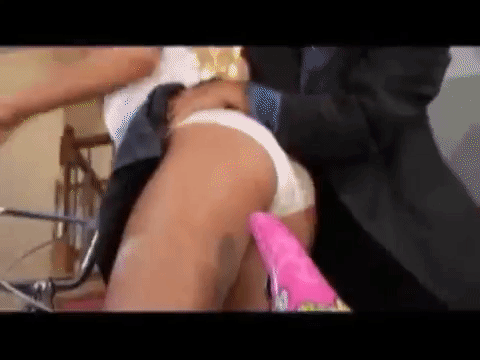 One particularly memorable scene from one of the films, Sleaze, was: "I'm Christopher Rage. This is my dick. And this is my asshole." And then the  camera literally zoomed very close on both.
The porn got sweet and delicate for a short while during the 40-minute Make Love Not Porn segment, which showcased "real world sex," which is "everyday people having sex the way they like to have it in their everyday lives."
One 'real world couple' from Make Love Not Porn was especially relatable, because they were hardcore fucking on a radiator in Amsterdam, which is definitely something any of us would do if given the opportunity.
At 7:45pm on Saturday, us lucky festivalgoers got to see the raunchy music video premiere of the remix of "I'm A Sword Swallower" by James Franco and Tim O'Keefe's band, Daddy. The video featured a lot of sex toys, nudity, and James Franco getting cut with razor blades.
Speaking of James Franco, I was sitting behind a guy wearing a James Franco mask on the back of his head like Voldemort, and a woman wearing a blonde wig during one of the film screenings. 
Naturally, I had to ask them who they were and why they were dressed like James Franco and Hannah Montana.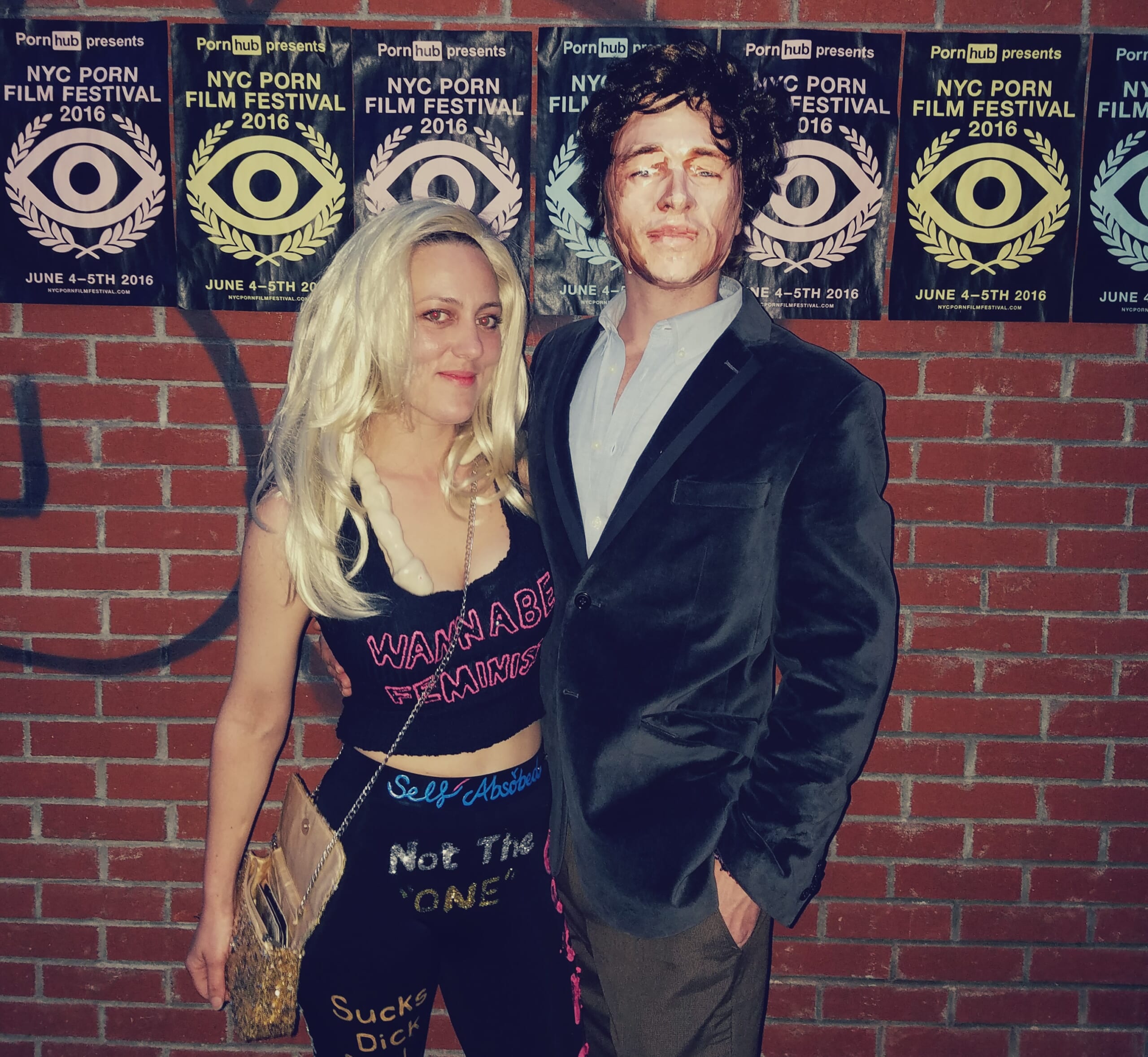 Turns out the woman was Bonnie Lane, one of the artists from the Festival. I had just seen her dancing naked to Diana Ross' Upside Down in her own (NSFW) film, Show Me What I Asked For, mere moments ago, so obviously I had to go outside and smoke a cigarette with her (and "James Franco"). 
Show me what I asked for (sample) from Bonnie Lane on Vimeo.
" tml-embed-width="640″ tml-embed-height="360″ tml-render-layout="inline
However, the festival wasn't just insanely graphic porn. There were some highly informative panels, talks, and demonstrations sponsored by Adult Empire, including a panel with HIV experts, a talk discussing "the importance of pornography in feminist culture and its positive affirmations in the lives of the performers and viewers," and a live demonstration by smoking hot financial dominatrix Dahlia Rain, and her 'bitch,' Kenny.
Watch Mistress Dahlia lovingly cane Kenny's ass:
https://twitter.com/zeynepyenisex/status/740376777747496960
In case you wanted to see Dahlia Rain a little better:
At some point in between all of the porn, demonstrations, and panels, I met a beautiful 26-year-old French woman who perfectly embodied the girl-next-door persona, and she told me she was at the Porn Film Festival doing research for her thesis on film theory. Beauty and brains! 
She then proceeded to tell me she was a former dominatrix who catered to the kinks of some very famous people. A true femme fatale.
The festival also debuted Pornhub's virtual reality porn publicly for the first time, and it was incredible. Through the VR headset, I experienced a dominatrix tie me up, put nipple clamps on me, and spit on my naughty bits. 
I'd be lying if I said I wasn't turned on.
https://twitter.com/zeynepyenisex/status/739258210046087168
There was also a 3D naked body mapping exhibit by Zak Krevitt and SO O'Brian, which saw a hot nude model in go go boots get followed around by a fancy light show.
The lights in the body mapping exhibit transformed the model into different genders and fetishes, and she shapeshifted right before our very eyes.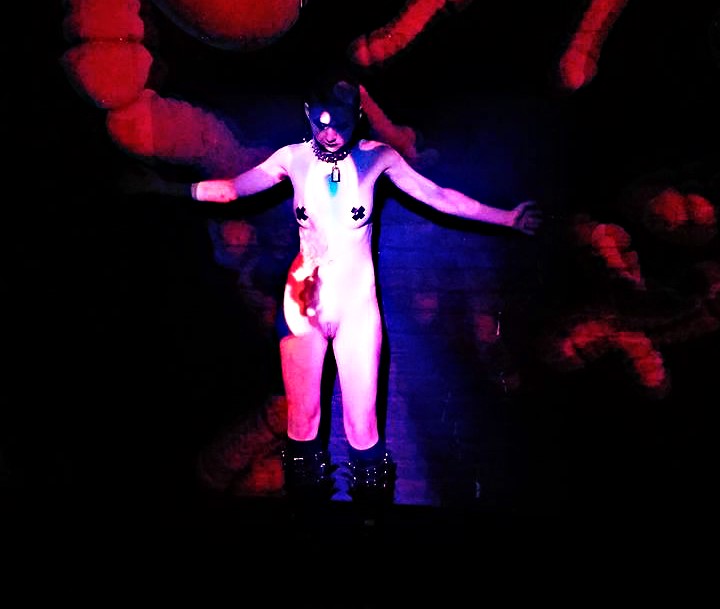 Surprisingly, there was only one protester outside, who appeared to be drugged out of her mind, therefore was fairly unsuccessful in her demonstrations. 
She was standing on the wrong side of the street and was protesting in front of an ice cream truck warehouse instead of the Porn Festival. She realized she was in the wrong place later in the day, but it's okay. "A" for effort.
To conclude, here are 5 things I can never unsee from the 2016 NYC Porn Film Festival:
1. A woman masturbating with honey outdoors, then shooting an egg out of her vagina into a creek.
2. Extreme anal fisting.
3. 80's porn in which men with furry mustaches made various O-faces in very dramatic close-up shots, similar to this:  
4. A woman biting a fake penis off of a man.
5. Horsetail butt plugs.

Until next year!