The World's Most Insane Cognac Collection Will Blow Your Mind
Old Liquors, a massive storehouse of rare bottles dating back to the 1700s, is finally offering its exquisite hooch for sale in the U.S.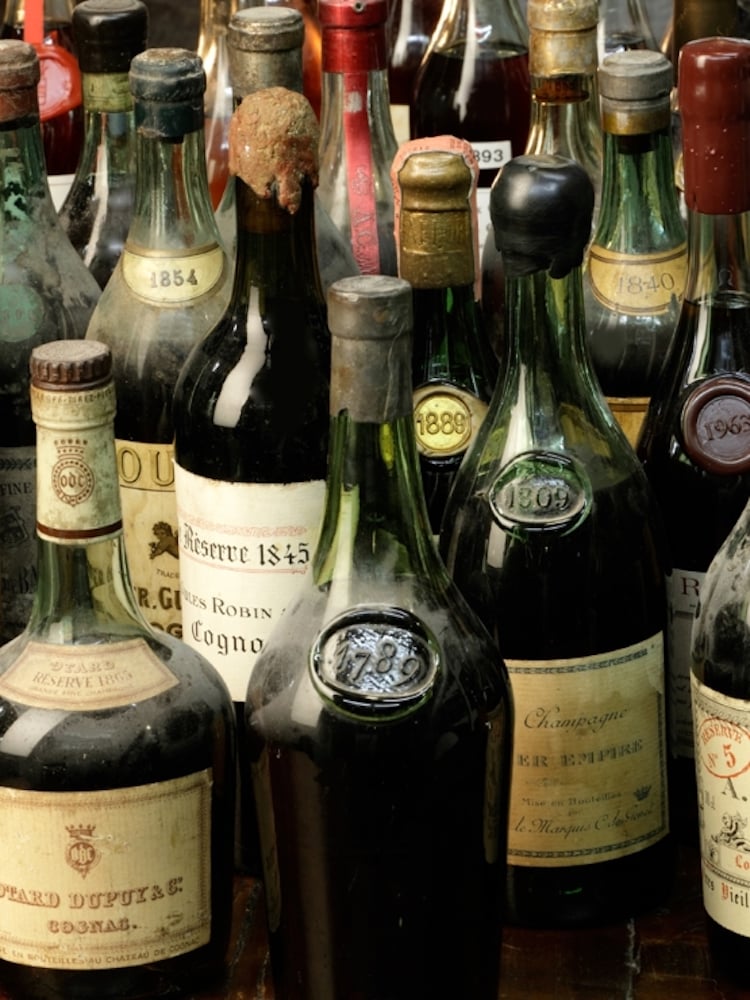 The owner of one of the world's greatest booze collections rarely partakes in its pleasures—in other words, he doesn't get high on his own supply. So when Bay van der Bunt, an eccentric antiques dealer turned spirits collector, pours two different cognacs distilled in 1848 into glasses in front of me, he's making a rare exception. "I have a glass of cognac and I'm not right for two days," he jokes. "That's the advantage to me. They buy to drink it. I buy to collect it."
Van der Bunt's unassuming countryside estate is tucked away in the sleepy outskirts of Breda, in the Netherlands. It looks like little more than a charming farmhouse and a few barns. And that's essentially what it is, except that Old Liquors is also headquartered here. In the cellar of a former cow barn are some 10,000 bottles of liquor worth more than €20 million (about $23.5 million). The crowded storehouse is stuffed to the brim with bottles proudly coated with centuries of dust that testify to their age and authenticity.
As the thirst for rare spirits has risen in recent years, Old Liquors is, for the first time, bringing parts of its collection to retail stores in the U.S. This was never part of a grand plan, but is instead the culmination of a hobby that turned into a passion, and then snowballed into a veritable treasure chest of a hooch collection. "There's no why," van der Bunt says about the beginnings and expansion of his private stash. "I couldn't imagine this 20 or 30 years ago."
Van der Bunt's company procures its stock from major auction houses, amassing thousands of bottles per year in bulk lots. In an adjoining room next to his main collection are stacks of hundreds of unopened brown boxes—recent auction purchases yet to be cataloged. The company used to sell bottles privately and at auctions, but now operates exclusively as a wholesaler. Old Liquors utilizes an intensive system to authenticate and appraise bottles in order to connect to potential buyers. Most bottles sell for between $2,500 and $50,000.
His oldest cognac dates to 1760, and his oldest bottle overall is a Madeira from 1715. There's the six-liter bottle of cognac from 1795, said to have traveled with Napoleon's army, and there are the shelves of prestigious bottles obtained from floundering fancy restaurants in need of a cash influx. 
There's rum from 1780, some chartreuse here and assorted liqueurs there, and the occasional bottle of scotch. But primarily, Old Liquors has cornered the market on absurdly old cognac and Armagnac. If there was a prized vintage from any of the major cognac houses at any point in the 19th century, van der Bunt probably has it.
By the end of 2017, the company hopes to establish a presence in a select number of fine liquor stores in major cities including New York, Los Angeles, Washington, D.C., and Chicago. It's easier said than done. The bottles aren't in standard U.S. sizes, labels are in many cases partially or entirely missing, and there are the logistics of importation and distribution. Further, every product sold at retail is required to have a specific, approved label, and because each bottle is a unique specimen, or one of a mere handful, a new label must be created.
Then there are the intertwined matters of authentication and convincing prospective buyers to make a purchase. The company builds minutely detailed histories for each bottle, who sold it to whom, when, and for how much, its distillery information and contents painstakingly authenticated in every way possible. Each bottle will then be housed in a "museum-like" plexiglass display case with its personal fact sheet included. "It's like art: You need the provenance," says Bart Laming, managing director of Old Liquors. "It's not about price; it's about uniqueness. Some of these are the last bottles in the world."