Sylvester Stallone's Turtles From the Original 'Rocky' Are Still Alive, Will Appear in 'Creed 2'
Cuff and Link are 44 years young.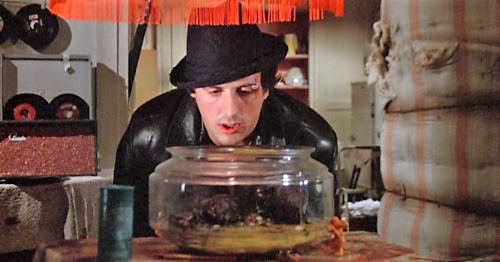 United Artists
Sylvester Stallone's beloved bull mastiff, Butkus, died way back in 1981 (RIP). But two other star animals from 1976's original, Oscar-winning Rocky are still alive and kicking. 
An Instagram photo snapped on the set of Creed 2 revealed that Cuff and Link, the tiny turtles featured in Sly's seminal movie, are now much larger at the ripe old age of 44.
https://www.instagram.com/p/BiZ5d6oDfaF
In the film, Rocky purchases the reptiles while courting Adrian at the pet store she worked at. They were also featured in this scene: 
It's no surprise that Stallone has kept his pets. Hulk Hogan recently told TMZ that "he hasn't changed a bit through all of the fortune and fame"… right before he implied that the shredded 71-year-old actor wouldn't have a chance in a real-life version their Rocky III fight.
"Yeah, Stallone is a strong guy," the former WWE star said. "What do you think I'm going to say?" 
When pressed again, he responded with the most Hulk Hogan response ever. 
"Brother, come on. Come on, brother!"
Your move, Sly. 
https://www.instagram.com/p/BfJUATcjhMg