'Three Billboards', 'Get Out' and 'The Shape of Water' Lead 2018 Oscar Race
Which flick should win Best Picture?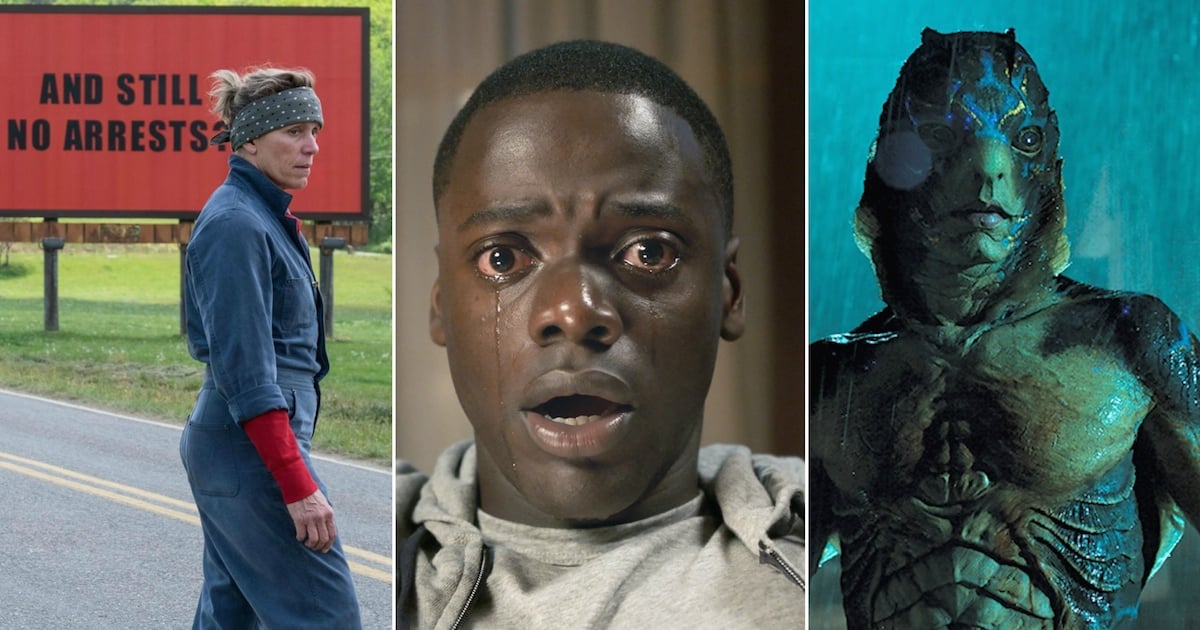 Gold Derby polled "Oscar experts" from various major media outlets to feel out how the all-important 2018 Best Picture category at the Academy Awards is shaping up.
The website found that Three Billboards Outside Ebbing, Missouri, the dark comedy about a woman feuding with the local police force to track down the murderer of her daughter, is most likely to take home Oscar gold. 11 experts gave the acclaimed indie crime movie their vote, leaving it with 17/11 odds.
There's also a decent chance that The Shape of Water, director Guillermo Del Toro's fantastical vision of a deaf woman who has sex with a merman, could win. Nine critics said it could cause a Best Picture upset, making the movie the second most likely to win with 9/4 odds.
The Oscars are usually predictable fare, expect for last year when Moonlight blindsided everyone by winning Best Picture after La La Land producers had already begun their acceptance speech (in the greatest Oscars mishap of all time).
But it's also possible that Lady Bird, the heartwarming coming-of-age movie directed by Greta Gerwig, or Get Out, Jordan Peele's widely beloved race relations/horror hit, could win. They were arguably the two most highly-acclaimed movies of the year, after all.
Still, either is unlikely as insiders are already saying older Oscar voters have written off Get Out as too unconventional, and Lady Bird is not the sort of splashy feature that dazzles the Academy. Still, the experts gave Get Out and Lady Bird 7/2 and 20/1 odds, respectively.
And if Gold Derby's experts are to believed, you can probably forget about Dunkirk, The Post or Call Me By Your Name.
Here, the full predictions:
1. Three Billboards Outside Ebbing, Missouri: 11 experts (17/10 odds)
Thelma Adams (Gold Derby)
Kyle Buchanan (Vulture)
Bonnie Fuller (HollywoodLife)
Tariq Khan (Fox News)
Michael Musto (NewNowNext)
Tom O'Neil (Gold Derby)
Sasha Stone (Awards Daily)
Peter Travers (Rolling Stone)
Brian Truitt (USA Today)
Adnan Virk (ESPN)
Jeff Wells (Hollywood Elsewhere)
2. The Shape of Water: 9 experts (9/4 odds)
Grae Drake (Rotten Tomatoes)
Joyce Eng (Gold Derby)
Tim Gray (Variety)
Pete Hammond (Deadline)
Andrea Mandell (USA Today)
Jack Mathews (Gold Derby)
Anne Thompson (Indiewire)
Sara Vilkomerson (EW)
Susan Wloszczyna (RogetEbert.com)
3. Get Out: 6 experts (7/2 odds)
Erik Davis (Fandango)
Edward Douglas
Michael Hogan (Vanity Fair)
Matthew Jacobs (Huffington Post)
Kevin Polowy (Yahoo!)
Krista Smith (Vanity Fair)
4. Lady Bird: 1 expert (20/1 odds)
Chris Rosen (EW)
5. Dunkirk: (66/1 odds)
6. The Post: (66/1 odds)
7. Call Me By Your Name: (100/1 odds)
8. Darkest Hour: (100/1 odds)
8. Phantom Thread: (100/1 odds)