The Peyton Manning Doping Saga Just Took a Strange Turn
If you thought you'd heard the last of his HGH allegations, think again.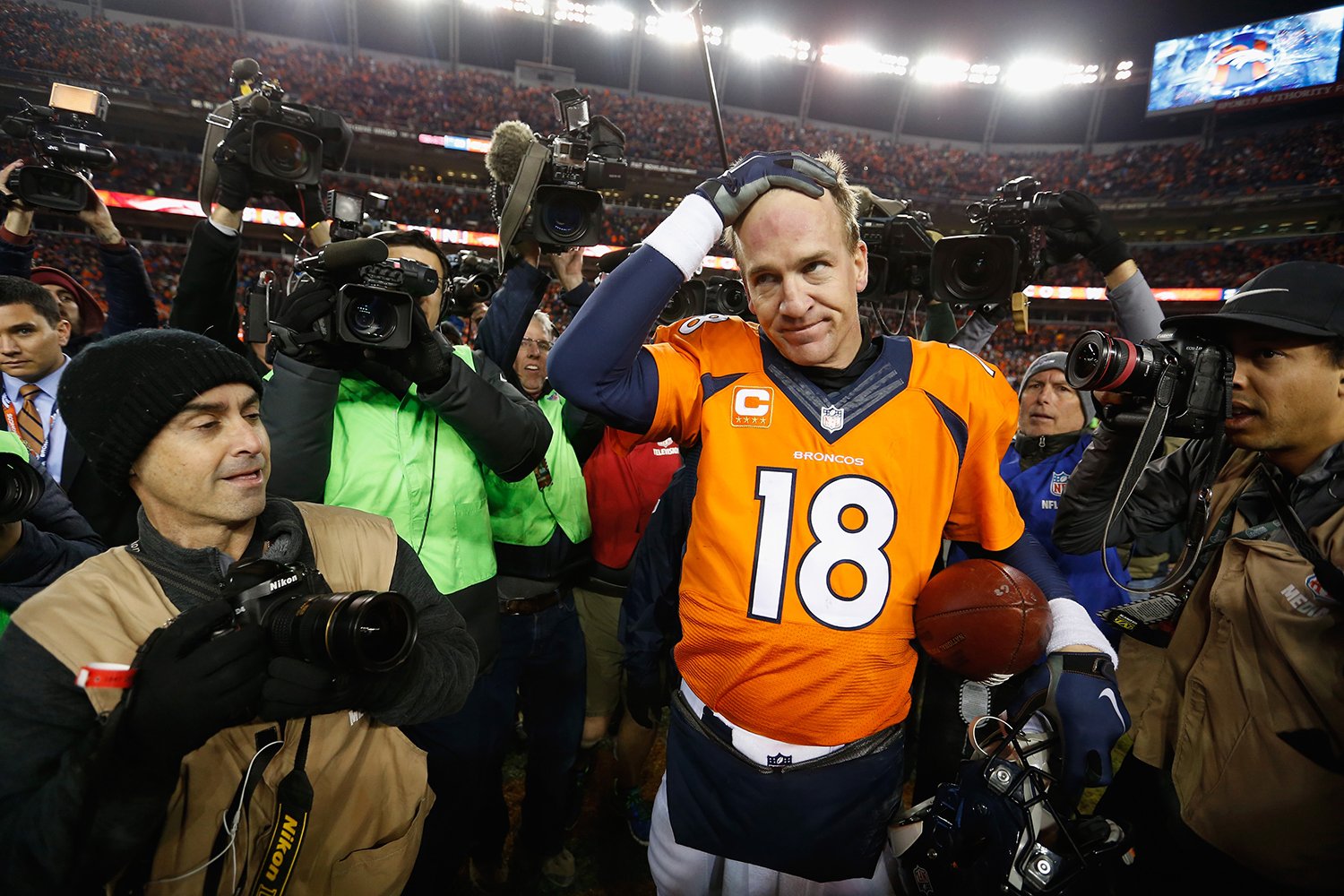 Shortly after Al Jazeera released The Dark Side, a damning documentary accusing Peyton Manning and other star athletes of receiving shipments of performance-enhancing substance HGH from a Indianapolis health clinic, the source of that accusation against Manning publicly recanted his sensational story. Former clinic intern Charles Sly had simply made everything up. Or so he said.
Al Jazeera and reporter Deborah Davies stand by their story, and they're refusing to back down to critics. On Sunday, Davies told CNN that the key details provided by Sly have been confirmed by another "absolutely impeccably placed, knowledgeable, and credible," source. This person, who Davies didn't identify, made her more confident in running with Sly's claims, she said.
The second source allows Al Jazeera to support the claims made in the documentary. But even if it's all true, does that matter? A spokesman for Peyton Manning says no. 
The problem, according to former White House press secretary Ari Fleischer, who's serving as Manning's spokesperson, is that Ashley Manning was a patient at the clinic that shipped HGH to the Manning household. The second source only confirmed that the clinic shipped HGH "to Ashley Manning in Florida and other places in the U.S." 
"Given the fact that Peyton publicly said he never took anything sent to Ashley, and Tom Condon, Peyton's agent, said any medication shipped to Ashley was by prescription and taken solely by her, what difference does it make about Ashley?" Fleischer said in an email to CNN.
What's implied, of course, is that the HGH was meant for Peyton Manning and sent to his wife as a way to hide that. The problem is that there's no evidence to back up that implication, and Manning has denied it vigorously since the story of his alleged doping first broke last week. 
In the meantime, Manning returned to game action Sunday after nearly two months on the shelf. Brock Osweiler's ineffectiveness left the Brconos down in the third quarter in Denver against the San Diego Chargers until Manning, in classic form, led the team to a win and the number one seed in the AFC. 
This really could not have come at a better time for Manning. With two weeks until the Broncos play, at least the media will have something to write about that doesn't put his name and HGH together in a headline.