Playlist of the Week: The Knocks' "55"
Get your weekend going with a disco dance party for the ages.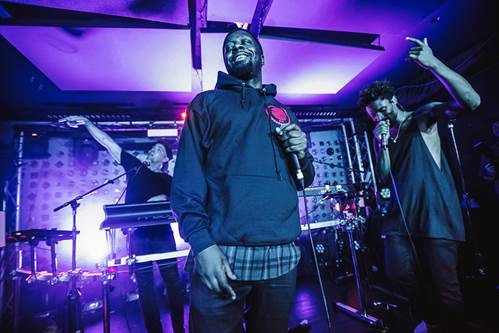 Coming off a sold-out North American tour, NYC-based duo The Knocks release their highly-anticipated debut album "55" today to much fanfare. Collaborating with powerhouse talent, including Wyclef Jean, Cam'Ron, Fetty Wap, Walk The Moon, Powers, Phoebe Ryan, Carly Rae Jepsen and more, "55" is an infectious dance album infused with hip hop beats and disco vibes. Whether you're at the gym, pregaming your night out or grooving to a funky basement dance party, "55" has something for everyone.

Maxim caught up with The Knocks (Ben "B-Roc" Ruttner and James "JPatt" Paterson) and the legendary Wyclef Jean himself outside Brooklyn's Baby's All Right to talk about their first-ever album, executive producing for Wyclef, and coming together to make music magic.

What's it been like working with music legend Wyclef? "He'll be like, 'I don't even remember that. You know my music better than I do,'" says B-Roc. "I'm like, 'dude, I'm a megafan.' I tried to play it cool for as long as I could, but now he just makes fun of me."

"He's, I don't think, ever missed," JPatt notes of Wyclef. "As far as putting out songs, they've all been next dimension."

"I love working with The Knocks. The Knocks are real cool," explains Wyclef. "If you follow my history, you know I always find the music because the music finds me. I always like cool cats, ya know?"

Check out more from our time with The Knocks + Wyclef below. 

http://link.brightcove.com/services/player/bcpid1783580181001?bckey=AQ~~,AAABnwxt8sE~,TdyFq09iMr7kioKT_wX2C8w8xLyk5_f2&bctid=4749182130001″ tml-render-layout="inline
Want more? Of course you do. Stay connected with The Knocks by following their adventures on Twitter and Instagram, and buy "55" on sale now.