3 Toasty Port Wine Cocktails To Warm Up Your Winter
Your favorite fortified wine isn't just for after dinner anymore.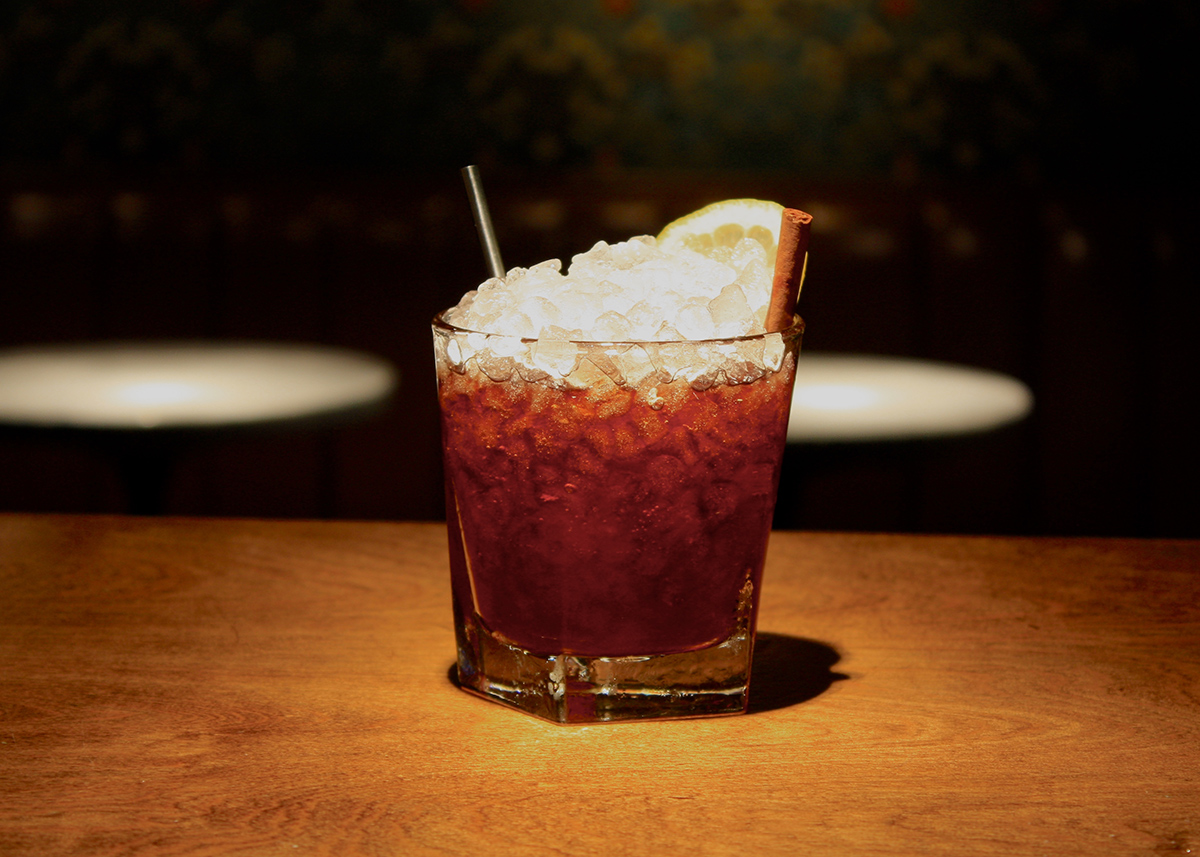 Port has long been a favorite ingredient for tasty winter cocktails. The sweet and hearty wine, typically savored after an epic meal, can serve as a luxuriously fruity backbone to scores of worthy cold-weather drinks.
There are websites overflowing with examples of classic port cocktails, and a recent resurgence in the ingredient's popularity has seen port-infused libations popping up on drink menus around the country. 
New York City cocktail slingers are as guilty as anyone of perpetuating the port-tail takeover. Here, NYC bartenders serve up three new port drinks to keep you pleasantly pickled this winter.
By the Fireside (pictured above)
Courtesy of The Up & Up, Manhattan
2 oz Croft 10 Year Old Tawny Port
¾ oz chicory coffee syrup*
½ oz lemon juice
4 shakes (¼ tsp) of a 70/30 blend of ground nutmeg and ground cinnamon
Shake and strain into an Old Fashioned glass and fill with crushed ice. Garnish with lemon wheel.
*Coffee Syrup: Made from strong Chicory coffee. Preferably Cafe du Monde, at 3 scoops of coffee grounds for 2 scoops of water. (12 scoops: 8 cups). Add and dissolve white sugar equal to one half volume of coffee. Add 2 oz vodka per quart of syrup to stabilize.
 Aperitif for Destruction
Courtesy of The Lighthouse, Brooklyn
1 oz Lillet Blanc
¾ oz Fonseca Siroco White Port
½ oz tonic
Build in a Collins glass. Shake. Fill with tonic, garnish with an orange peel.
American Whiskey Punch
Courtesy of Two E at the Pierre Hotel, Manhattan
1 oz rye whiskey
1 oz Taylor Fladgate 10 Year Old Tawny Port
¾ oz pomegranate juice
½ oz Yukon Jack liquer
Egg white
Combine ingredients in a shaker. Shake until chilled and frothy. Strain and serve in a coupe glass with orange wheel.