Chechen Dictator Forced Young Sons to Fight in Televised MMA Match
Bad dad of the century?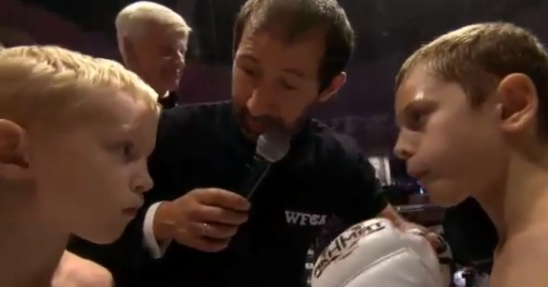 Chechen strongman Ramzan Kadyrov is a bad dude. The 40-year-old with a Bieber haircut has an affinity for murder and torture. He's assassinated rivals and stolen from his own people. But Kadyrov is usually smart enough to stay quiet when violating basic human decency. Not so with his most recent bit of insanity.
Kadyrov, an avid MMA fan, threw his pre-teen sons into the cage and had them pummel other kids for the entertainment of thousands. The event was broadcast on state TV and broadcast from the Chechen capital Grozny. The fight card was comprised mostly of adults, but each of Kadyrov's three sons, aged 9, 10 and 11, fought too. 
And, big surprise here, each of them won. I'm not suggesting that the other kids took a dive, but I'm terrified to imagine what Kadyrov would have done to a kid who dared beat up his progeny on TV.
" tml-render-layout="inline
The exhibition has drawn a lot of criticism, and not just from namby-pamby bloggers banging away on their keyboards. Russian MMA bruiser Fedor Emelianenko called out Kadyrov on Instagram, writing, "What happened at the tournament in Grozny is unacceptable and, moreover, cannot be justified. There were little ones, eight years old, punching each other in front of happy adults. Is it really so important for you to organize a spectacle at the cost of children's health?!"
He called it "incomprehensible" that such a spectacle would be broadcast on state TV and called for all fighters under 21 to wear extra protection in the cage—unlike the adolescent kids getting their brains boxed around for Kadyrov's amusement.