The Retro Posters for Steven Spielberg's 'Ready Player One' Are Getting Roasted Online
Is there such a thing as nostalgia overload?
Warner Bros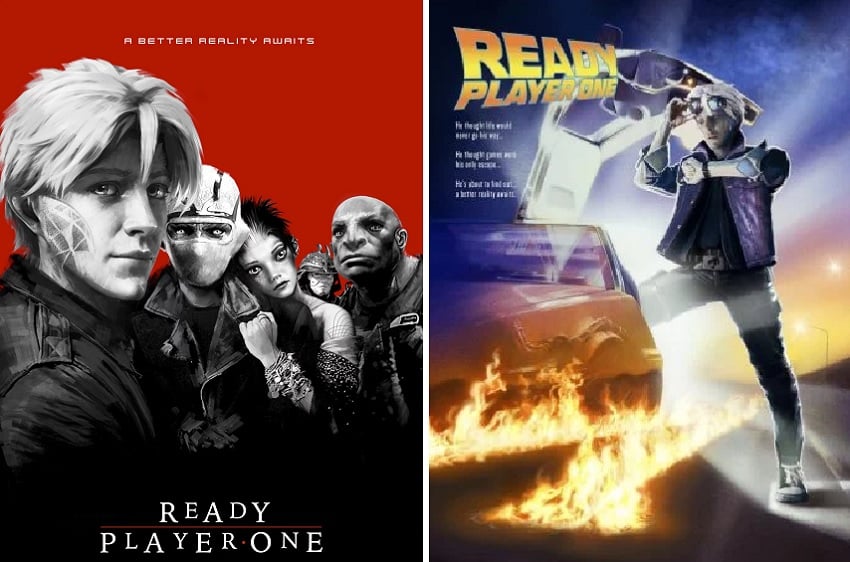 Ernest Cline's book Ready Player One has been described as something even worse than "brazen, shameless fanservice." Though it's received many positive reviews, some who've read it balk at the idea it's built on nonstop pop culture references.
Steven Spielberg's movie version of Ready Player One maintains that structure. Here's the synopsis:
From filmmaker Steven Spielberg comes the science fiction action adventure "Ready Player One," based on Ernest Cline's bestseller of the same name, which has become a worldwide phenomenon. The film is set in 2045, with the world on the brink of chaos and collapse.

But the people have found salvation in the OASIS, an expansive virtual reality universe created by the brilliant and eccentric James Halliday (Mark Rylance). When Halliday dies, he leaves his immense fortune to the first person to find a digital Easter egg he has hidden somewhere in the OASIS, sparking a contest that grips the entire world. When an unlikely young hero named Wade Watts (Tye Sheridan) decides to join the contest, he is hurled into a breakneck, reality-bending treasure hunt through a fantastical universe of mystery, discovery and danger. 
In new promotional posters highlighted by /Film, it's clear that filmmakers are really leaning in to ripping off all the good stuff you remember from the last 20-30 years. 
The promotions department for this flick probably felt this was the perfect way to let the audience know what was coming. The trailer was exciting enough and had the advantage of action as well as a look at the bleak world outside the story's pop culture-saturated virtual reality. 
The dumb posters directly imitating iconic movies of the past just look like poorly-executed fan art; like something an semi-artistically talented teen might publish on her Tumblr. 
Internet responses to this ad campaign have been kind of mean. Also hilarious.
the Ready Player One posters are perfect because just like the book/movie they are impoverished versions of shit you actually liked

— Brandy Jensen (@BrandyLJensen) March 6, 2018
https://twitter.com/kateleth/status/971126379281444864
https://twitter.com/Itszutak/status/971129599487651840
those ready player one posters are great advertising that communicate what the movie is all about: masturbatory self-inserts that have nothing interesting to say or offer about what they're referencing

— 20XX (@TheYear20XX) March 6, 2018
Then there's this guy, who wrote his own theme song.
That's just a handful of responses. There are more, plenty just slamming this ham-handed campaign, others making even more jokes about the hollow lameness of it all.
So, will Ready Player One be as good as the trailer promised and much better than these dumbass posters? It's about a young man who kind of saves the world in part through virtual reality travels, which sounds damn interesting. 
We'll have to just wait and see what's up when the movie premieres on March 29, 2018.
h/t /Film