Remember David Bowie With 20 of His Most Iconic Songs
Which classic Bowie jam is your favorite?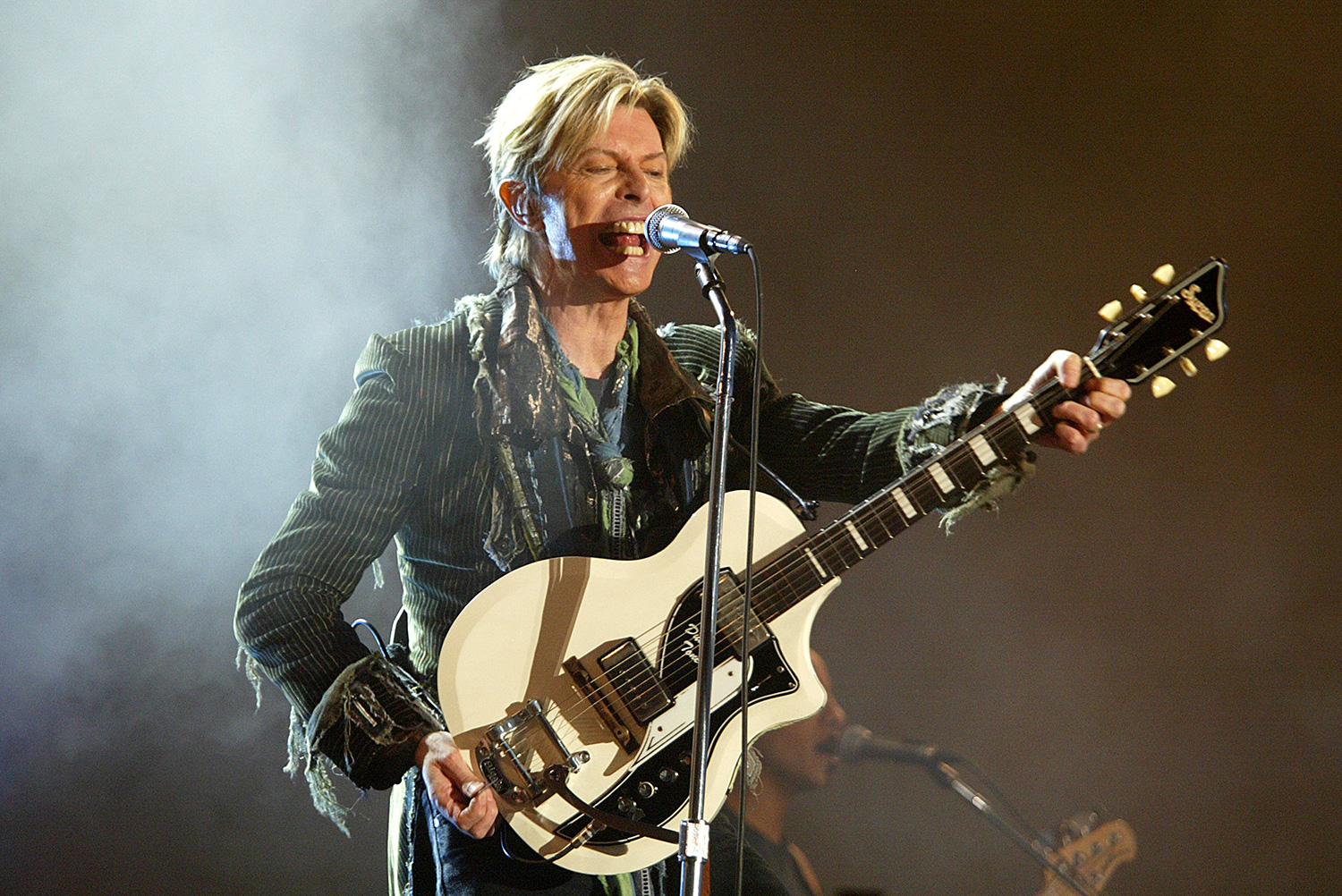 David Bowie was rock's ultimate changeling. The shape-shifting superstar birthed a multitude of personas that included Ziggy Stardust, Major Tom, the Thin White Duke, Aladdin Sane, the Man Who Fell to Earth, the soulful bandleader of Young Americans, the '80s pop powerhouse who unleashed Let's Dance, the frontman of Tin Machine, and the reclusive rock god behind the jazzy Blackstar, released just last week.
Over a career that spanned 50 years—beginning with the 1964 single, "Liza Jane," released under the name Davie Jones and the King Bees—there are too many great Bowie songs to count. But as we remember the immortal pop music goliath, who died Sunday at 69 after an 18-month battle with cancer, let's revisit 20 classics that are forever linked with Bowie's immeasurable legacy. 
1. 'Ziggy Stardust'
It's hard to argue with the importance of the signature song from 1972's The Rise and Fall of Ziggy Stardust and the Spiders From Mars concept album, which also featured the epic rockers 'Suffragette City' and 'Moonage Daydream.'
2. 'Space Oddity'
Bowie's 1969 ode to Major Tom is out of this world even today, and was the first of a series of space-themed jams that included 'Life on Mars' and 'Starman.'
3. 'The Jean Genie'
The chugging lead single from 1973's Aladdin Sane was inspired by Bowie's longtime collaborator Iggy Pop and promoted with a video featuring Andy Warhol acolyte Cyrinda Foxe. 
4. 'Rebel, Rebel'
The ultimate glam rock anthem— equal parts punk, sleaze and pure lust— salutes hot tramps everywhere. 
5. 'Changes'
If there is one song that embodied the ever-evolving Bowie, it's this one about facing ch-ch-ch-changes.
https://www.youtube.com/watch?v=zbsWFq2y0XM
6. 'Fame'
With a title offered up by John Lennon, this hard and funky classic ranks among Bowie's best. 
7. 'The Man Who Sold the World'
While Nirvana's cover on their 1994 Unplugged album is probably the most famous version, nothing beats Bowie's haunting original.
https://www.youtube.com/watch?v=8aXgInZGZhY
8. 'Young Americans'
Check out future R&B star Luther Vandross back up this souful hit on the The Dick Cavett Show in 1974.
9. 'Under Pressure'
Bowie teams up with Queen's Freddie Mercury on a song so good, the bass line made Vanilla Ice's corny 'Ice, Ice Baby' a worldwide smash.
10. 'Let's Dance'
The slinky, chart-topping title track from Bowie's 1983 album urged us all to put on our red shoes and dance the blues. 
https://www.youtube.com/watch?v=N4d7Wp9kKjA
11. 'Fashion'
Whether you take it as an embrace or rejection of the subject matter, its jerky robo-funk was irresistible either way. Beep beep!
https://www.youtube.com/watch?v=GA27aQZCQMk
12. 'Suffragette City'
Wham, bam, thank you, ma'am.
13. 'Golden Years'
As much as Bowie embraced change, his '70s-rich catalogue beautifully recalls the past, which this rock radio staple expertly evokes.
https://www.youtube.com/watch?v=TKUy6ygUgP0
14. 'Ashes to Ashes'
In which Bowie admits: "We know Major Tom's a junkie." Ya think?
https://www.youtube.com/watch?v=CMThz7eQ6K0
15. 'Panic in Detroit'
Another decadent rocker from Aladdin Sane.
16. 'Modern Love'
For those who know when to go out and know when to stay in.
17. 'Life on Mars'
Besides being an amazing song, nobody wore blue eyeshadow like Bowie did in this video. 
https://www.youtube.com/watch?v=v–IqqusnNQ
18. 'Queen Bitch'
This thrashy standout from Hunky Dory was said to have been inspired by Bowie's love for the Velvet Underground and Lou Reed. 
19. 'Oh! You Pretty Things'
Perhaps the coolest song featuring Bowie on piano, which makes up for the fact that it was first released by Peter Noone of Herman's Hermits.
20. 'Heroes'
Might as well end with this heartbreaking all-time stunner co-written with Brian Eno. 
RIP, David Bowie, a true rock 'n roll hero.
https://www.youtube.com/watch?v=jBuwC4VJi50