Remembering The Cars Frontman Ric Ocasek, Who Has Died at 75
The iconic singer and guitarist, who died on Sunday, was saluted by fellow musicians including Weezer, Beck, Flea and The Killers' Brandon Flowers.
Getty Images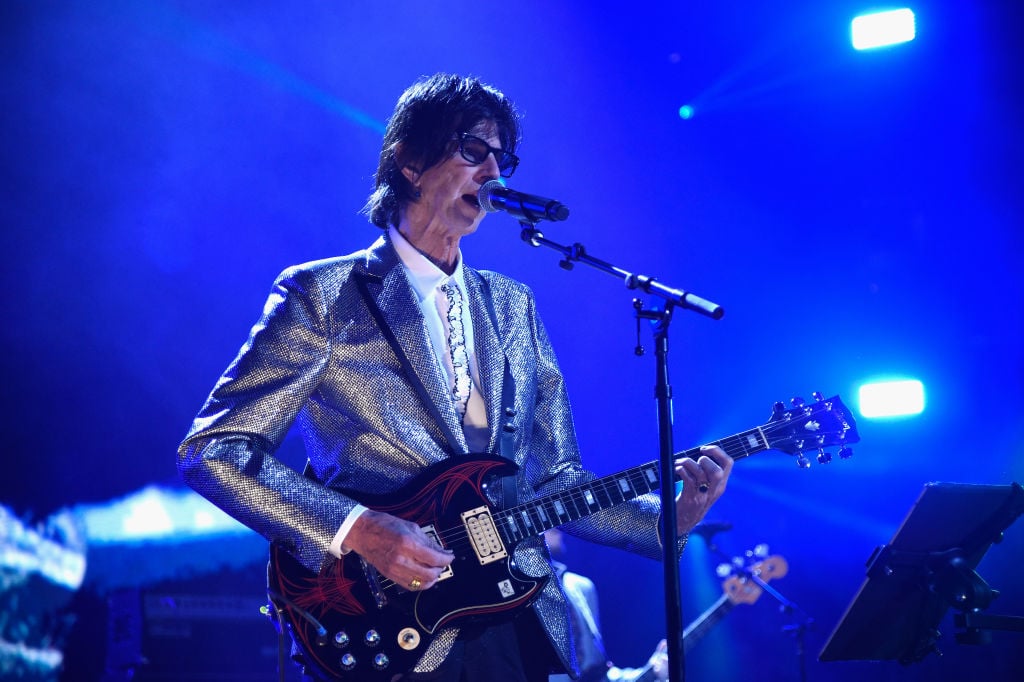 Ric Ocasek, who fronted the pioneering new wave band The Cars, was found dead inside his Manhattan townhouse on Sunday, and the music world is in mourning.
The Cars brilliantly fused new wave and rock into global pop success in the late 1970s and 1980s, becoming mainstays on rock radio with catchy odes to romance and heartbreak like "Just What I Needed", "You Might Think", "My Best Friends Girl", "Since You're Gone", "Drive", "Shake It Up", "Lets Go" and "You're All I've Got Tonight."

Ocasek, who last performed with The Cars when the Boston band was inducted into the Rock and Roll Hall of Fame in December 2017, also produced classic albums from acclaimed underground bands like Bad Brains and Suicide. 
But The Cars, who were both critical darlings and hugely successful on the pop charts, is by far Ocasek's most enduring legacy. Fellow musicians and celebrities were quick to react to news of his death on social media.
https://www.instagram.com/p/B2dQI4IhLaB
"Who is gonna drive us home now?

Ric the writer behind one of our favorite American bands of all time. We were truly saddened to hear of his passing. " – JT pic.twitter.com/qGLDx2ZnqR

— Duran Duran (@duranduran) September 16, 2019
https://twitter.com/kurt_loder/status/1173413766328934400
R.I.P. Ric Ocasek, lead singer with The Cars, at 75. A very cool cat. He was the first person to hear my album The Flat Earth from start to finish, in Mutt Lange's house in Chelsea.

— Thomas Dolby (@ThomasDolby) September 16, 2019
https://www.instagram.com/p/B2dHPgHlMq_
"It doesn't matter where you've been, as long as it was deep." There's a #ricocasek lyric for you.

— Jason Isbell (@JasonIsbell) September 16, 2019
Ocasek, who is believed to have died of natural causes, shot to fame with The Cars with the band's self-titled debut album 1978, which included hits such as "Just What I Needed" and "My Best Friend's Girl."
From 1978 to 1987, The Cars banged out six records, all of which enjoyed great success. In 1984, the band won MTV's "Video of the Year" award for its hit song off its fifth album, "You Might Think."
The Cars split for years before reuniting in 2011 and releasing an album called "Move Like This." It was their only album without late bassist Benjamin Orr, who died in 2000, and sang lead vocals on two of the band's biggest hits, the rocking "Just What I Needed" and the melancholy ballad, "Drive."
Ocasek had recently placed the home where he was found on the market after he and his former supermodel wife Paulina Porizkova announced their split in May 2018, reports the New York Post. The couple—who had two children—had been together for 28 years when they separated.
Ocasek reflected on his years with The Cars during the band's final performance together last year at their Rock and Roll Hall of Fame induction ceremony.
"It's certainly a wonderful feeling to be accepted by peers and you see the people that are in the Rock and Roll Hall of Fame, who gets inducted, it's a positive feeling that you get," Ocasek told Rolling Stone.