The Rock Hilariously Trolls Kevin Hart (Again) While Urging Everyone To Vote
"Don't do it for me. Do it for our little ones."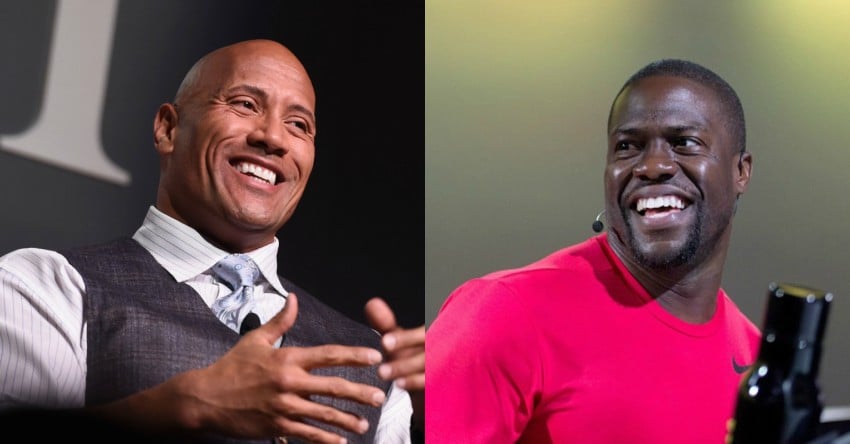 Getty Images
It's Election Day in America, and celebrities encouraging people to vote are a dime a dozen. Give Dwayne "The Rock" Johnson some credit, then, for finding a way to prod his Instagram followers to get to the polls while still ripping on his buddy Kevin Hart.
The famously large (6'5″, 200-plus pounds of solid muscle) Johnson went for his favorite target—Hart's height. Tthe comedian is literally a foot shorter than The Rock.
" tml-render-layout="inline
In the caption for an allegedly photoshopped pic in which he's carrying a toddler-sized Hart, Johnson wrote, "Get out and VOTE. Don't do it for me. Do it for our little ones. #vote 🇺🇸."
While Johnson and Hart are a perfectly-matched comedy duo on film, half the fun of their friendship is simply watching as they troll each other online even as they put their heads together to plan new projects.
" tml-render-layout="inline
The whole baby Hart/baby Rock thing is an ongoing joke between them. And let's face it, it's pretty damn funny. 
" tml-render-layout="inlinehttps://www.facebook.com/hartkevin/posts/10155456323417045″ tml-render-layout="inline" tml-embed-height="728″ tml-embed-width="500
The next time Dwayne Johnson and Kevin Hart are on screen together in the sequel to Jumanji it's unlikely either will be playing a weird-looking baby. But we'll see when it's in theaters in December 2019.