Ronda Rousey's UFC Comeback Just Got a Lot Easier
She's already beaten Miesha Tate twice.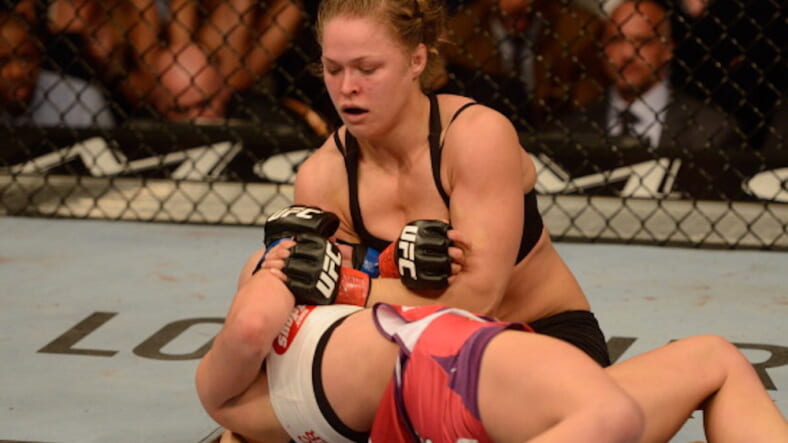 Going into Saturday's night's fight between Holly Holm and Miesha Tate, few people outside of Tate's corner were cheering for her to win. It wasn't personal, but a Holm victory would mean Ronda Rousey's long-awaited return to the Octagon would put her in a title fight against the woman who destroyed her face and her undefeated record last year.  
But ready-made storylines are no match for the unpredictability of the UFC. When Tate put Holm to sleep Saturday night and snatched the UFC bantamweight championship for herself, she also took away the chance at an immediate Rousey-Holm rematch. As disappointing as that might be for fans, Rousey's probably doing backflips—her path back to the top just got a hell of a lot easier.
It's not that Tate is a lesser fighter than Holm, but MMA is all about matchups. Last November, Holm's long arms and elite boxing skills proved a bad matchup for Rousey. Saturday, Tate's superb wrestling skills made her a bad matchup for Holm. So how does Tate matchup with Rousey? If their two previous encounters are any indication, not well. 
In their first fight three years ago, Rousey defeated Tate by armbar. A year and a half after that,  Rousey defeated Tate by armbar. It's worth noting that unlike so many of her other wins, Rousey didn't destroy Tate seconds after the bell. In fact, Rousey's two longest fights, save the defeat at Holm's feet, were against Tate. 
It's no surprise that immediately after UFC 196, Dana White confirmed that Rousey would get Tate next. "Ronda wasn't watching the fight. I text Ronda and she said 'What happened?'" White said. "I said 'Miesha just choked her unconscious' and she said 'Looks like I've got to get back to work.'"
Rousey isn't scheduled to get back into the cage until later this fall, but the two movies she's supposed to be filming in the coming months have reportedly not yet scheduled shooting. That leaves open the very juicy possibility that she'll return this summer. 
"She's scheduled to not come back until October or November but it doesn't mean I can't ask," White said.