The Ginormous Royal Suite at Mohegan Sun Casino Is For Ultra High-Rollers Only
Baller status.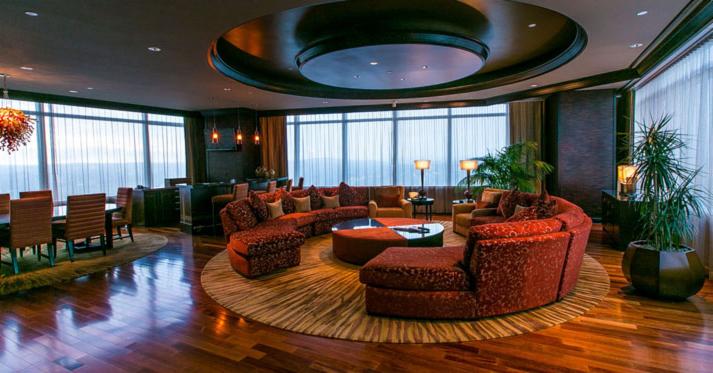 Photo: Mohegan Sun
Even though Mohegan Sun Resort & Casino is situated on Connecticut's picturesque Thames River, it's still the perfect destination for those of us who are less interested in "nature" and "culture" and more concerned with having indoor-style fun.  
If you'd rather spend your hard-earned vacation days eating steak, rocking out at concerts, keeping your feet firmly planted at a craps table, and maybe venturing outside to play golf, this is the place for you.
A little slice of Las Vegas located on a Indian reservation in Connecticut near the Rhode Island border—we're not kidding about the middle-of-nowhere thing—Mohegan Sun boasts world-class entertainment (Chris Rock, Bon Jovi, and Bellator MMA action, for example), high-end spas, top-notch restaurants (hello, Bobby Flay!), and enough slots, gaming tables and race betting to satisfy even the most degenerate of gamblers. 
Now, if you're the type who wants the best of the best, their truly ridiculous Royal Suite really is the only option. 

Spanning 3,500 square feet, this mammoth party pad offers two lavish master bedrooms, two Jacuzzis, and a massive seating area with panoramic views of the Thames River that's perfect for masterminding an Ocean's Eleven-style heist.
The Royal Suite also comes with a kitchen that's way bigger than yours, as well as full butler service (yes, butler service) and limousine transportation to and from nearby airports.
The Royal Suite must be booked more than 48 hours before arrival, so make some friends, make some reservations, then win some cash.