15 Great Rye Whiskeys to Drink Right Now
Rye or die with these absolutely badass bottles of high-quality hooch.
Rye whiskey is extremely popular these days, but the spirit itself is nothing new. In the 18th and 19th centuries, it was the whiskey of choice for many Americans, particularly in Pennsylvania and Maryland where it was often distilled. 
Even further back, according to unearthed recipes and ledgers, George Washington was most likely making his own rye whiskey at Mount Vernon. The working distillery there now makes an un-aged rye based upon that recipe. But after Prohibition, rye fell out of favor for many years. For a long time, the only references to rye whiskey came from scenes in westerns in which a cowboy moseys on up to the bar to order a shot of the hard stuff.
Times have certainly changed. According to the Distilled Spirits Council, the volume of rye production increased by a whopping 536 percent from 2009 to 2014. That's a whole lot of whiskey. "American whiskey has increased in popularity with the expanding number of brands and the return of rye to popularity," says Templeton Rye co-founder Keith Kerkhoff, a brand that sources its rye and is starting to build its own distillery. 
"[Consumers'] palates are looking for more adventurous experiences. This has driven a shift from clear spirits to more distinctive brown spirits such as bourbon and the quintessential American spirit of rye whiskey."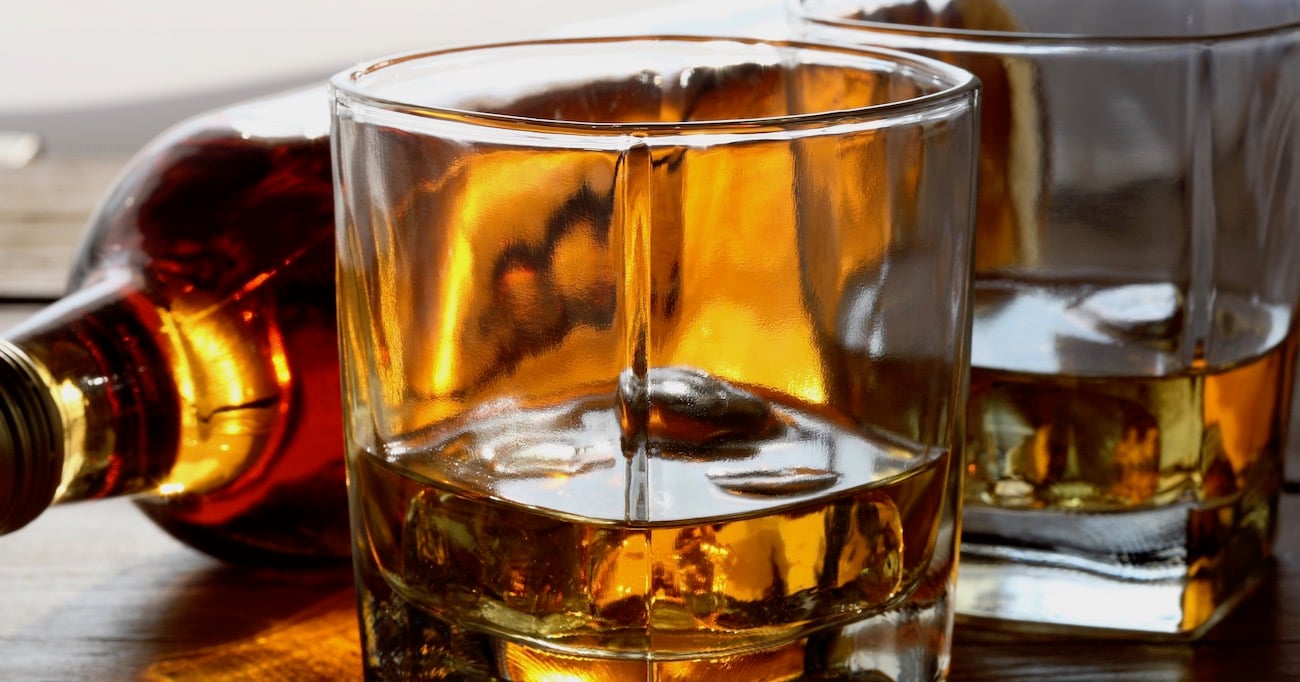 So what is rye exactly? The main thing that differentiates it from its kissing cousin, bourbon, is that it must be made from a mash bill of at least 51 percent rye (bourbon is made from at least 51 percent corn). 
The result is a whiskey that is not as sweet and has flavors that are often described as "spicy" – think baking spices like nutmeg and cinnamon, and the zing from black pepper. Traditionally, rye whiskey has been used in a variety of classic cocktails like the Manhattan and the Vieux Carre.
Bartenders who know their shit tend to love rye whiskey. Nicholas Bennett, head bartender at Manhattan's Porchlight, says that the characteristic bite and spice of rye brings a more aggressive flavor to cocktails. 
"It also tugs at the nerd strings most bartenders have," he says. 
"When we are looking into the origins of some cocktails (i.e. Old Fashioned and Manhattan), they were made when rye was still the more popular spirit. Not to diminish bourbon at all, but if you were in the room where it happened with Alexander Hamilton and George Washington, you were probably drinking rye."
Jeremy Oertel, formerly of Manhattan cocktail emporium Death and Co. and now head bartender at Donna in Brooklyn, concurs. 
"Now that everyone is re-discovering these old recipes and making them again, it only makes sense that rye is making a comeback. It can hold its own in most cocktails, where sometimes bourbon can get lost."
In short, rye whiskey has made an undeniable comeback. Nowadays, both major brands and smaller start-up distilleries are adding rye expressions to their portfolios. 
Now that we've got that out of the way, here are 15 bottles of rye, both recent additions and familiar standards, which you should be drinking now:
Basil Hayden's Rye
https://www.instagram.com/p/BSUSe8lB-B3
Basil Hayden's, part of the Jim Beam family, released its first rye expression this past spring. Basil Hayden's bourbon is already a high-rye whiskey, but the rye expression obviously has more of the spicy grain (the exact mash bill is undisclosed). This NAS whiskey is unique in that it contains a small amount of four-year-old rye that has been re-barreled in quarter casks for an additional seven years. The result is an easy drinking, low proof (40% ABV) rye that works well in cocktails.
Redemption Rye
https://www.instagram.com/p/BVnmmr3FaYG
Redemption Whiskey gave its bottles a much-needed redesign last fall, although spirits conglomerate Diageo seems to think it looks a little too much like the Bulleit bottle… However that lawsuit plays out, the liquid inside (95 percent rye whiskey aged for at least a year, sourced from MGP in Indiana) is light and lovely (and tastes older than it is), perfect for sipping or mixing.
Jack Daniel's Single Barrel Rye
https://www.instagram.com/p/BGnWlWdLC__
This whiskey came out in 2016, Jack's third rye release since 2012 after an Unaged and Rested Rye, but it's important for a couple of reasons. First of all, this was the brand's first new grain recipe in a century and a half, with a mash bill of 70 percent rye. Secondly, Jack Daniel's will add a new, fully aged Tennessee Rye (not a single barrel expression) to its lineup this coming fall, marking a major shift for the iconic Tennessee whiskey company. If you like Jack and you like rye, you'll definitely like this.
Hochstadter's Family Reserve 16 Year Straight Rye Whiskey
https://www.instagram.com/p/BST2yr1gEDW
This is one powerful rye whiskey. Hochstadter's Family Reserve is 100 percent rye that is sourced from Alberta Distillers Limited and is aged for 16 years, and it hits you fast and hard at almost 124 proof. Drink it slow, don't be afraid to add some water, and enjoy a mouthful of some very good, spicy rye whiskey.
High West Yippee Ki-Yay
https://www.instagram.com/p/BVVKjTZhT9E
Utah's High West Distillery is always doing interesting things with its sourced and distilled whiskey, and this release is no exception. It's a blend of rye whiskey aged from 2 to 16 years from both MGP and Barton Distillery. After aging in new charred American oak barrels, the whiskey is put into French oak previously used to age vermouth and Syrah wine. The result is almost like a Manhattan in a bottle, a smooth and slightly sweet rye that is a perfect after-dinner sipper.
Woodford Reserve Distillery Series Blended Rye
Introducing Woodford Reserve Blended Rye – the latest addition to the Woodford Reserve Distillery Series Family. Available now in Kentucky. pic.twitter.com/iIwXQfGp97

— Woodford Reserve (@WoodfordReserve) May 23, 2017
Released this past May, Woodford Reserve's Blended Rye is only available at the distillery and select Kentucky retailers. So if you are in state, find yourself a bottle. The liquid is a blend of rye used in the Woodford Reserve Master's Collection Aged Cask Rye and Distiller's Select Straight Rye. All that might not mean much to you if you haven't tried those before, but take a sip and all will become clear.
Peerless Rye
https://www.instagram.com/p/BUxV6ekD_Gc
Kentucky Peerless Distilling released its first whiskey in about century this past May, a two-year-old barrel proof rye that is a labor of love from father and son team Corky and Carson Taylor. This 107 proof rye isn't cheap, at about $125 per bottle, but it's already gaining fans in the whiskey world.
WhistlePig FarmStock
https://www.instagram.com/p/BVc7XUehx0L
Vermont-based WhistlePig sources its premium aged rye whiskey from Canada and Indiana, but the brand is working towards becoming a farm-to-bottle operation. FarmStock is the first step in this endeavor, blending very young rye distilled and aged on the farm with 5 to 6-year-old and 12-year-old sourced rye. This new release doesn't taste exactly like what you've come to expect from WhistlePig, and opinions have been varied. But the bottom line is this is the first step in a new direction for WhistlePig.
Wild Turkey Rye
https://www.instagram.com/p/BR5pp7-AeUP
Listen, there's nothing new or groundbreaking about Wild Turkey Rye. It's just a classic rye whiskey that's really, really good and affordable. It's an approachable 81 proof, and the distillery uses what it calls a deep "alligator" char in its barrels for extra flavor. You be the judge – Wild Turkey rarely disappoints.
Michter's 10 Year Single Barrel Rye
https://www.instagram.com/p/BV8kmEXlFN1
Michter's released its 10-year-old rye in March, the only release planned for the year of this particular expression. This rye comes from the distillery's "phase two" of production, when they were sourcing from an unnamed distillery using their own particular recipes (the Michter's distillery is now fully operational in Louisville, and we should start seeing the whiskey in a few years). This is a delicious rye whiskey, rich and deep and complex in all the right ways.
Bulleit Rye
https://www.instagram.com/p/BT7V-PoF3RH
This sourced rye whiskey is another one that's not particularly new, but it's become kind of a standard and something of a bar staple. This could be due in part due to its appealing, old-timey packaging, but the whiskey within is generally solid. Bulleit Rye veers towards the floral side of the taste spectrum, and that's just fine. Go ahead and mix up a classic cocktail or two with this one.
Old Potrero Hotaling's Single Malt Whiskey
https://www.instagram.com/p/BWLoq7_BLqT
Anchor Distilling Company is sort of the OG of craft distilling, having come out with one of the first American craft gins, Junipero, about 20 years ago. The company was also well ahead of the curve with rye whiskey, releasing its first batch of Old Potrero before rye was at all popular. This new release is very interesting, with a 100 percent malted rye mash bill – rather unusual in the world of rye whiskey. This 16-year-old release is fairly limited, and will set you back about $165, but it's worth it for fans of rye whiskey and craft spirits.
Lock Stock & Barrel 16 Year Straight Rye Whiskey
https://www.instagram.com/p/BGpQjCdKG9j
Another excellent sourced rye from The Cooper Spirits Co., this release is a 16-year-old whiskey made from 100 percent rye and aged in the colder climate of our neighbor to the north. It's an excellent sipping rye whiskey, with just the right amount of spice balanced out by fruit and chocolate notes.
Barrell Rye Batch 001
https://www.instagram.com/p/BVpUV56l6Ud
Barrell Bourbon is always up to something interesting. It sources its whiskey (although distilling will begin in the near future), and the company is always refreshingly transparent about where the whiskey comes from (they will tell you if NDAs don't allow that). If you ever get the chance to participate in a Barrell tasting, do so – these guys are serious whiskey experts. This brand-new release should come out later this summer – it's a 4.5-year-old, 100 percent rye made from two different styles of whiskey from MGP and Tennessee, bottled at 117 proof.
Templeton Rye Special Reserve 10 Year Old
https://www.instagram.com/p/BM76-OZhT43
Templeton Rye has been through the PR ringer a bit over the past few years, which we won't get into here. Instead, let's talk about this 10-year-old rye – it's an excellent release of just over 6,000 bottles that are already getting pretty hard to find. At $150, this whiskey is a bit of a splurge, but it's worth it. The spicy rye flavor is bold and forward, something that will hopefully continue as the new distillery is constructed and the brand starts distilling its own juice.