Sam Richardson from 'Veep' On TV's Hottest Political Sitcom
The hit HBO series regular talks Julia Louis-Dreyfus and his upcoming Comedy Central show.
It's hard to hate a do-gooder who is charmingly oblivious. Take Richard Splett, played by Sam Richardson plays on HBO's hit political cringe comedy hit Veep. Splett is an idealistic political lackey who's extremely eager to please, yet somehow manages to constantly annoy everyone around him. 
Richardson's character first popped up in Veep Season 3, and by Season 4 he was promoted to series regular. He went from working at Meyer campaign headquarters in Iowa to landing a job as as assistant to Jonah (Timothy Simons), another comically inept White House staffer.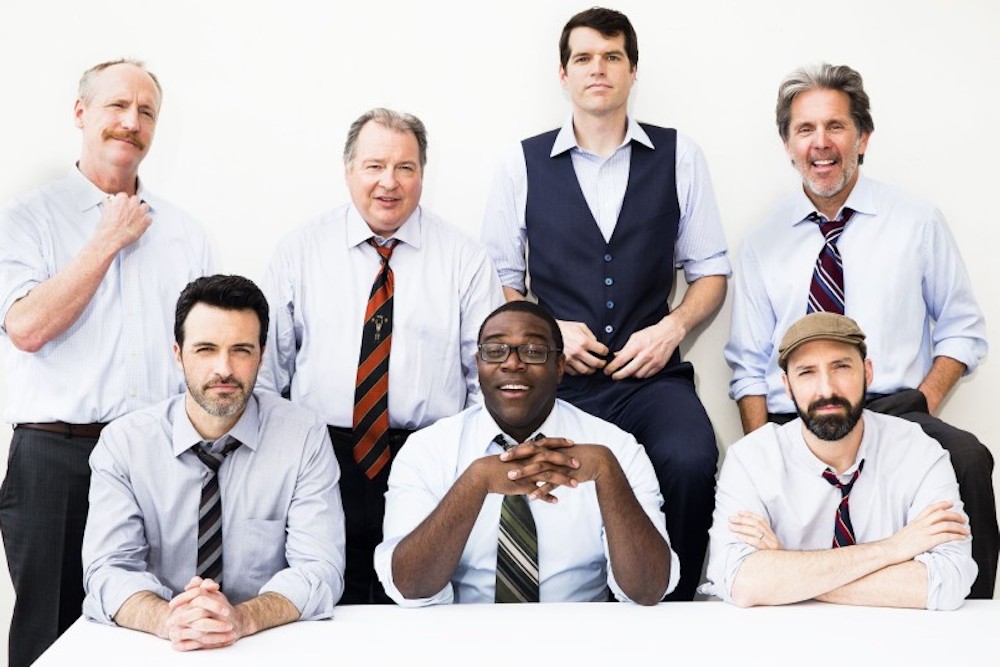 With Veep kicking off its fifth season, Richard Splett is also really getting into his groove. We caught up with Sam Richardson to chat about his improv background, working with Julia Louis-Dreyfus, and his upcoming half-hour Comedy Central pilot The Detroiters.
Let's talk about playing a character who's obnoxious not because he's a bad person, but because he's so awkward. Why do you think this character works so well on Veep?
What I find funny are peoples' blind spots. That's the funniest thing about anybody — when they just don't realize who they are. What's funny about seeing a hippo do ballet is it thinks it's a swan. I try to make characters with a lot of blind spots. I am nerdy and I do care about a lot of stuff, I'll focus on something more than I need to — but I feel like I'm much more aware of myself than Richard is.
Richard is more like — what if a regular guy was thrown into this world of Veep? Everybody is so sharp, conniving. Even if they mess up, they mess up by chance, or they've gotten in their own way, or narrowly missed the mark — whereas Richard hits the mark by mistake. He's failed his way up.
I'm wondering about the relationship between Richard and Jonah Ryan (Timothy Simons). Richard is overly empathic and focused on others, and Jonah is completely self-involved and greedy. How does that coupling play out comedically?
Jonah is just so full of shit and so wanting to take, take, take, and Richard loves to eat shit and give, give, give. So it's a match made in heaven, but with the worst person and the most annoying person, which makes that dynamic work so well. Richard thinks Jonah's the greatest guy in the world, so he loves that he agrees with that. It's a really unhealthy relationship.
I recently finished watching House of Cards, a show about political power in which each of the characters are terribly unlikeable and trying to keep secrets and wield as much power as possible. So watching Veep feels like a relief because you can actually like some of these people.
Definitely. Richard is maybe the most empathic. Then you've got Gary Walsh (Tony Hale) who loves Selena so much, and you've got Mike McLintock (Matt Walsh) who loves his wife, and generally enjoys interacting. There are friendships in the show. On VEEP, people are connecting with each other, even if they're making backhanded comments about somebody behind someone else's back. I think that's just what people do.
What's it like working with the amazing Julia Louis-Dreyfus?
She's the world's greatest. She's one of the funniest people on the planet. She's so down to earth and real and such a good person that sometimes you forget that this is JLD. And you learn so much just from watching her perform — it's a master class just watching her.
What's one thing about JLD that makes her such an incredible comedic actor?
Specificity. How to really land intention with physicality and tone, and she has the ability to tweak that and change that thing up and kinda jooj something to make something feel so natural and real for the first time. Any acting class will tell you — it's about the illusion of the first time. I think she really nails that — every take is just a natural person saying something. She's so funny.
So, back to you. I know you grew up in Detroit and Ghana, and I'm wondering how growing up in a cross-cultural home shaped your comedic sensibilities.
It's different being an only child and cross-cultural. I basically grew up as an only child because the closest sibling to my age was 14 years older than me. I grew up between Detroit and Ghana, and I had to make friends in an instant. It sharpened my wit, and also just for my own sanity's sake, I felt like I wanted to entertain myself. So I'm going through all these experiences, and I ask myself: Is this crazy? Is it? Wait, what's so funny about this? As a kid, it's like, the funny kid is the kid who can quote The Mask or Ace Ventura. I was able to do.
It wasn't till high school that I became interested in acting. I went to an all-boys high school, and I didn't realize I was going to a Catholic all-boys school until right before I got there. I was so bummed that it was all boys. I was fresh into puberty, and I was really looking forward to relationships with sweet girls. 
Then one day a bus rolls up to the school, and a torrent of high school girls were on it! They were going to a play audition and I was like 'I gotta try this out' so I went and auditioned, and I actually loved it. I ended up joining the school theater group. One of my friends was taking Second City in Detroit and then I realized it was the Second City of legend, and so I decided to do it.
You came up in the Detroit improv scene. What was that like? And then you moved to Chicago and did Second City Main Stage there before moving to LA?
I came up through Second City Detroit. I did the training center, improv conservatory through there. I took classes at Second City and Planet Ant Theater. There is an improv community in Detroit — there's a theater called GoComedy in Ferndale, Michigan. I'll go perform there when I'm in town. Detroit alumni will perform there when we're around.
When I was involved in Second City, there was a pretty thick community — much smaller than Chicago, NY or LA, but still thick, and I think because of that, all of us became pretty strong and adept at comedy. Some of my best friends are people from the Detroit Comedy world — Tim Robinson, with whom I'm working on the Comedy Central The Detroiters show. 
We became pals through the Detroit improv scene. It's made of strong improvisers. The community is smaller, and the audiences aren't as ready to see improv necessarily. If you go to Second City Chicago, you're like 'I know what I'm going to see, I came to Chicago to do this, it's a must-do.' In Detroit it's like, 'I'm going to see this comedy show . . . but I may not know a lot about comedy.' So part of it early on was educating your audience about what they're going to see, and that means you gotta really get people at the top.
Speaking of Detroit, tell me about The Detroiters, Comedy Central pilot you're working on.
It's my own Comedy Central show, and it premieres in January 2017. The show stars me and Tim Robinson. We created and wrote the show. It's about two local Detroit admen who make local ads for wig stores, small businesses, places like that — they're just trying to do right by the city of Detroit and help the city, and bring it back to their former glory. 
The ad company they worked for was once the Sterling Cooper of Detroit, and now it's a place where used car lots are like 'come on down here. . . if you wear a cowboy hat you get $10 off your used car.' We're filming in Detroit next month, and we finish shooting just in time for me to start up on Veep.