This Seal Tartare May Be The Most Controversial Dish in North America
Ever wondered what seal tastes like?
(Photo: Erin Yunes/Abbott Imaging)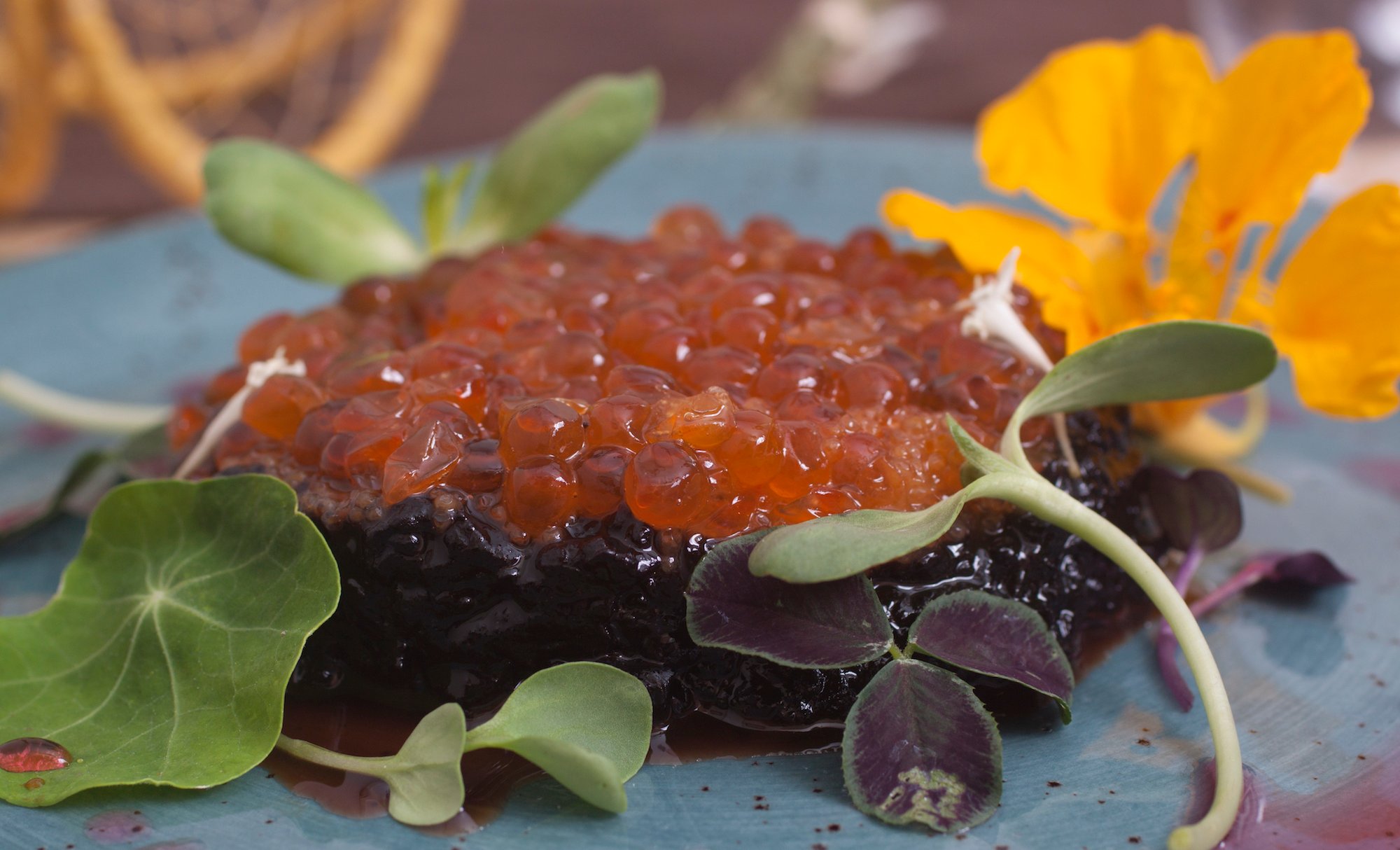 Seal loin tartare, at Kukum Kitchen in Toronto, is served wet, weird and black as a hockey puck, slathered with salmon roe. Every bite is an insanely rich jolt of iron and arctic, a snapshot of a seal's life feasting on fish and crustaceans in icy waters. It's a deeply satisfying mineral pleasure, even if you might need a butter knife to saw through the chewy darkness.
This oddball appetizer is Chef Joseph Shawana's wildly controversial tribute to indigenous cuisine, in which seal is a nutritious staple for the native people of Greenland and Newfoundland. Kukum Kitchen is the only restaurant in Toronto that serves seal meat (which is illegal in the U.S.), and not everyone is happy about it. 
Thousands have signed an online petition demanding that Shawana yank seal tartare from his menu. An angry onslaught of voicemails, emails and negative Facebook, Google and OpenTable reviews followed, some from protesters as far away as London and New Zealand. 
But raves from local food critics and a growing fanbase of regulars made Kukum Kitchen's signature app the restaurant's most popular dish by far, and Shawana says business has quadrupled at his 27-seat eatery in the wake of the firestorm that erupted after Food and Wine covered his seal tartare in October.
"It's our way to say thank you to our brothers and sisters up north," explains Shawana, who grew up on the Wikwemikong Unceded Indian Reserve on Manitoulin Island in Northern Ontario. "Their lifestyle, their culture, their heritage and what they're going through."
Shawana learned to cook from his grandmother (Kukum, pronounced KO-kuhm, which means "grandmother" in Cree) and attended culinary school before honing his skills at assorted restaurant kitchens. He originally wanted to serve seal pâté at Kukum Kitchen, "but we couldn't get the consistency right." He pivoted to tartare, culled from wild seal loin flown in weekly from Newfoundland and Quebec, where it's harvested from federally regulated hunts of adult harp seals.
"It's very nutrient rich," Shawana says of seal meat. "It's higher in Omega 3s and B-12s than fish oil pills."
Kukum Kitchen also serves a seal loin entree seared blue in butter—it's reminiscent of a perfectly cooked beef liver—plated with red and yellow roasted beets. Shawana actually prefers it to his trademark tartare. 
"It's a different texture, a different profile. It's like night and day," he says.
But while Shawana appreciates the boom in business, he's clearly exasperated by anti-seal activists who continue to protest his dish, whether they're penning one-star reviews or leaving nasty messages on the restaurant's voicemail.
"We always thought there was gonna be a little bit of backlash," he says. "Maybe something that would throw an egg at the restaurant, but we never realized it would be like this. It's just been ridiculous."
"These activists are acting like it's the 1970s, when the seal industry is getting as much pelts as they could, whether it's pups or adults. I don't condone those kinds of hunts. The company I deal with are allowed a quota for seals. They only take what they need," he says. "That's the whole premise: We use as much as we can and don't waste anything."
"It's totally illegal to hunt the baby white coat seal pups. We get our meat from full adult harp seals. There's a hunt set up for them by the Canadian government."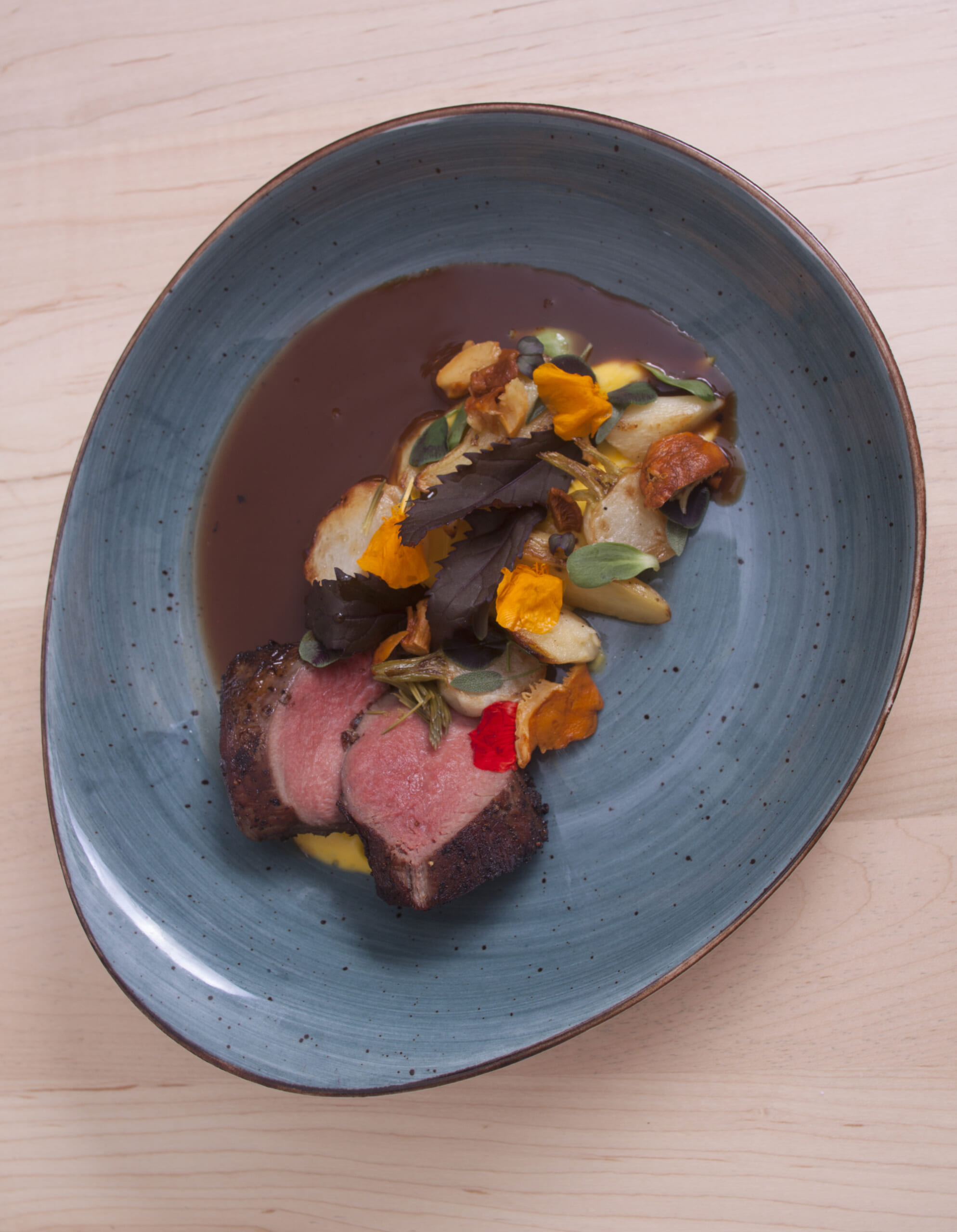 Shawana still can't serve moose or whitetail deer — "they're not federally regulated or processed" — but would love to have them on his menu as well. Other Kukum Kitchen staples include elk, caribou, venison, rabbit, Ontario perch, and Nova Scotia shellfish. 
Cleansing cups of cedar branch tea follow every meal at Kukum Kitchen, and on a recent evening the soundtrack was a soothing loop of Native American flute music that sounded like something you'd hear piped into the massage room at a fancy spa.
"We don't have beef pork or chicken," Shawana says as dinner winds down. "I wanted to spotlight ingredients that indigenous people ate before colonialism."
Kukum may be Toronto's most acclaimed indigenous restaurant, but it's not the only one. There's also Pow Wow Cafe, which serves overstuffed frybread "Indian tacos" to packed brunch crowds, and Nish Nish, known for roasted buffalo, elk and bison sausage and venison stew.
But while Toronto boasts a diverse food scene complete with a Little Portugal, a Greektown, a Chinatown, and a Koreatown scattered amid the city's late-night shawarma and poutine spots, there's yet to be an area dedicated to indigenous eats. That's something Shawana would like to change.
He hopes to open an "1800s-style general store" called Kukum Trading Post, that will sell takeout food, native clothing, jewelry, crafts, and yes, seal skin hats, boots, and seal oil capsules.
But before that, Shawana has plans to add a third seal dish to Kukum Kitchen that could be his wildest yet.

"We're seeing if we can get one of the flippers in," he says. "There's a dish called flipper pie, and I think we could make it into a pot pie kinda thing."
"There's a lot more acceptance of native culture in Canada, but there's only a handful of restaurants that are indigenous. It's just a matter of keeping up the momentum, and that's what we're gonna do."