The Second Hottest Moments From "Game of Thrones"
…Because we can't show you the first hottest! Hey-oh!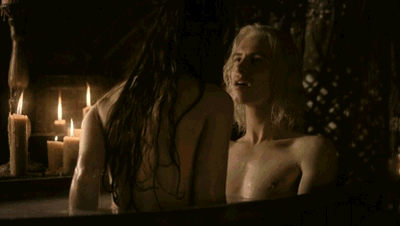 Game of Thrones
Game of Thrones is back and that means more blood, death, winter, dragons, and white walkers! But it also means more sexy women and the kind of steamy scenes that you can only get on HBO. So let's celebrate some of those sexy scenes with some GIFs that we can show you on Maxim.com. 


When Ygritte Told Jon Snow he knows nothing


When Daenarys Took a Bath
When Doreah Took a Bath (Or Whatever You Want To Call It) With Viserys
When Doreah and Daenarys Got to Know Each Other Better

When Robb and Talisa Finally "Kiss"

When Margaery Tried To Seduce Renly… What a Waste.

When Ros Waved Bye To Theon




Game of Thrones returns to HBO Sunday, April 6th.
Photos by Photo Courtesy of HBO