Happy Birthday, Jimmy Page
Celebrate hard rock's greatest guitarist with this throwback Maxim interview…
(Photo: Getty)
Today, Led Zeppelin guitar god Jimmy Page turns 73. To mark the big day, we're revisiting his 2014 interview with Maxim below: 
If you're curious about the inner life of Jimmy Page, guitarist, producer, rock god, and mastermind of Led Zeppelin for 12 extraordinary years, you'll come away from his new autobiography none the wiser. Heavy enough to kill a man, the accurately titled, 512-page Jimmy Page is a lavish collection of photographs accompanied by terse, affectless captions. You'll learn that he played a lot of shows and met many interesting people, but if he has any dreams, disappointments, or insights, he doesn't mention them.
Page says he might write a proper memoir one day, but there's a catch. "All these Led Zeppelin books that come out, they're just a nuisance," he says. Page might be thinking of Hammer of the Gods: The Led Zeppelin Saga, a 1985 best-seller that set the standard for documenting the debauched lives of rock stars. "They're untrue, as well. So sure, I'd like to write my story, but it would come out posthumously. That way, I can tell exactly what went on, without any lawyers coming at me. And also, I wouldn't have to promote it."
He laughs. To be polite, so do I. We're both laughing about how much he hates writers. 
Page dresses like a feared Hogwarts tutor—black jacket, black trousers, black scarf—and speaks like a venerable gangster. His charm is like a Communion wafer: It's ultrathin, and melts away in seconds. After every question, he narrows his eyes, sensing a trap. When we finish talking, he smirks and says, "See, you can't catch me at it, can you?"—and "it" seems to be any examination whatsoever of his inner life. He has an old grudge against journalists, starting with Rolling Stone's reviews of Zeppelin, which bordered on verbal abuse, calling the songs "weak" and the production "monotonous," and comparing Zep unfavorably to Robin Trower (in retrospect, a laughable judgment). On tour in 1977, the group's publicist informed reporters, "The band does not like the press, and does not trust them."
We're facing each other in the drawing room of a London hotel. It's the essence of slightly musty English grandeur, lined with leather-bound books and portraits of such worthies as King Edward VII. At 70, Page is rock royalty and, like Queen Elizabeth and her family, his duties are largely ceremonial, dedicated to the preservation of tradition. In recent years, he has been a diligent historian, remastering the Zeppelin catalog, dusting off unreleased solo material for his Web site, and compiling photos. All this, he says, is so he can clear the decks and move on to something new. 
Some people will tell you that Led Zeppelin was the greatest rock'n'roll band of all time. Jimmy Page would agree with them.
"I don't want to be disrespectful to other bands, but it's quite clear it was head and shoulders above everything else," he says. "It was meant to change things as they were, and it really, really did. As each album was coming out, people were waiting to see—what would Led Zeppelin do next?"
He talks about Zeppelin like it's an ex-wife he can't forget. It was his band. He recruited the crack squad of idiosyncratic virtuosos—singer Robert Plant, drummer John Bonham, bassist John Paul Jones—and laid out the Big Idea: a maniacal explosion of blues-rock. He had honed this notion as a prolific session musician and a member of the Yardbirds. "That wasn't my band. But when that folded, I formed a band I'd make sure was my own."
And it worked. The four men were so insanely, intimidatingly gifted that they seemed untouchable, like wizards or knights. Each of their nine albums was different, and never less than immense. Projecting power, sex, and mystery, they sounded like they both wanted the world and deserved it. And with worldwide sales of 300 million albums, they got it. Then, in 1980, John Bonham choked to death on his own vomit after a binge of epic partying. Led Zeppelin refused to continue without him.
If Page had his way, he'd be in Led Zeppelin right now. In 2007, the band reunited for a single London show, a tribute to beloved record mogul Ahmet Ertegun, with Jason Bonham picking up his father's sticks. Page expected more.
"It was intimated that we were going to do more, so that's what everybody thought," he says defensively. "There's three of us who probably would, but there's one who wouldn't, and after a while it gets really boring, that whole scenario."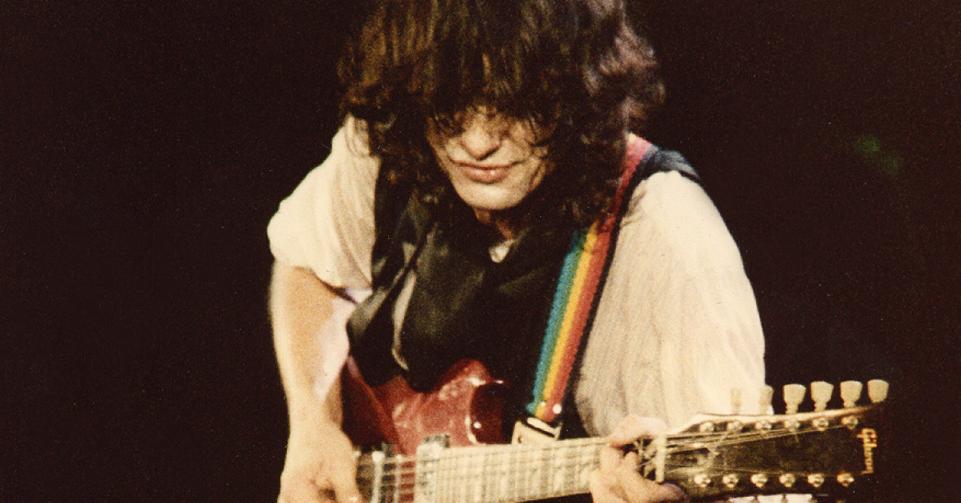 I'd like to ask if he thinks Plant, who was fronting the tragically named Obs-Tweedle when Page plucked him from obscurity in 1968, owes him one. I'd like to know the current state of a vexed friendship Plant has compared to Jack Lemmon and Walter Matthau's in The Odd Couple. But Page isn't having it.
"I can't be bothered with it," he says curtly. "I don't want to do sound bites. I certainly am not going to spin it or lie. So I'm just not going to do it." His grin is like a slamming door. "All right?"
All right. But put bluntly, Plant's post-Zeppelin career makes Page's look meager and hesitant. The singer has released acclaimed solo albums in various idioms (2007's Raising Sand, with Alison Krauss, won five Grammys) while staying good-humored and wearing his past lightly.
Page, on the other hand, has seemed lost since Zeppelin went down. He made a solo album (1988's Outrider) and two records with Plant (at the singer's invitation) and appeared alongside the Edge and Jack White as a ponytailed Methuselah in the guitar documentary It Might Get Loud, while dabbling in things that were beneath him, including stodgy '80s wannabe supergroup the Firm and an awkward collaboration with Puff Daddy.
Still, he rejects the suggestion that he has frittered away 34 years. "There was a whole period when I could have been doing stuff, but nobody approached me. Maybe people thought I'd say no. It didn't matter. I was doing other things. I was raising children into the world. I was always doing something, but they didn't necessarily see the light of day. It didn't matter to me."
With an estimated fortune of more than $120 million, Page hardly needs the work, but it seems wasteful for one of the greatest guitarists of all time to have played only one full show in the past decade. Perhaps he hears the clock ticking. A year ago, he wouldn't touch the guitar at all, but he says he's playing every day now, trying to get "match fit."
He's written new songs, but the lyrics are tricky because they tend to come out too sarcastic. The plan is to play live next year, and he's confident he can sell out dates on the strength of his famous back catalog alone. He plans to play classics like "Dazed and Confused" as instrumentals. "There's only two verses in it anyway."
Will he hire a singer? He turns cagey again. "Even if I had the musicians right now, there's not a hope in hell I'd tell you. I don't want people to know what I'm doing next."
I ask if he ever dreams about Led Zeppelin.
"No. Do you?" he shoots back.
No, I reply. But I wasn't in Led Zeppelin, and I haven't spent the past few years contemplating the band's accomplishments.
"Ah, I see." Page seems bothered by this image of him as a lonely old soldier, spending days interred in his past. "It might appear that I've immersed myself in the past, but actually what I've done is immerse myself in projects which needed to see the light of day."
Finally, it seems, Jimmy Page is ready to move on.


'Jimmy Page', the official autobiography by Jimmy Page, was released on October 14th 2014 by Genesis Publications. Price £40 from major bookstores or jimmypagebook.com
Photos by JimmyPageBook.com