An Anniversary About Nothing: 'Seinfeld' Turns 27 Today
A look back at the first episode of the iconic sitcom–which aired July 5, 1989.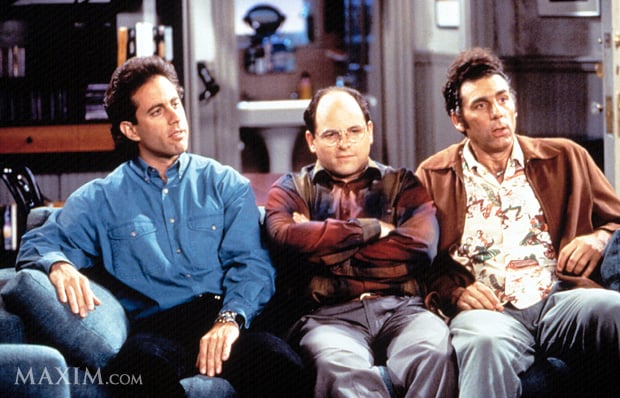 It was quietly slipped into the NBC primetime summer schedule at 9:30 ET on July 5th, 1989—a moderately well-known stand-up comedian's sitcom about, well, not much at all. Nothing, really. 
The show was Jerry Seinfeld's The Seinfeld Chronicles—later shortened to Seinfeld, of course–and according to Decider, when it premiered 27 years ago today, the programming brains at NBC had already concluded it wasn't worth airing for a typical season. 
The seeming pointlessness of the show's structure had brought dismal responses from early audiences and as far as NBC was concerned it was dead in the water. 
Speaking to the AP for an article published nationwide that day, Jerry Seinfeld told about coming up with the show while sharing "a couple of cups of coffee" with Larry David:
"I said, 'NBC is interested in doing some kind of show with me, and I don't have any ideas.' We figured why not just do a show about how comedians live and how they work and how it happens."
The show did exactly that, and as Decider writes, the "real funny thing is that the meager ratings of that Seinfeld burnoff pilot? 10.9 rating, 19 share. Last Wednesday's highest-rated network program? Big Brother with a 1.8."
In the AP article from the day of the show's premiere, Seinfeld promised that the show, if it was picked up, would forget about plotting episodes. 
"I want to have a show of aimless wandering through life," he said, before admitting beginning with loosely plotted episodes was "a good way to get audiences interested in the beginning." 
Seinfeld issued a promise then, telling the AP that if NBC did pick the show up, it would "progress in a different direction" from the pilot and become "much more an interior monologue." 
By now we know what happened—Jerry Seinfeld and Larry David essentially delivered on the future of the show—which TV critics mostly enjoyed—once it was picked up. 
They dropped anything like a tightly-knit plot line, changed Michael Richards's Kramer (originally named "Hoffman") into the hilarious lunatic fans remember today and added Julia Louis-Dreyfus as the indispensable and hilarious Elaine Benes. It didn't go off the air till 1998. 
And most fans still miss the show today, which perhaps ironically for a 'show about nothing' seems like, well, something pretty special.
h/t Decider