These 5 'Set-Jetting' Locations Are the Ultimate Travel Destinations for TV Junkies
Vacation where 'Games of Thrones' and 'Narcos' are filmed.
Have you ever settled in for a binge-worthy marathon of your favorite show and within minutes, thought to yourself, "Damn, I really need to visit that place one day"? If so, you're certainly not alone.
The concept — known as "set-jetting" — has been influencing how culture vultures spend their hard earned vacation days for quite some time. The trend originally began with blockbuster hits that put far-flung destinations on the radars of moviegoers everywhere. Today, it's viral TV series that are influencing audiences' travel decisions more than ever before, thanks to fierce competition amongst major networks and streaming services.
While many of television's most popular shows are filmed on elaborate sets and sound studios, there are plenty that shoot on location in wanderlust-inspiring destinations around the globe. From network juggernauts like Game of Thrones to Netflix originals like Narcos, travel industry experts have been tapping into the trend and creating itineraries with die-hard TV fanatics in mind. 
Here are some of the best trips worth tuning into, inspired by TV's hottest shows.
1. Ireland and Iceland – Game of Thrones
The fictional continents of Westeros and Essos are all too familiar for fans of Game of Thrones, but the actual show has leveraged the stunning natural backdrops of countries like Ireland, Iceland, Morocco and Malta to achieve the aesthetic of these fantasy lands. Black Tomato is an award-winning travel company specializing in tailor-made experiences for those in search of unique travels. Tapping into the massive success of GoT, the company recently launched Set Jetting travel itineraries, cleverly divided into two series.
Their popular Game of Thrones-inspired trip brings adventures from the show to life, such as cycling through Strangford Lough in Northern Ireland (better known as Winterfell); trekking along the intertwined branched archways of Dark Hedges Road (the infamous filming location of Kings Road); exploring County Donegal (which doubled as the Sea of Dorne); navigating Iceland's Lake Mývatn (home of White Walkers and The Wall); and more iconic places depicted in the series. 
Other available itineraries include Washington State for fans of Twin Peaks, Utah for watchers of Westworld, England and Scotland for The Crown connoisseurs, and Italy for anyone who loved The Young Pope.
2. Colombia – Narcos
The Netflix original series Narcos made headlines after its debut in 2015, and its fourth season is currently in the works. Set and filmed in Colombia, the show mainly focuses on the rise and fall of drug kingpin Pablo Escobar; and its effect on tourism has not gone unnoticed. According to Daniel Buitrón Jaramillo, Co-Founder and Managing Director of Eco Travel Colombia, "Netflix's Narcos has definitely put a spotlight on Colombia" and his company has seen a 50% increase in year-over-year growth correlated to traveler interest fueled by the show.
Medellín City Tours launched a Pablo Escobar-themed tour through Medellín, the city where Escobar spent years growing up, attending college and eventually forming the notorious Medellín Cartel. These days, the city has cleaned up its act and transformed from a feared capital of violence and turmoil to one of innovation, recently voted one of the best cities to live in South America. 
Complete with a bilingual guide, the tour explores historic stops such as Envigado, La Paz (Escobar's hometown), the Monaco Building (where he resided in a lavish penthouse), and Los Olivos (the site of his final hideout before his death).
3. Monterey County – Big Little Lies
One of HBO's biggest hits in recent memory was the seven-episode series Big Little Lies, based on the novel of the same name by Liane Moriarty. Although the book takes place in Australia, the TV adaptation was filmed in Monterey Country, California, and viewers around the world were instantly enchanted by the oceanfront landscapes depicted in the show. 
According to Rob O'Keefe, Chief Marketing Officer at the Monterey County Convention and Visitors Bureau, "We were thrilled to see Monterey County emerge as one of the leading stars of the show, alongside Hollywood icons like Nicole Kidman and Reese Witherspoon. Since the show debuted, we've noticed a significant increase in travelers expressing interest in visiting our destination, and it's a trend we believe we will continue to see as Monterey County will once again star in season two."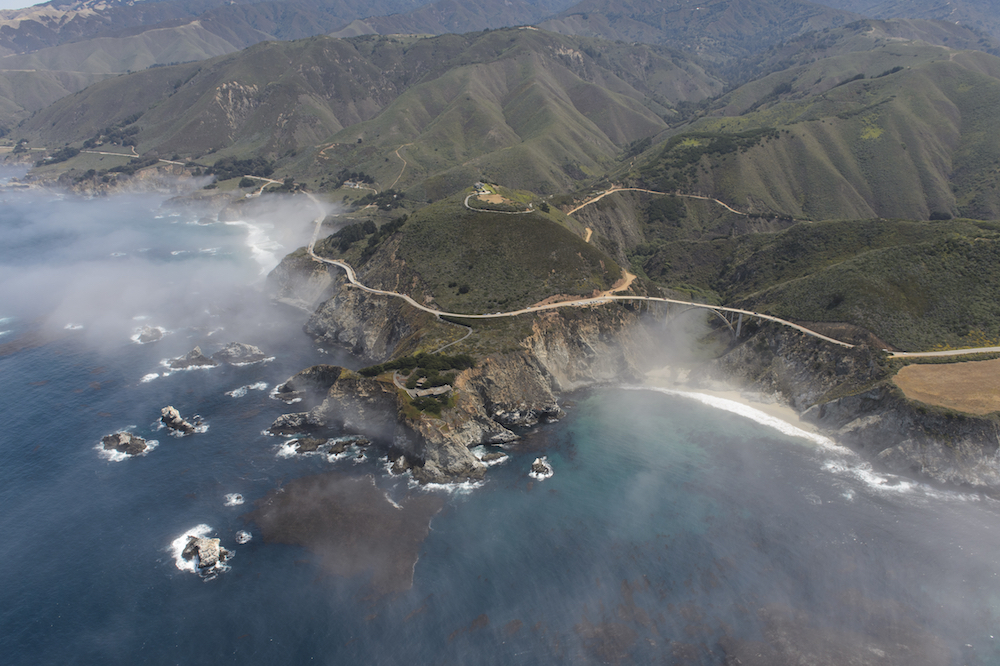 For those who prefer traveling at their own pace, the tourism board put together a self-guided road trip, highlighting some of the most jaw-dropping destinations featured in the show. Complete with an interactive UTrip itinerary for easy navigation, this trip is loaded with pit stops such as Old Fisherman's Wharf in Monterey (where the characters frequently gather for coffee and gossip); Lovers Point Park in Pacific Grove (a prominent backdrop where visitors can soak up the sun, launch kayaks or play a game of beach volleyball); and of course, cross Big Sur's Bixby Creek Bridge along Highway 1 (an iconic scene that fans will recognize from the opening credits).
4. Scottish Highlands – Outlander
With a near-perfect 94% rating on Rotten Tomatoes, Outlander captivated audiences over three seasons from 2014 until its conclusion late last year. The British-American drama from Starz centers on the historical time travel Outlander novels by Diana Gabaldon. The series follows a World War II nurse transported to 1743 in Scotland, as she finds herself caught in the Jacobite risings.
Brendan Vacations, a company specializing in custom-made Ireland and Scotland travel, identified a natural tie-in with the show, and created a 13-day, Outlander-inspired tour through the Scottish Highlands. During the Castles, Clans and Outlands experience, visitors will encounter some of the most impressive filming locations from the series, such as Edinburgh, Dundee, Inverness, Isle of Skye, Glasgow and more. Sites to anticipate include the ancestral home of Clan Fraser, the setting for Clan Mackenzie's Castle Leoch, and the village of Fife, which will have holidaymakers feeling as if they too traveled back in time.
5. South Carolina – Southern Charm
Whether or not reality TV is your thing, there's no denying its massive impact on pop culture. Bravo, the network known for omnipresent franchises like The Real Housewives, Top Chef and Vanderpump Rules, is one of the front-runners when it comes to viral reality programming. Southern Charm, one of their biggest sleeper hits, follows the lives of seven socialites in the hard-partying town of Charleston, South Carolina, and the show's fifth season just premiered earlier this month.
Charleston is regarded as one of the most charming cities in America, known for its rich history, diverse culinary scene and attractive architecture, so it's no surprise that tourists have flocked to the city for ages. Taste of Reality is a travel company created by fans for fans that brings travelers behind the scenes to the famed spots featured in their favorite TV shows. 
Their Southern Charm Tour is one of their most searched, significantly spiking when the show is on air. It allows super fans to retrace the steps of the series' cast throughout Charleston, with a stop at Shep Rose's eatery, the Palace Hotel, cooking classes at the Charleston Academy of Domestic Pursuits, and even visits to the childhood and current homes of the show's stars. Other tours the lady in your life will love include itineraries inspired by Keeping up with the Kardashians, Shahs of Sunset and The Rich Kids of Beverly Hills.