Sharon Stone Unveils Paintings In Her First-Ever Art Exhibit
The "Basic Instinct" and "Casino" actress makes her fine art debut with an L.A. exhibition called "Shedding."
(Courtesy of Allouche Gallery/Sharon Stone)
Award-winning actress Sharon Stone is celebrating a new accolade.
March 14 marked the opening of Shedding, her fine art debut, with Allouche Gallery in Los Angeles. Stars including Jamie Lee Curtis attended the unveiling of 17 acrylic paintings from Stone's expansive portfolio, which also features watercolor portraits of her friends, including singer Rita Ora.
Abstractions and landscapes across Shedding, though, transmute Stone's own starpower with one whisper of her silhouette. Stone's Aunt Vonne had a Masters in painting. She grew up around art and studied painting herself at Edinboro University of Pennsylvania—until her modeling and acting careers took off.
"All of those paintings I sold to other students to eat and live," Stone tells Maxim. "And then, you know, this acting thing—that took up quite a bit of my time, and I didn't paint anymore."
When lockdown started, Stone returned to painting. One friend had bought her a paint by numbers kit. Inspired, Stone upgraded her brushes and bought paint, canvases and boards. After finishing over a dozen paintings, she let herself start buying prepared canvases.
"I'm a kid who didn't come from money—we learned to stretch everything ourselves," she says. "To buy a pre-stretched canvas was really extravagant."
Shedding shows that Stone has since developed a voice, a cohesive body of work, and a distinct way of painting that involves meditation, time for a story to unfold. She waters each canvas, literally, to tighten its surface. After painting she takes breaks, then returns.
"Even if you can complete a painting or a poem or a story in a day," Stone says, "it requires layers and layers of thought and layers and layers of review to find the true depth of the thing you're working on."
Hues oscillate from chartreuse accents on The Mangroves (2023) to a 2D bust built from layered paint of subtle beige tones in Caerus (2023). Motifs emerge, like flat, black silhouettes in the sultry figure of Noir (2020) and rhythmic circles on Redacted (2022). The same motif is later echoed in the serpentine titular piece Shedding (2023) and the moonlit landscape of The River (2022).
Stone said sometimes she finishes a painting only to cover most of it with something new. "The painting couldn't have happened without that 90% under it," she explained. "It affects the coloration, the depth, the texture, the line, the intent."
A viewer must take time away from each work to meditate, if only for a beat, before returning again to peel back those layers.
"That's why the show is called Shedding," she said. "We're all reflecting, changing, shedding, leaving our other selves behind, crying over it, shedding tears, changing." It's a mental motion.
In clear moments, Stone herself appears. Photographing landscapes around the world forged her deep belief in a global collective. "One thing we all have in common is that we are living on the same planet," Stone said. "We're all sharing our clouds, our trees, our water, our skies."
Stone's 65th birthday happened just days before Shedding opened. She had friends in town to celebrate—even her studio was occupied. For the first time, she forfeited her daily 4 to 17 hours painting.
When Stone returned to the studio two weeks later, she found herself painting about balance and presence. That work, Stone said, "was so very different than what [I'm showing] that I didn't have to think about 'what am I going to paint next?'"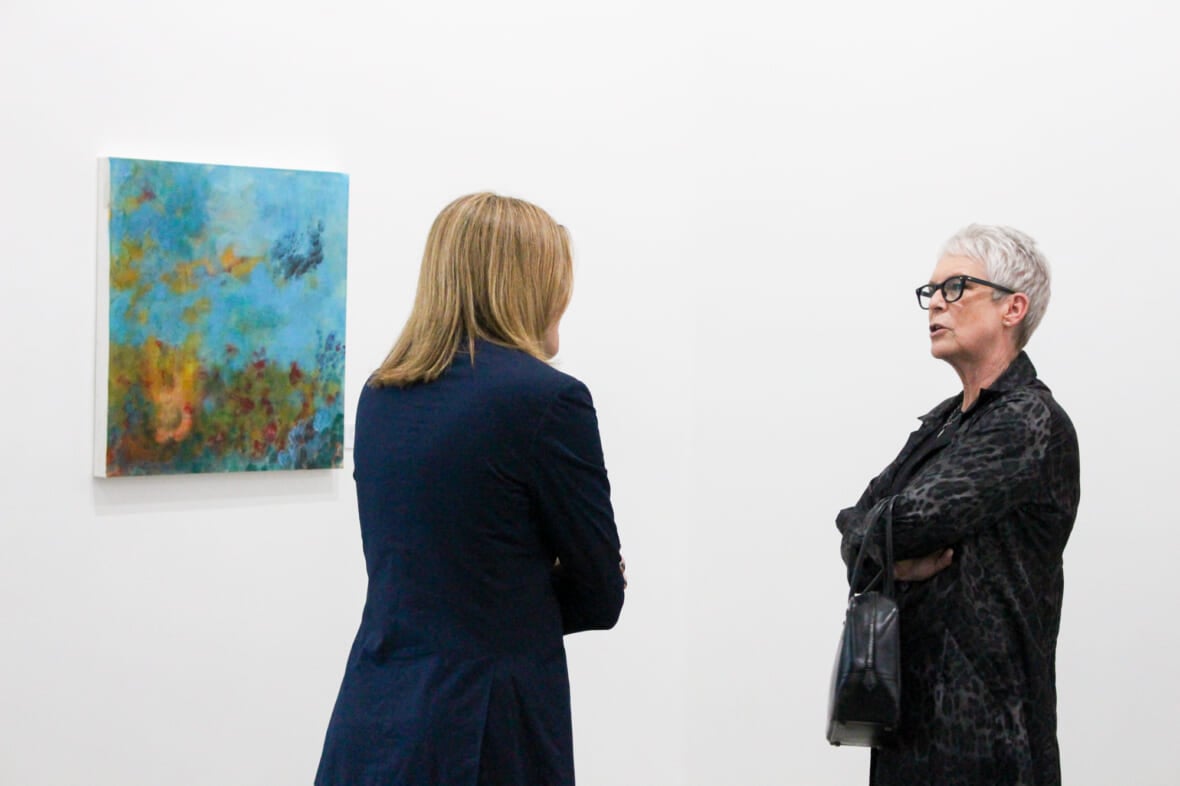 And will she ever return to acting? Well, not unless she gets a job that looks more fun than painting, Stone said. At this rate you're more likely to find her in a gallery than on the silver screen—at least while Shedding remains on view in Culver City, through April 7.