Snoop Dogg Teases Eminem Collaboration From Detroit Studio
A new studio photo hints that the rap legends are working on new music together.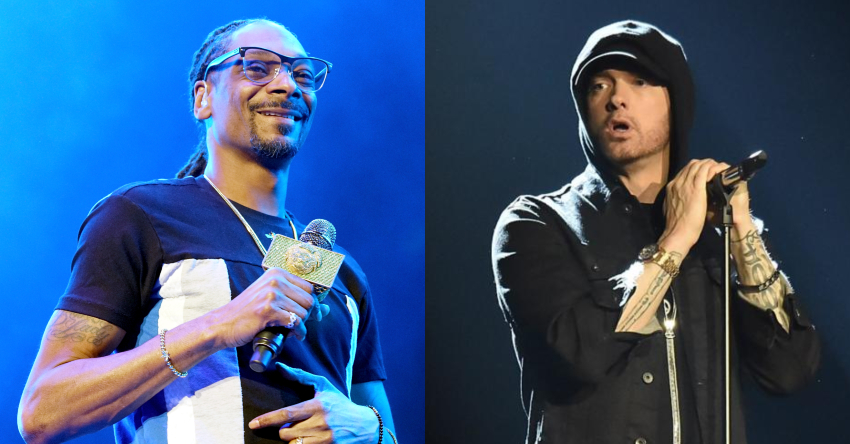 Getty Images
It sure looks like Snoop Dogg is working on a new collaboration with fellow 90s-era hip-hop icon Eminem.
Snoop posted an Instagram photo of himself and the Kamikaze rapper posing in front of a gigantic mixing board at what appears to be Em's Detroit home. 
"Detroit. Tommoro. 8 pm," Snoop wrote. "Redemption of a Dogg had to c M. To get the stamp." 
As NME notes, the caption most likely means that Eminem is contributing to Snoop's semi-autobiographical musical, Redemption of a Dogg.  
"Please believe you've never seen urban theatre like this!" Snoop said in a recent statement about the stage show, which was written by director Je'Caryous Johnson. 
"With my flavor and his expertise, we're gonna bring the people an unmissable show. I can't wait for everyone out there to see it!"
Per Je'Caryous Entertainment, here's what the spectacle is all about: 
Redemption Of A Dogg examines the internal battle one man has between preserving his life-long legacy and losing the love of his life when he is faced with choosing fame and fortune over faith and family. 

Redemption Of A Dogg is set against a backdrop of Snoop Dogg's greatest hits, as well as, songs from his recently released chart-topping Gospel album, Bible Of Love.
It's unclear what Eminem's role in Redemption of a Dogg will be. The pair of artists previously recorded "Bitch Please II" off Em's seminal album, The Marshall Mathers LP. 
With two legends working together, it's all but guaranteed to be great.