Treat Yourself to a St. Patrick's Day Pig Out With Mouthwatering Pastrami Reuben Bites
Skip the corned beef and cabbage and cater your St. Patty's feast with these slammin' sammies instead.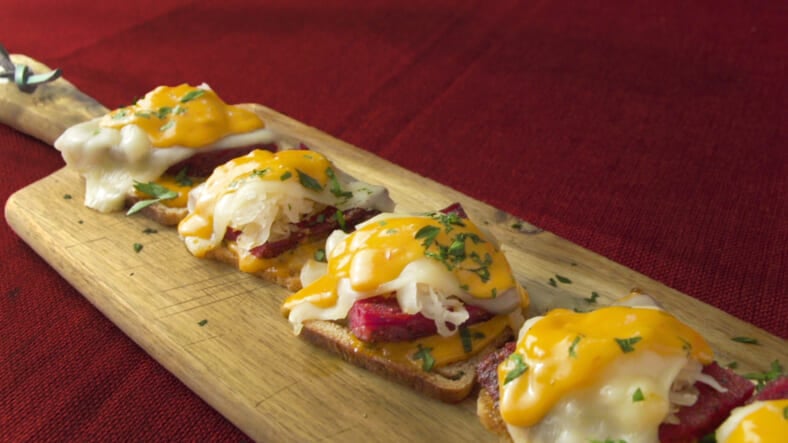 St. Patrick's Day isn't *just* about drinking shitloads of beer and whiskey and cramming into as many Irish bars as possible on March 17; it's also about wolfing down a wee bit of Irish-themed drunk food. 
While corned beef and cabbage will be on plenty of bar menus, you can get the same effect with an old school reuben—one of the best sandwiches ever created to soak up all manner of beer and booze.
Here, Robert "BBQ Bob" Trudnak, winner of more than 200 awards at various barbecue competitions and founder of BBQ Guru, shares his all-time favorite reuben bite recipe that will totally hit the spot at any St. Patty's Day pig-out. 
Ingredients:
1 lbs. pastrami (thick sliced into 2"x2" squares)
1 loaf of mini rye bread
½ lb. baby swiss slices
8 oz. Russian dressing
1 ½ C. sauerkraut
Fresh Italian parsley chopped
2 tsp. butter
Directions:
Set grill to 350°F
Butter and toast the mini rye slices directly on the grill for about 1 minute or until grill marks are achieved.
Place toasted rye slices in a disposable pan and top with the following ingredients in this order: Spoonful of Russian dressing, slice of pastrami, spoonful of sauerkraut, and baby Swiss.
Place the pan of open face sandwiches on the grill direct until the cheese has melted. 
Remove from the grill and spoon more Russian dressing on top of each sandwich.
Sprinkle with some chopped parsley and down with a cold beer or two.