Stephen King Fans Can Earn $1,300 By Watching 13 of His Scariest Films by Halloween
Fans of the legendary horror writer are vying for the creepy cash prize.
If you enjoy suffering through horror movies, here's a chance to make $1,300 from your pain. USDish.com is looking for people willing to view 13 films made from Stephen King novels before Halloween.
Of course, this is partly a promotion ginned up in preparation for the next new King film, Doctor Sleep, the author's sequel to The Shining, featuring a grown and pretty emotionally damaged Danny Torrance (Ewan McGregor).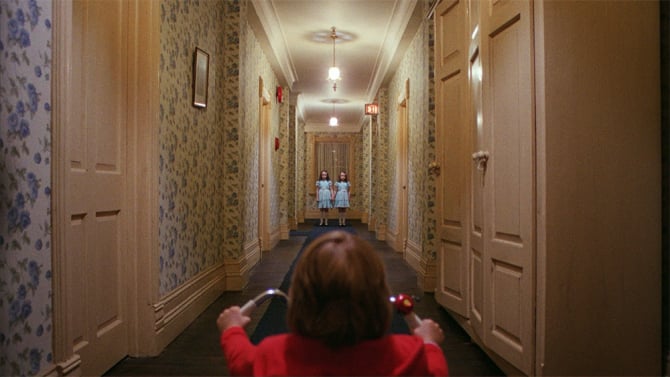 It's not a total cakewalk where you'll be paid to chill and get the crap scared out of you repeatedly. Here are the details from USDish.com:
Movie buff? Scaredy cat? Adrenaline junkie? All of the above? This job is not for the faint of heart, but it could be for you. The ideal candidate has to be detail-oriented enough to track their experience. They could even share their scares on social media and vlog every time they jump out of their seats.

No degree is necessary, nor will a drug test or background check be performed; however, applicants must be 18 years or older and a US citizen or permanent resident to apply. Tell us why you're the perfect victim and what you hope to gain from this experience (aside from the $1,300, of course), and this dream—or nightmare—job could be yours (…)

We also want to know everything about your experience. You will track your heart rate and jump scares. You'll let us know who joined in on the scares with you. You'll let us know what you thought before watching certain movies, and if your feelings changed after you completed them. You'll even log your sleep—if you can sleep. We want to know all this and more! We'll provide a worksheet to help guide you along the way, but you're not limited to what we give you—feel free to share your thoughts, like a journal, and give us all the frightening deets!
Here's how you apply: Go here and fill out the form to enter what US Dish calls "the scariest social experiment of the season."
Then you have to access your inner essayist and in no more than 200 words, explain why you're such a masochist (Stephen King is awesome, but that's a lot of scary stuff). You can even make and link a video demonstrating your love of the scary grinning pumpkin season of Halloween for good measure. 
The films you'll be tasked with watching are the following:
Carrie (original or 2013 remake)
Children of the Corn
Christine
Creepshow
Cujo
Dreamcatcher
It (original or 2017 remake)
The Mist
Pet Sematary (original or 2019 remake)
Salem's Lot
The Shining
Thinner
Misery
If you're into this, really lay down as best you can all the reasons you are US Dish's perfect victim—uh, subject. 
We'd wish you luck but other than the money it's hard to tell just how lucky you might be if you won.