Steve-O Burned the Hell Out of His Entire Body in a Stunt That Makes 'Jackass' Look Super Tame
Warning: This is GNARLY.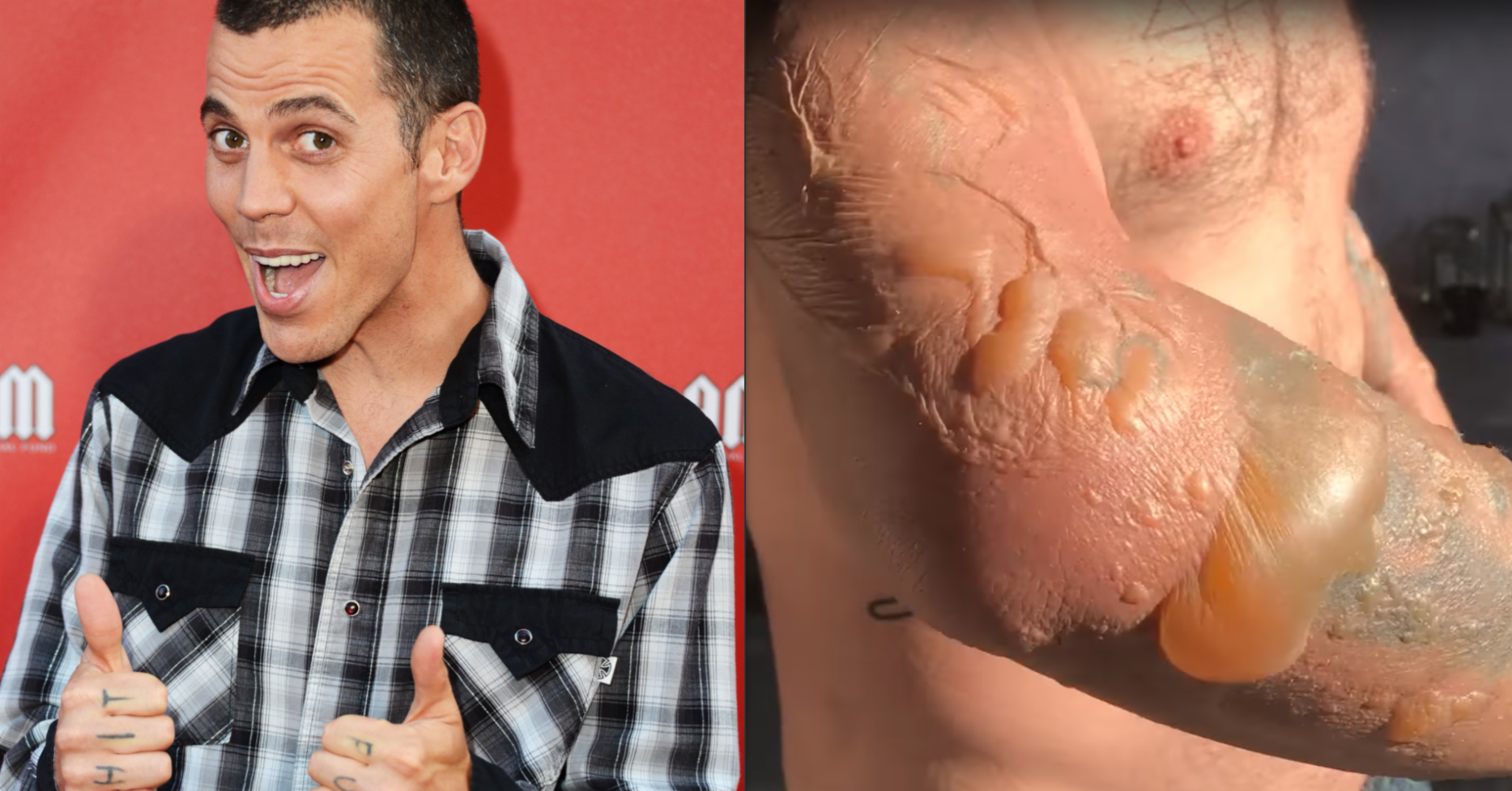 Left: Getty Images
" tml-embed-width="664″ tml-embed-height="421″ tml-render-layout="inline
Since Jackass wrapped its final film six years ago, Steve-O has continued to up the ante with stunts that are considerably crazier and more dangerous than anything his fans have ever seen, the latest being what he calls "making rocket fuel fire angels." 
We don't know what it looked like, but thanks to the above video from TMZ, we know that it resulted in the self-proclaimed "professional idiot" getting absolutely barbecued. Here's how he says it went down: 
"What I did was hollow out a rocket engine and [take] the rocket engine fuel. I put a blanket of the shit on the floor and said 'Fire!' I'm making snow angels in rocket engine fuel. I'm making fire angels." 
Unfortunately, we'll have to wait to see footage of the craziness—the bit was for a comedy special he's filming with Jackass and Wild Boyz director Jeff Tremaine. But he did post a video to Instagram from his trip to the hospital with bandages on his back. 
" tml-render-layout="inline
This isn't the first time he's seriously fucked his body up in the post-Jackass era. Just under a year ago, he began a video from another hospital, this time after breaking both of his legs by trying to do an acid drop on a skateboard over a moving car. Obviously, it didn't go so well.
" tml-embed-width="480″ tml-embed-height="270″ tml-render-layout="inline
And don't forget about the time he protested Seaworld's mistreatment of animals by climbing a crane with an inflatable dolphin. He didn't get hurt that time, but he also didn't use any safety ropes and ended up in jail. 
Now that he's 43 years old, one does wonder how much longer he can keep this up. But as long as he keeps posting videos, we'll keep watching.