'Stranger Things' Teaser Video Reveals Hilariously Retro Season 3 Setting
Anyone who lived through the 1980s will appreciate this…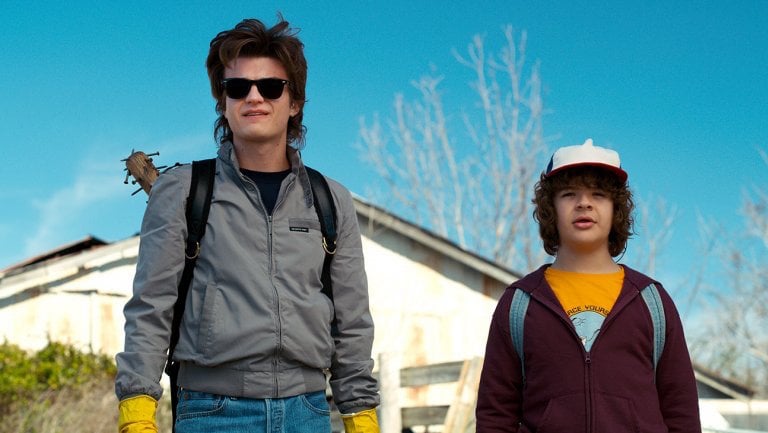 Stranger Things just dropped a video featuring a mall-tastic new setting for the hit Netflix series that will be a serious blast of nostalgia to anyone who survived the 1980s. 
For its third season, the Emmy-nominated drama has dropped a delightfully cheesy, Reagan-era commercial for the Starcourt Mall.
The clip reveals the first looks at two characters: returning actor Steve Harrington (Joe Keery) and newcomer Robin (Maya Hawke), both of whom work at an ice cream shop known as Scoops Ahoy. But it also lovingly spotlights real-life '80s mall fixtures like Orange Julius, WaldenBooks, Radio Shack and Sam Goody, for all you dinosaurs out there.
The Hollywood Reporter has some more thoughts on the significance of the latest Stranger Things teaser video:
Exiting season two, it was hard to know exactly what the future would hold for Steve, who is among the most recognizable breakout characters in the Duffer Brothers' drama.

Steve's arc alongside Dustin (Gaten Matarazzo) was a highlight of the past year of Stranger Things, but given his place in the high school hierarchy, it felt like Steve would not easily make a return to the Hawkins area.

Does his job at Scoops Ahoy mean he's not going to leave town for college after all? Not necessarily. The new season takes place in the summer, for one thing, so viewers may find Steve right on the edge of leaving his hometown — but not before he's finished with one final summer job.
The clip closes with three words: "Coming next summer!" It's not just a reference to the summer setting, but also a clear indication that Stranger Things is not scheduled to return until summer 2019. 
Are you psyched or what?