Sylvester Stallone Says He Almost Died While Filming Final 'Rocky IV' Fight Scene
"My blood pressure went up to 260 and I was going to be talking to angels, next thing I know I'm on this emergency, low-altitude flight."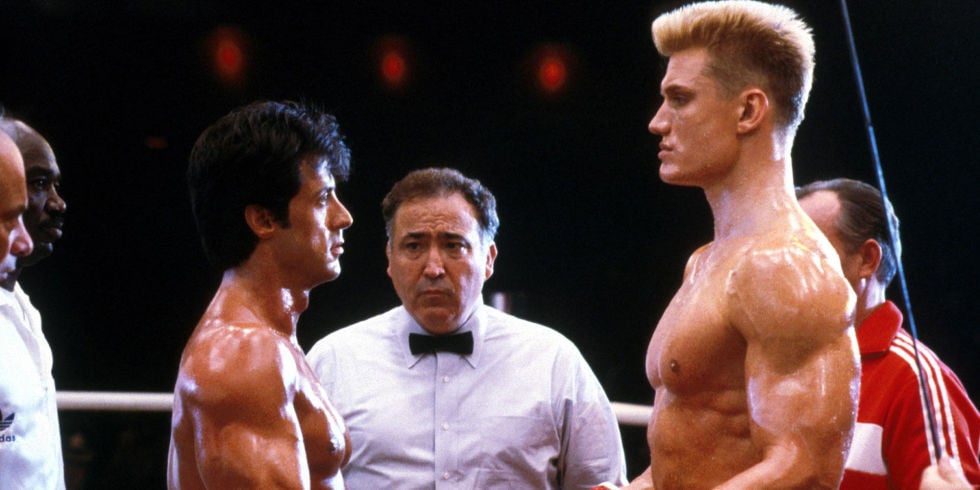 Sylvester Stallone nearly "talked to angels" after getting rocked by Dolph Lundgren's Ivan Drago during production of Rocky IV.
The 75-year-old action movie star said that filming of the final fight sequence led to a hospital trip in a recent YouTube video The Making of Rocky vs Drago by Sylvester Stallone. The new documentary is tied to the Rocky IV director's cut that was released in theaters for one day only on November 11.
"The first thing we shot [was] my entrance, his entrance and the introductions and then I got really injured during the fight and I had to be flown into intensive care to California from Canada," said Stallone per the New York Post.
"Well, he pulverized me. And I didn't feel it in the moment, but later that night my heart started to swell. My blood pressure went up to 260 and I was going to be talking to angels, next thing I know I'm on this emergency, low-altitude flight."
"I'm in intensive care surrounded by nuns and then after that, I had to go back and finish the fight," he said.
Stallone spent a total of four days in an Intensive Care Unit before returning to finish the sequence. He added that Lundgren's real power punch is what made the final cut.
"How could you take that out?" he said.
Rocky IV: Rocky vs Drago – The Ultimate Director's Cut contains mere minutes more footage compared to the original but features tone-altering reworkings of numerous scenes, according to a review in the Guardian.
"There's a significant amount of tinkering in this version, particularly toward the beginning, that's intended to add depth to Rocky's relationships to his friend and rival Apollo Creed (Carl Weathers) and his wife Adrian (Talia Shire), and remove some of the sillier touches, most notably the infamous robot given to his brother-in-law, Paulie (Burt Young), as a birthday gift."
However, the Guardian ultimately concluded that "Stallone's attempt to put a new sheen on his Cold War relic of a sequel is a ridiculous and largely pointless undertaking."
Meanwhile, a more positive review from Polygon states that the fight scenes' realism has been greatly improved upon.
"In today's blown-up HD world those occasional whiffs are glaringly obvious. In the recut, almost every punch lands with a realistic thud."
Rocky IV: Rocky vs Drago – The Ultimate Director's Cut is available to buy or rent now from streaming service Vudu.