Texas A&M Pulled Off the Most Astonishing Comeback in NCAA Tournament History
But that might be a bad thing for sports fans.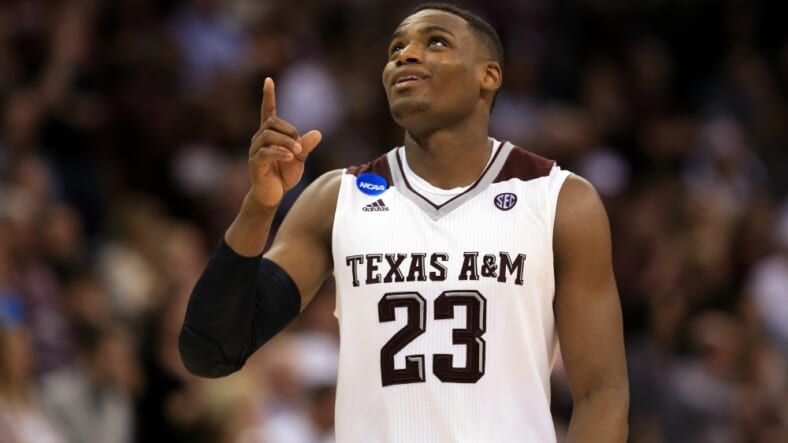 In sports, win probability is a simple concept. By using historical examples, the odds that a team will win or lose based on the score, time remaining and a few other variables can be easily calculated by anyone with even an elementary knowledge of statistics.
Take Sunday night's round of 32 game between Northern Iowa and Texas A&M. With UNI up 12 points in the last minute, history said there was a 99.99 percent chance the Panthers would win. Even if you don't bother with calculations, that seems about right. How many times have you seen a team come back from 12 down with 34 seconds on the clock? Before Sunday, you hadn't. Then A&M did this:
The points have earned some glowing headlines; a 14-2 run in half a minute will ensure that. But scoring was the easy part of this comeback. The Aggie's swarming defense is what made it possible. Each time UNI set up to inbound the ball, there were Aggies trapping and swatting, forcing the Panthers into bad decisions that were followed by bad passes. Just as importantly, the Aggies didn't foul. And with less than two ticks on the clock, they tied the game. 
History will likely forget that A&M didn't come back and win during regulation. The clock hit zero with the score locked up at 71-71. The Aggies didn't even win after the first overtime. It took a full 10 extra minutes of basketball to settle this. But the result was clear the moment A&M completed its comeback from 12 down: They were winning no matter what.
Or, if you're a pessimist, you could say UNI was losing no matter what. This whole thing is a sports fan Rorschach test. A pessimist will see it as the biggest collapse in tournament history. A team that was a near lock to win found a way to squander a Sweet 16 bid. The pressure was too much, the moment too big and the players withered under the bright lights. An optimist though, will see it as a comeback from the brink of elimination. A lesson is perseverance and reason to keep playing until the clock says the game is over.
In truth, you're probably better off if you're a pessimist. Sometimes the worst gift a sports fans can get is reason to believe. Hope in the face of certain defeat only leads to pain. And there's a reason A&M's win probably was a 00.01 percent with 34 seconds left on the clock. Teams in their position just don't win. That's why their comeback is so special and why the next time you're hoping your team pulls off something similar, there's pretty much no chance it will happen.