'The Crew 2′ Offers High-Octane, Arcade-Style Racing on Land, Sea or Sky
So. Much. Fun.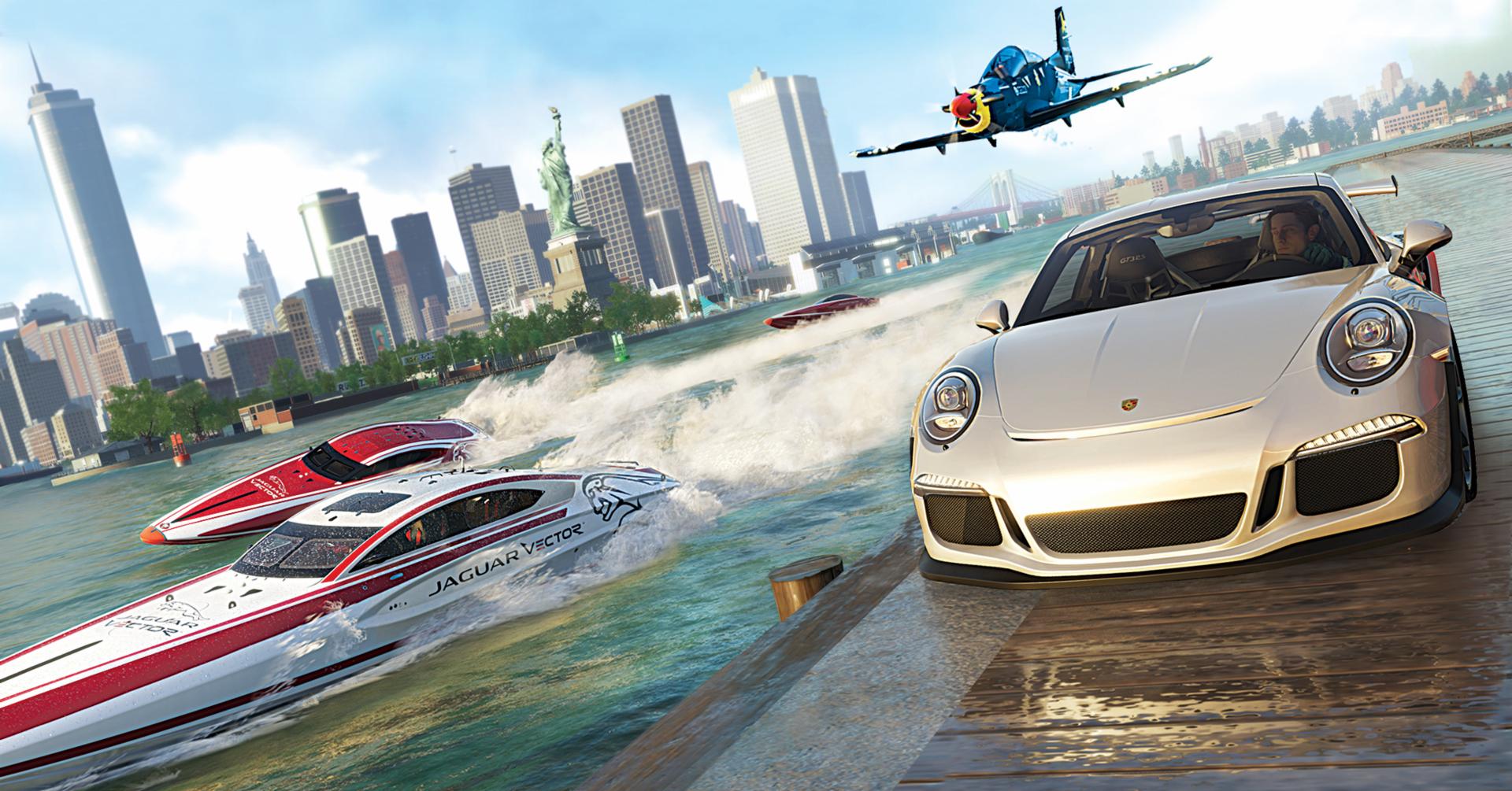 Credit: Ubisoft
Arcade-style racing, Nazi-killing, and a classic gaming icon are all vying for your gaming attention this week.
The Crew 2
In The Crew 2's predecessor, you were presented an open world and a bunch of different types of cars to chase criminals around the country. It was a flimsy excuse to tear up asphalt and dirt roads alike in settings that mimicked recognizable parts of the USA. 
While the geography has remained similar in The Crew 2, the challenges this new game presents to fans are much more varied, difficult and rewarding. The game's arcade-style racing is a refreshing change from so many of the shooters we see on a regular basis, simultaneously digging into the nostalgia of playing Cruisin' USA in the arcades and employing a large open-world environment typical of modern games. It works. 
The Crew 2 uses challenges in cars, trucks, bikes, boats and planes to open sections of the map, and the pick-your-poison philosophy found here makes for consistent fun instead of a burdensome, required slog. New sections also come with new assignments for each vehicle class, which produces a good balance of missions no matter your vehicle of choice—and each one offers a great racing experience.
Not only does The Crew 2 tighten up the gameplay and controls of the original, it's also got noticeably improved graphics with cars, boats and planes looking badass all along the way. It wouldn't be The Crew unless you could actually have your crew in shit with you and, wisely, there's no shortage of online competition and co-op to make sessions of The Crew 2 a worthy cop for friends who game together, even if it's just because you need a break from Fortnite. (Buy)
Honorable Mentions
Wolfenstein 2 for Switch
https://www.youtube.com/watch?v=9UcfkawhCGk
Nintendo's Switch has obviously nailed a software lineup that's friendly to almost every audience imaginable, but there's an undeniably large segment of Switch fans who are hardcore gamers, and the prospect of getting a premiere shooting experience, one that has tight controls and astronomical body counts, is one that gets our blood pumping. Enter Wolfenstein 2: The New Colossus. 
Finally seeing a port to Nintendo's portable home console, the Nazi-killing shooter is the opposite end of the violence spectrum of almost every other Switch game, and we couldn't be happier to see both Nintendo and third-party developers seeing the opportunity for the Switch to be a premiere portable solution, whether your style is bouncing on mushrooms or unloading a clip into the Third Reich. (Buy)
Crash Bandicoot N.Sane Trilogy
Switch seems to get every ported game last, but we're just happy that the little tag-along console is getting them at all. Crash Bandicoot's debut a few months ago seemed to make fans on PS4 and Xbox happy but not the way it has on Switch, with Crash's trilogy of adventures becoming the biggest game on Switch this year in a shockingly fast run. 
As much as Switch owners want the option to grab games like Wolfenstein, they're simply chomping at the bit to get their hands on retro games. It's a singular call to arms for Nintendo themselves who are currently under pressure to deliver a back catalog of classic Nintendo games if and when they deem a retro e-shop a worthy addition to their upcoming online premium service. While we wait for Ninty to stop sitting on their hands, we'll gladly bang through Crash's challenging, infinitely replayable levels. (Buy)