The Hottest Halloween Costumes Of 2022
From a naughty vaccine nurse to a fetching fake heiress, these topical costumes will heat up any Halloween party.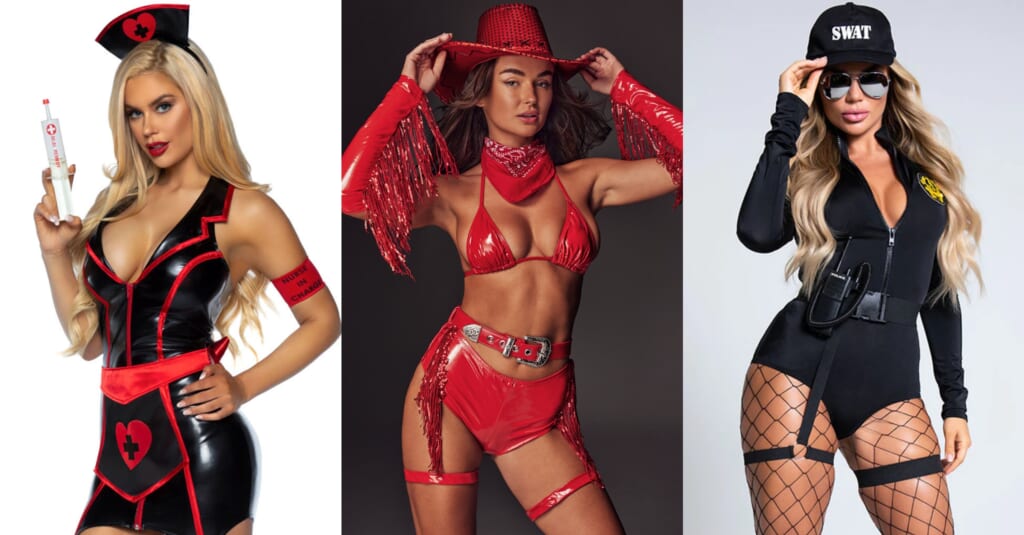 A spooky Halloween costume might make an impression, but a sexy one always turns heads. And if the latter's the goal, we've rounded up some of the hottest looks to wear this All Hallows' Eve.
From traditional scanty getups like nurses and cowgirls to more creative cosplays that incorporate wordplay and weed edibles, here are some of the hottest Halloween costumes of 2022.
Ride 'Em Cowgirl
Saddle up with this Ride 'Em Cowgirl costume featuring a red vinyl triangle bra top, shorts with fringe detail, a garter belt with a western buckle, wraparound leg garters, vinyl arm bands, and a matching bandana. (Hat not included.) $63.16
SWAT Team Babe
Be the first to call in any sticky situation in this SWAT Team Babe costume featuring a black zipper front bodysuit, a mandarin collar, long sleeves, textured shoulder pads, "SWAT" lettering on back, a gold swat decal, a cheeky cut back, a black belt with attached garter, leg garter, a black toy walkie talkie, and matching black cap with "SWAT" accent. $59.95
Big Shot Nurse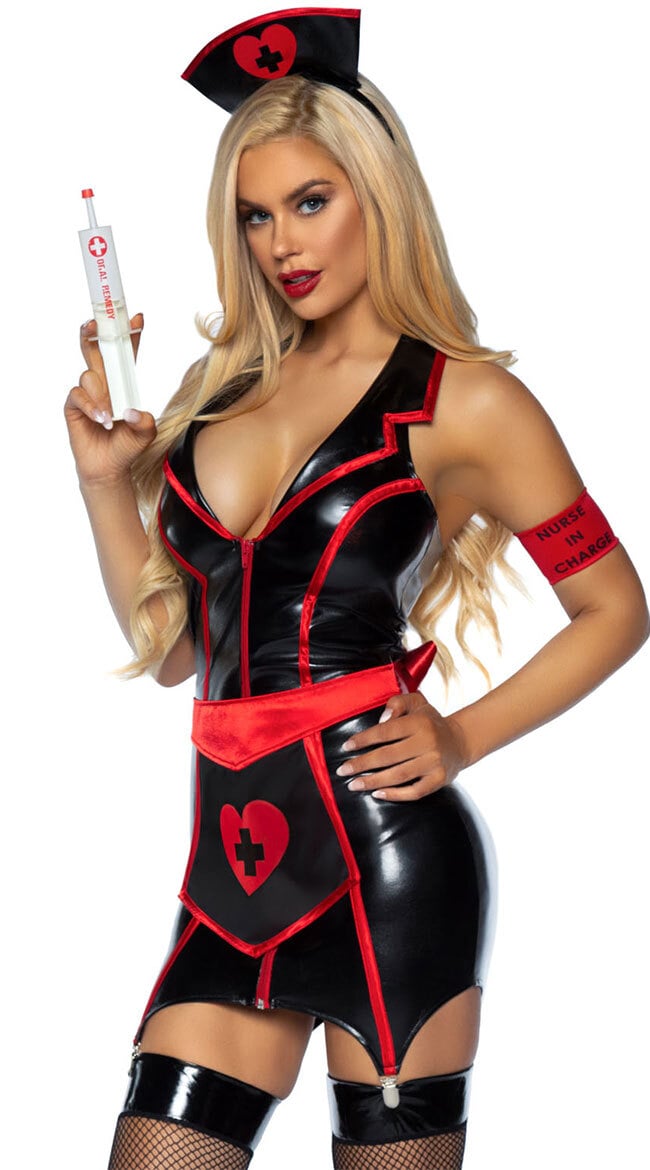 This won't hurt a bit. Give your patients a taste of their own medicine in this Big Shot Nurse costume featuring a black wet look halter dress with a red satin trim, a zip-up front, clip garter straps, a heart apron with satin tie back, a "Nurse In Charge" arm band, and a matching headpiece. (Stockings and syringe not included.) $56.99
Sexy Edible Gummy
You'll be living the high life in this exclusive Sexy Edible Gummy costume featuring an iridescent green vinyl bodysuit with a scoop neckline, spaghetti straps, a cut-out bodice panel, a high cut leg, a cheeky cut back, a sheer vinyl overlay top with piping details, a pot leaf decal, a back zipper closure, a matching flared skirt with paw appliques, pot leaf decals, a back zipper closure, and a matching headpiece with pot leaf embellished ears. (Gloves not included.) $84.67
Blessed Babe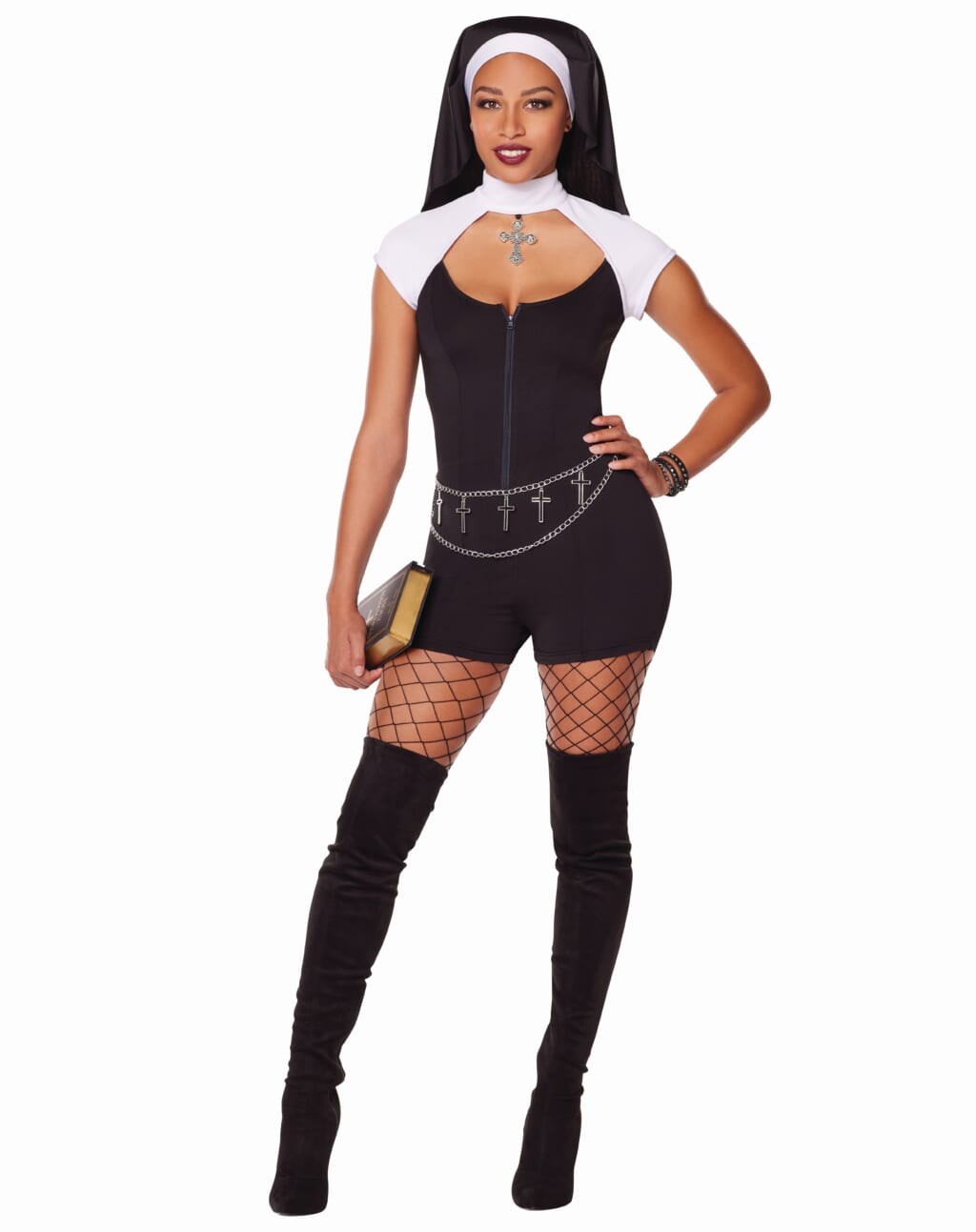 This unholy nun costume comes included with everything you need to spread your blessings this Halloween including a nun romper, veil, and a belt to finish it off. Can we get an Amen? $39.99
Date With The Devil
This Date With The Devil costume is sure to bring out your bad side. It features a red vinyl bodysuit with molded underwire cups, adjustable spaghetti straps, a lace-up front with silver grommets, a concealed back zipper, a cheeky cut back, and a matching horn headband. (Stockings and shoes not included.) $100.95
White Faux Leather Lace Bodysuit
If you're looking for an elegant and eye-catching look, this Adult White Lace Bodysuit is a solid choice. With delicate lace detailing and a convenient pull-on style, this bodysuit is sure to lead you to a night of sexy wedding dress-inspired fun. $36.99
Con Heiress
Paging Anna Delvey! Say goodbye to your faux lavish lifestyle in this exclusive Con Heiress costume kit featuring black glasses, a white sash with 'V.I.P. Is Always Better' printed in gold, a white cheeky cut panty with "Do You Accept Wire Transfer?" printed in the back, and toy silver handcuffs. (Dress not included.) $19.95
What's The Word
Flaunt your Wordle obsession with a What's The Word? costume featuring a white bodysuit with a square blue and yellow trimmed neckline, long sleeves with grey "PLAY ME" and emoji icon decals, a word game printed bodice with grey, yellow, and blue squares, a back zipper closure, and a low cheeky cut back with a blue and yellow trim. (Fishnets, glasses and phone not included.) $109.96