'The Irishman' Reviews Are In, And Critics Say Martin Scorsese's Mob Epic Is A Masterpiece
It currently has a perfect rating on Rotten Tomatoes, and just might be the best-reviewed film of Scorsese's career.
(Photo: Netflix)
Martin Scorsese's buzzed-about mob drama The Irishman could be the Oscar-winning director's best-reviewed film yet. The film is based on the book I Heard You Paint Houses, which follows the real-life events of World-War-II-veteran-turned-mob-hitman Frank Sheeran and stars Robert De Niro, Joe Pesci, and Al Pacino.
The three and a half hour-long film premiered at the New York Film Festival last Friday, and has since received a 100 percent "Fresh" rating on Rotten Tomatoes. In fact, all first impressions of the film have been exceedingly positive, despite its extremely long run time.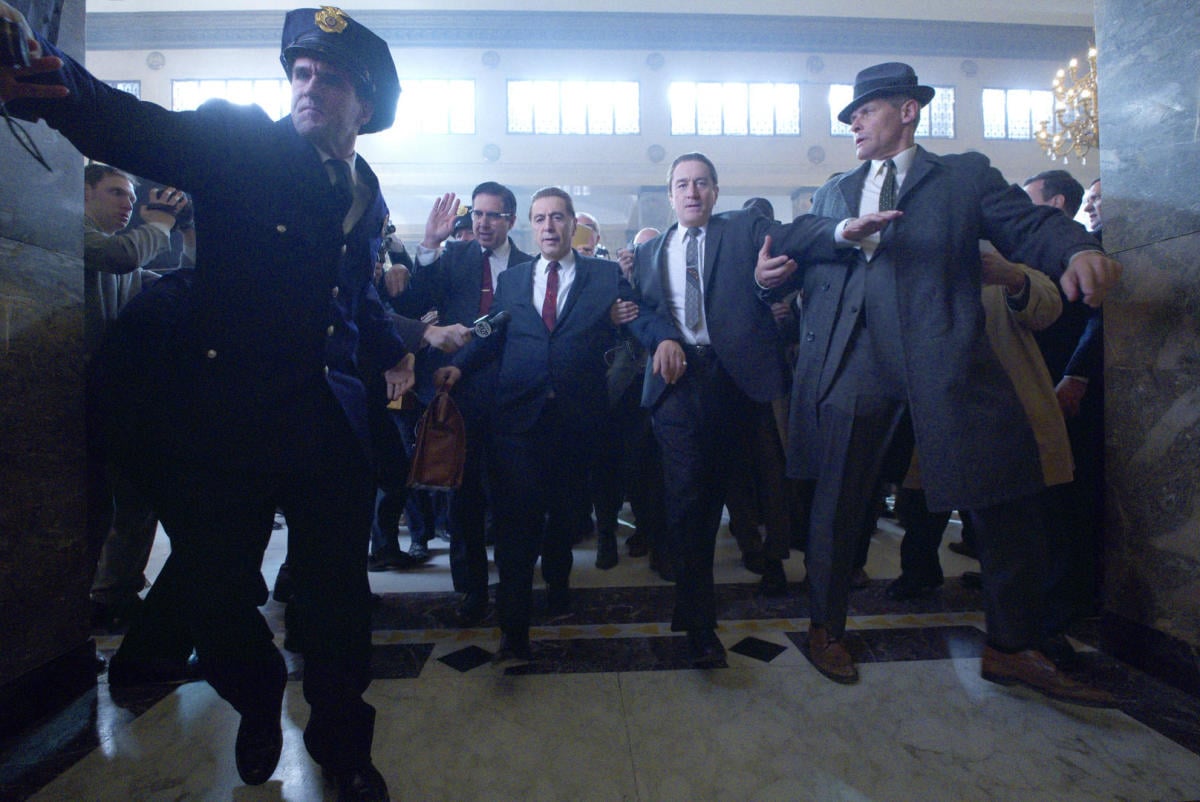 "This is not Goodfellas. This is not Casino. This is Scorsese at his most reflective, crafting a masterwork that finds the filmmaker reflecting on everything he's done, and what it's all amounted to," Chris Evangelista of Slashfilm wrote.
Variety's Owen Gleiberman says the film is "a coldly enthralling, long-form knockout — a majestic Mob epic with ice in its veins. It's the film that, I think, a lot us wanted to see from Scorsese: a stately, ominous, suck-in-your-breath summing up, not just a drama but a reckoning, a vision of the criminal underworld that's rippling with echoes of the director's previous Mob films, but that also takes us someplace bold and new."
Likewise, Indiewire's Eric Kohn says: "The Irishman is Martin Scorsese's best crime movie since Goodfellas, and a pure, unbridled illustration of what has made his filmmaking voice so distinctive for nearly 50 years. Forget that it's a touch too long and the much-ballyhooed de-aging technology doesn't always cast a perfect spell; the movie zips along at such a satisfying clip that its flaws rarely amount to more than mild speed bumps along the way."
Vulture's David Edelstein calls the film one of Scorsese's "most satisfying film in decades." Pesci's performance is "almost supernaturally focused and watchful, always hypersensitive to other peoples' rhythms," he praised. "I thank the gods of acting that he came out of retirement to do this."
The New York Post's Johnny Oleksiski weighs in: "… chug a 5-hour Energy, because the terrific Irishman deserves your full, un-fatigued attention … This has a different tone than your average gangster film. Plenty of marks are shot in the forehead, yes, and a lot of wine is poured in the corner booths of dimly lit Italian restaurants, but it's also knock-down, drag-out-into-the-river funny."
The Hollywood Reporter's David Rooney said of the film: "a melancholy sense of looking back pervades the best parts of The Irishman, in which the elder statesman of organised crime in American movies, Martin Scorsese, reunites with his most totemic screen actor to tell a sprawling gangland saga that's by turns flinty, amusing, richly nostalgic and rueful."
Time's Stephanie Zacharek writes that after a more lighthearted first 2.5 hours, "its last half-hour is deeply moving in a way that creeps up on you, and it's then that you see what Scorsese was working toward all along: a mini-history of late-20th century America as filtered through the eyes of a smalltime guy who needs and wants to believe in his own importance and capacity for decency."
The only slightly negative review is of the much-anticipated digital de-aging, which is apparently impressive albeit a little unsettling.
"There's something undeniably jarring about its use, both in how at times it really works and how at times, it really doesn't," the Guardian's Benjamin Lee said. "The film's biggest, creepiest problem lies behind De Niro's fortysomething eyes – or rather the film's biggest, creepiest problem is that nothing lies behind them."
Here are even more reactions to The Irishman:
THE IRISHMAN: An instant Martin Scorsese crime classic that's everything you want to be, and more.

De Niro's best work in ages, Pesci lights up the screen, and Al Pacino as Jimmy Hoffa screaming about the Kennedys is the peak of cinema!

— Brett ________ (@BrettRedacted) September 27, 2019
THE IRISHMAN is a masterwork. Funny, epic, and most of all, melancholy. It's Scorsese confronting aging, legacies, and mortality. I may or may not have teared up at the end…

— Chris Evangelista (@cevangelista413) September 27, 2019
"The Irishman" is a gangster epic. The de-aging tech can be a bit jarring, but it's a true portrait of a life in the mafia.

De Niro, Pesci and especially Pacino all bring their best stuff and it acts as a Scorsese greatest hits album. pic.twitter.com/yE7Nfod1XK

— Frank Pallotta (@frankpallotta) September 27, 2019
https://twitter.com/kristapley/status/1177624308190859264
Boy. #TheIrishman is a fitting homecoming for De Niro, Pacino, Pesci, and Scorsese's ode to gangster cinema. Hilarious and sharply written. A portrait of mortality and legacy, told like a culmination of everything we have ever seen in this genre. It's LONG but never boring. #NYFF pic.twitter.com/OBTAXem4On

— We Need To Talk About Kevin L. Lee @ #NYFF59 (@Klee_FilmReview) September 27, 2019
https://twitter.com/AwardsDaily/status/1177683368919486464
Grab some popcorn and score a comfy seat on the couch, because The Irishman starts streaming on Netflix on November 27, 2019.